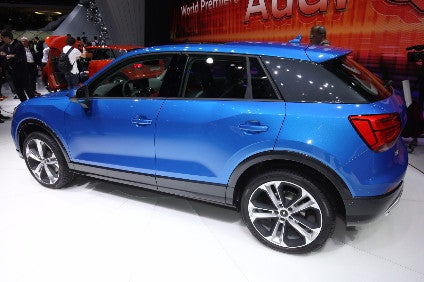 Audi CEO Rupert Stadler has said the automaker this year will spend more than EUR3bn on 20 new or revised models "and push forward with electrification and digitisation". It will also hire an additional 1,200 workers dubbed "experts".
It is launching the Q2 SUV at the Geneva show and will be the first premium car maker to open a plant in Mexico.
Despite major challenges, the Ingolstadt based company said it "performed successfully last year and set a new record for unit sales: worldwide deliveries increased 3.6% compared with 2014 to 1,803,246 automobiles. That led to record revenue of EUR58.4bn.
Operating profit was flat at EUR4.8bn and operating profit before special items (EUR5.1bn) was also about the same as the previous year. The special items were related mainly to the 'emissions cheating' issue with six cylinder, diesel TDI engines. They include financial expenses for technical measures, legal risks and sales activities.
Stadler told the AGM: "We regret what happened. We will ensure full transparency and assure you that we will put things right." Due to an agreement with Volkswagen, affected four-cylinder TDI engines have no direct impact on the profitability of the Audi Group.
Operating return on sales was 8.3% despite challenging conditions within the 8%-10% target range.
Stadler said: "We successfully mastered a year of challenges. We will now invest in 2016 alone more than EUR3bn for the mobility of tomorrow, and we will push forward with the electrification and digitisation of our products."
As a result of numerous model launches, distribution costs increased to EUR5,782m from EUR4,895m in 2014. Profit before tax was EUR5,284m (EUR5,991m) and a return on sales before tax of 9.0% (11.1%).
Finance chief Axel Strotbek said: "We are in the middle of the biggest investment phase in the company's history. Our operating profit and the significantly positive cash flow are evidence of our robust business model."
Capital expenditure in 2016 will focus on technical innovations and new models plus expanded worldwide production such as the new Mexican plant nearing completion which will start with the Q5.
Audi plans to increase the number of apprenticeships it offers by more than 10% in order to cover its requirements for well-qualified skilled workers.
It anticipates "a moderate increase" in the number of cars delivered to customers this year but cautioned: "a high advance expenditure for the future – such as for pioneering technologies and the renewal and expansion of the product range – will at first affect earnings negatively. The high number of planned product ramp-ups and market launches and the expansion of the production network will have the same effect."