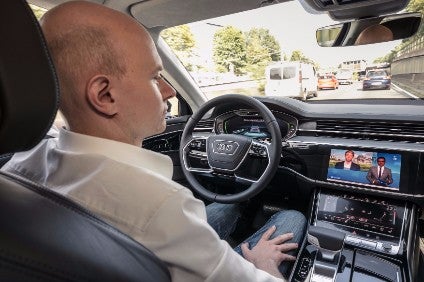 Asahi Glass (AGC) said its new glass for car displays, which went into production in May, will be installed in Audi's redesigned A8 flagship sedan which will be the first mass-produced vehicle to incorporate curved cover glass.
The A8 will have two touch-screen displays that will allow vehicle occupants to display and control the information necessary for safe and comfortable driving. AGC's curved cover glass will be used for the upper display, a large and gently-curving 10.1-inch display that shows navigation and infotainment systems, while flat cover glass will be used for the lower display, a touch screen which will be used to operate the system.
The supplier said Audi chose the cover glass because it contributes to achieving a sleek, unified dashboard design due to its gentle curve realised by proprietary 3D curved surface-forming technology, and its decorative printing with tones that blend into the surroundings.
High quality can be ensured through a fully integrated production process that covers everything from chemically strengthening glass to forming, and applying the optical thin-film coating and surface printing that inhibit glare and fingerprints.