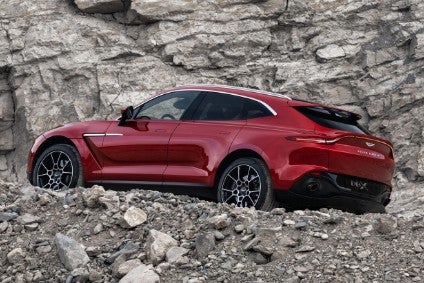 Aston Martin has reported that wholesale deliveries more than trebled year-on-year during the first half of 2021 to 2,901 units. Over half of vehicles sold in the period were DBX SUV models (Aston Martin said they accounted for more than 1,500 units).
The company also said adjusted EBITDA for the H1 period improved by £138m half-on-half to £49m with a 10% margin reflecting improved trading, Specials deliveries and some initial 'Project Horizon' efficiencies.
Aston Martin said it successfully achieved rebalance of GT/Sport supply to demand in Q1, earlier than originally expected and said there is good demand for current models; the first DBX derivative is on track to start production in Q3.
It also said the Aston Martin Valkyrie is on track for H2 deliveries; Valkyrie AMR Pro deliveries to start in Q4.
All Aston Martins are to have an electrified powertrain option, either hybrid or battery electric by 2025/26 and 50% to be battery electric by 2030.
Tobias Moers, Chief Executive Officer said: "We have performed well in the first half of the year as we continue to deliver results in-line with our plans to improve profitability. Demand and pricing dynamics remain strong and I am particularly pleased that we are now operating with the right supply to demand balance for our products, earlier than we had originally expected.
"I am also happy with our excellent progress on Project Horizon as we drive efficiency and agility throughout every aspect of the company. Our manufacturing operations have seen significant changes with the consolidation of all sports manufacturing into a centre of excellence at Gaydon and a shift to a more efficient single production line. Our technical teams are focused on developing our future pipeline of compelling products, from the recently announced Aston Martin Valkyrie AMR Pro, the ultimate no rules hypercar, due to start delivery in Q4, to Valhalla, our first plug-in hybrid, mid-engined supercar as we embark on our journey from combustion to hybrid to electric."
Aston Martin says it plans to make 6,000 wholesales this year, rising to 10,000 pa by 2024/25.