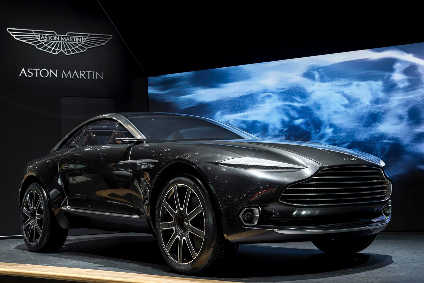 Aston Martin (AM) is considering flying in car components and moving more parts through alternative UK ports to Dover to avoid possible border friction after Britain leaves the European Union [Brexit], its CEO told the Reuters news agency.
Andy Palmer said changing to alternative ports or flying components in would add costs compared to remaining with Dover where UK business is concerned the port may not be able to cope with new customs checks after Brexit.
Should current negotiations between the UK government and EU result in a 'hard Brexit' or no deal, the automotive sector is concerned port and motorway delays could disrupt production, currently supported by the movement of thousands of components and vehicles to and from the continent every day.
With five months to go , carmakers have triggered contingency plans such as moving shutdown periods, certifying models abroad and redrawing production schedules.
The report said said AML predominately uses Dover for moving components.
"The European-sourced parts, which include the engine and the gearbox as a complete assembly, come back in from Europe so an alternative port is one way, predominately for lorries, and then reserving space on [aircraft] for one-off shipping," Palmer told Reuters.
"You can get a few days of engines and gearboxes relatively easily into the cargo decks of a plane so whilst it's relatively expensive that is probably our primary backup," he said, adding the company only did so in an emergency at present.
Coventry and Birmingham airport, near the firm's central English Gaydon final assembly plant, and the port of Sunderland [close to Nissan's UK factory] are among the locations the firm is considering for such contingencies.
With Britain due to leave the European Union on 29 March, Palmer told the news agency the plan would have to be approved by the board by the end of the year, in an example of decisions executives are needing to take without clarity on what Brexit will mean.
"There is undoubtedly a cost associated with it, but it's cheaper than not building cars," he said.
"I simply work to the worst and hope for the best."
Another complication: after earlier this year switching its car approvals from Britain's vehicle agency to Spain's due to uncertainty over the validity of such licences, Palmer said its DBX crossover would also be approved there.
"You're forced to make a change," Palmer also told Reuters.
"Once you set in place a process, you tend to stick with that process because it works."
Reuters noted UK prime minister Theresa May last Friday reassured business leaders the EU was still committed to a deal this autumn which would avoid disruption next year.