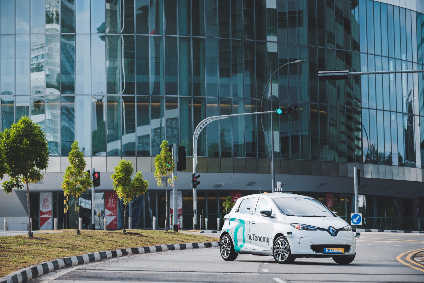 Hybrids [around at least since 2000 in UK – ed] are likely to be a passing phase in car technology that will be surpassed by electric vehicles in a matter of a few years, vehicle valuation company Glass's claimed on Monday (17 October).
The vehicle data provider said EV technology was advancing so quickly "a new hybrid vehicle being bought today could be effectively obsolete by the time it reaches the end of its normal life".
Director of valuations Rupert Pontin said: "Hybrids are designed to solve two of the problems that EVs have faced in recent years – high cost and low range. However, there are very clear signs that these issues are being resolved very quickly. For example, the revised Renault Zoe announced at the show has a 250-mile range and costs GBP17,000.
"Similarly, the new battery in the BMW i3 lasts around 190 miles and Volkswagen is claiming that its IQ, which will [go on sale] in 2020 will go up to 373 miles between charges and be priced competitively.
"The fact is that vehicles such as this effectively remove the rationale for hybrids. Within a few years, hybrids could be seen as little more than a curiosity and this will undoubtedly affect their values."
Pontin claimed the popularity of hybrids in the UK had largely been powered by the company car market where their low CO2 output minimised [benefit in kind] tax bills for drivers.
"These vehicles make a lot of sense in the fleet sector but not so much on the used market where buyers tend to view them as more complicated than a diesel but with few compensating advantages.
"As viable EVs start to become available in larger numbers, this will only become more acute and it is difficult to foresee a situation in which demand is likely to increase.
"Our view is that, unless manufacturers find it difficult to bring the price of EVs down to somewhere near family cars, then hybrids will simply be seen as a passing phase in the history of the car."
Toyota GB said in a statement:"Toyota has always been open to BEVs (battery electric vehicles) in our future powertrain road map, and we still are. We don't see BEVs as a complete solution to the long-term challenges the world faces though, partly because they are unlikely to be suitable for all types of customer and their needs, and partly because, by definition, the power they use comes from national grids which would be unable to cope if demand over-stepped a certain level. Of course elements of that power are also produced by fossil fuels too, which is really moving the problem rather than solving it.
"We recognise the value of BEVs as shorter-range vehicles, second cars and fleet cars but whilst issues around charging time, battery performance and cruising range are gradually being improved (and we are actively pursuing battery R&D to help resolve them) we believe the next solution for mass market adoption will be the PHV (plug-in hyrbrid) such as the new Prius Plug-In unveiled at the Paris show this year.
"Whilst we can't speak for anyone else, the proliferation of PHVs emerging from various car-makers, suggests that we're not alone in seeing the long-term potential of PHVs.
"With Prius, launched almost 20 years ago, we showed both the vision and technical ability to be ahead of the game, and the strong growth of hybrid sales suggests customers agree with us in increasing numbers (not just in terms of ecology and economy, but driving benefits too). We're confident we're still ahead of the game with [PHVs]. We have always been open to extending our PHV offer to meet customer demands too.
"But if the question is about the ultimate eco-car, it's already available to buy, and from Toyota. Mirai is a zero emission vehicle without the range issues of BEVs, technically brilliant and does not require the national grid to recharge it. As a car, it's a key part of the long-term solution we believe. The issue with hydrogen is not one of tech but one of infrastructure. As the UK government's recent and welcome announcement of yet more funding for further refilling stations in more British cities shows, though, hydrogen is seen as a major part of that long term solution by government as well, and we know we have the best technology in the best vehicle."
Last month, Toyota Motor Europe (TME) said it was seeing a sharp increase in its existing hybrid sales so far this year: up 45% versus 2015 which was already a record year. It launches three new models at Paris.
The automaker added it was on track to sell close to 300,000 hybrids this year, a new record.
"This really shows that hybrids are what customers want right now – which is a great reward for having invested so early in powertrain electrification," a top executive said.
To date, 1.5m Toyota and Lexus hybrids have been sold on the continent and Europe is Toyota's fastest-growing region worldwide for hybrid sales.
Toyota's target is to reach 50% of its European sales with hybrid vehicles by 2020, with a hybrid version in every major market segment.