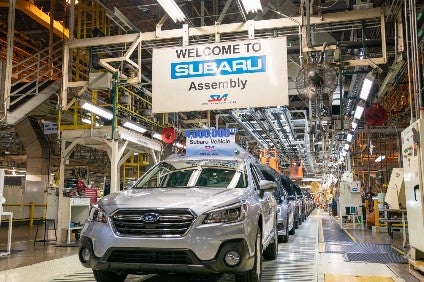 US light vehicle sales dipped again in April, down 2.3% year on year to about 1.33m cars and light trucks. After four months, deliveries are 3% behind the January-April period in 2018. The seasonally adjusted annualised rate (SAAR) slumped to 16.41m units and both total volume and SAAR were well below analysts' forecasts.
Rising interest rates and restrained incentives reduced consumer appetites. Loan terms are also increasing as average transaction prices climb to new records. The estimated average is now roughly 69.5 months, about three months longer than the average five years ago. Kelley Blue Book estimated that Ford had the highest average transaction prices in April, up 5.8% from April 2018 to about US$42,125 (GBP32,263).
About half of the automakers fell short of their year ago numbers.
FCA fared the worst of the Detroit automakers – Ram was the sole winner out of the company's six brands.
Ford was the best selling brand in the US but it was embarrassed by Lincoln which has now fallen behind Volvo and currently has a very small lead on Land Rover in year to date sales.
Nissan ended April with an impressive gain after a string of deficits. However, about 75% of the margin came from a 59% leap in deliveries of the Altima saloon, meaning Nissan is likely going back to the daily rental fleets to maintain volume.

Subaru celebrated another sales record last month making it 89 consecutive months of growth. The April benchmark was achieved thanks to just three models – the Forester and Outback utilities and the new three-row Ascent.
Volkswagen posted the first US sales of the new Arteon saloon in April. The Arteon replaces the CC in VW of America's lineup.
VW reported a good month, led by the Tiguan and Jetta, combined sales of both rose 40.1%. The two models accounted for 58.5% of total brand deliveries in April. Now that it's on its way out, deliveries of the Beetle Convertible have been comparatively robust – up 40.2% after the first four months of 2019.
Unfortunately, VW's good month was swamped by a 21.4% plunge in Audi turnover. Sales of the bread and butter A4, Q5 and Q7 models were all off by double digits.
Porsche's record April from last year proved difficult to beat, especially with the hiatus as the new Macan replaces the current version.
Along with new models, April brought news of two more departures. Nissan will end production of its subcompact Versa hatchback to devote production resources to the Kick crossover which shares the Versa platform.
Daimler is pulling the plug on the Smart brand in the US. Only the electric ForTwo was being sold here anyway and just 316 had been delivered to the the end of April, an average of fewer than 80 units a month.
While all passenger car sales have suffered in the past few years, the microcars, such as the Fortwo and the Fiat 500, have virtually disappeared. Over the first four months of 2019, a total of 1,367 ForTwos and 500s have been sold.
It is a bit of a shame because they were ideally suited for a very specialised niche: the commuter car for the person that drives a relatively short distance from their home to a train station. That the ForTwo was so well-suited is not a surprise; the original Smart car was developed to be available at German train stations for short-term rental by business visitors in the city for a day.
It's worth noting FCA will join Ford and General Motors in reporting sales on a quarterly basis beginning after the June sales announcements. This isn't a surprise – manufacturers are often reluctant to continue reporting disappointing results even though analysts and other market watchers have anticipated them.
As is the case with Ford, FCA will continue to supply monthly numbers to a few industry references so just-auto will continue to report them.
* indicates a sales record.
Note: Monthly sales figures for Ford and General Motors are estimates.
**Volkswagen Group figures include Audi, Porsche and Volkswagen brands
Other includes estimated sales for Aston-Martin, Bentley, Ferrari, Lamborghini, Lotus, McLaren and Rolls-Royce