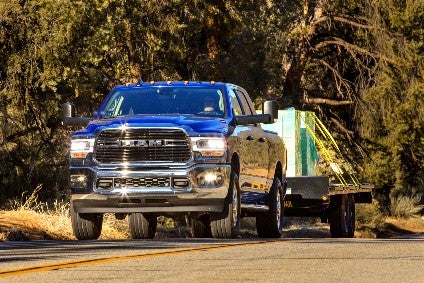 May brought a fifth consecutive drop in US light vehicles sales but total volume was still high from a historical perspective.
Automakers delivered nearly 1.59m car and trucks to new owners in May, down 0.3% from May 2018 but ahead of analyst predictions.
After five months, slightly more than 6.5m vehicles have been sold or leased. That's about 2.4% fewer than the same period last year.
May's seasonally adjusted annualised rate (SAAR) came in at 17.4m, the second-highest reading this year. It was even an improvement over last May's 17.26m.
After a long spell of carmaker pricing discipline, incentives crept up in May. There was slightly more volume in zero interest financing which allowed the average interest rate to drop slightly to 6.1% APR. That's still 7.6% higher than May 2018 and nearly 40% higher than it was five years ago. However, the US Federal Reserve Board has indicated that no further increases in the interest rate are planned so the financing situation may ease a bit.
Counterbalancing this was another increase in the average transaction price. Depending on the source, estimates of the increase ranged from 3.2% to 4.2% but all agreed it was another new record.
With down payments estimated to average US$4,235 (GBP3,343) and monthly payments $559 (GBP441), new vehicles are becoming less affordable for incomes that haven't kept pace. As a result, would-be car buyers are keeping their current vehicles or looking at used cars and trucks.
According to JD Power, vehicles are spending more time on dealer lots. The average days to turn hit 74 in the first half of last month, five days more than last year.
The Ram pickup delivered a win for FCA last month, sales of the big truck jumped 33%, adding enough volume to put FCA in the black by 2.1%. The Ram brand delivered the largest increase of any of the volume brands. Only Genesis, Lamborghini, and McLaren had higher margins.
The company may be called Fiat Chrysler Automobiles but, in the US, Fiat is quickly becoming silent. Sales of Alfa Romeo and Fiat cars and utilities have accounted for just 1.3% of the total deliveries in 2019.
Ford and General Motors both finished in the red. Both the Ford and Lincoln brands missed their May 2018 marks and only GMC came in ahead at GM.
Subaru reported another record month but it was joined in the win column by Nissan and Toyota. Both of the Korean brands also beat their marks from last year, thanks to more robust utility offerings.
Land Rover set a new May sales record but Jaguar dragged the company's results and left it with a deficit.
The Tiguan and Atlas propelled Volkswagen to a big finish last month. Utilities now make up more than 50% of VW's total volume. There are rumours the company may discontinue sales of the Golf but there has been no confirmation yet.
BMW edged Mercedes-Benz by a scant 29 units to claim the luxury crown for May. Lexus remained third, followed by Audi. Volvo outsold Lincoln again.
Automakers are increasingly focused on cost as the need to make large investments in alternative power, constraints on pricing, and shareholder demands for profits drive decision-making in the executive suites. Ford and GM are laying off the equivalent of small cities' worth of employees to focus on the most profitable products which are the light trucks.
More complications are being added with the US administration's aggressive tariff threats and the Brexit mess. President Trump's proposed tariffs on products from Mexico could be a huge spanner in the works if he follows through.
In every sense of the Chinese curse, we are living in interesting times.
* indicates a sales record.
Note: Monthly sales figures for General Motors are estimates.
**Volkswagen Group figures include Audi, Porsche and Volkswagen brands
Other includes estimated sales for Aston-Martin, Bentley, Ferrari, Lamborghini, Lotus, Maserati, McLaren and Rolls-Royce