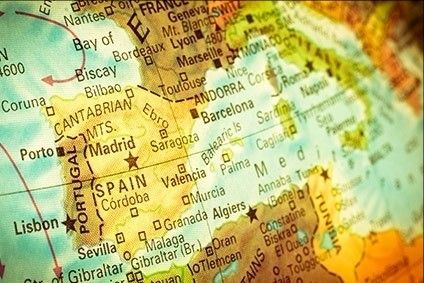 Spain is not playing a low-cost labour game to attract overseas OEMs and suppliers, says its automotive association, but is more concentrating on the efficiency of its factories and solid union agreements.
ANFAC (Asociación Española de Fabricantes de Automóviles y Camiones) EVP, Mario Armero made his comments at the recent Automotive Manufacturing Meetings conference in Madrid, where delegates maintained an upbeat attitude, despite a slowing market in Spain and elsewhere.
"Spain is successful because we have competitive plants," Amero told just-auto on the sidelines of the Madrid gathering, grouping dozens of suppliers and OEMs at the capital's IFEMA venue near Barajas Airport.
"We are [also] a clear example of [having the] best people in terms of social dialogue with unions. We [have] collective agreements with unions – they are considered a benchmark and that has been a key element.
"Labour costs in Spain are EUR26 (US$29) per hour and the UK is EUR25 per hour. If you are just considering lower salaries, you would not bring members to Spain – you would bring them to Morocco or Eastern Europe.
"We are not playing at the low cost part of the business."
Spain is facing the challenge of what were robustly rising sales of recent years starting to stall as growth in developed countries starts to slow.
Nonetheless, Spain's automotive sector remains huge and although lagging some considerable way behind tourism, still contributes a massive 10% of GDP through its suppliers and OEMs.
A further fly in the ointment is Spain's continuing efforts to form a government following yet another general election recently, although negotiations are expected to be concluded in a relatively short time.
"Clearly, Spain is a big player in terms of automotive suppliers and car manufacturers added Armero. "We have a very good range, spread not only in Madrid and Barcelona, but around the entire territory. It is being fed by new models.
"[However], We are facing difficulties because right now production is not increasing in most developed countries [as] sales are experiencing a drop, particularly in Spain. Some countries in the world are creating new duties [and] we are facing a world of new regulations. We want to have balanced Free Trade Agreements, we like Free Trade Agreements. We don't have to be waking up in the morning with strange news about duties.
"Countries are becoming customers because they are proscribing which cars can circulate – that is a trend we have to acknowledge. We are transforming ourselves from the car industry to the mobility industry. In not so many things is Spain the leader as we have in automotive.
"One thing for sure, there is a new ecosystem and we need all the players. We think this [new mobility] could be a EUR300bn business for Spain. We are in transition, but transition has to be orderly."