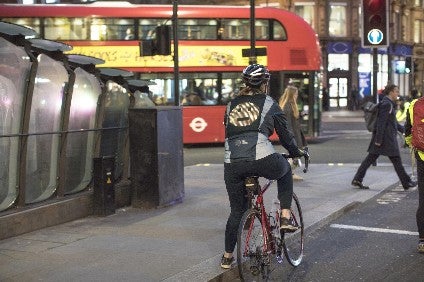 Although the press release could almost suggest a particularly clever 1 April hoax, long a UK auto PR speciality, Ford and industrial design specialists Designworks appear genuinely to have come up with an innovation intended to reduce the number of cyclists killed on European roads – currently over 2,000 a year, according to European Commission data.
The pair's suggested answer is the so called 'emoji jacket', a prototype created as part of the automaker's ongoing Share the Road campaign.
The jacket allows the wearer to effectively communicate their emotions to other road users around them by using emoji icons.
The back of the jacket carries a large LED panel which allows the user to display mood – whether happy, neutral, or worried while travelling.
Direction indicators and a hazard symbol can also be displayed to make other road users aware of the cyclist's movements and possible dangers ahead.
These functions can all be controlled without the cyclist removing their hands from the handlebars, thanks to a wireless remote, with independent buttons, which is easily mounted on and removed from the bike.
Emoji expert Neil Cohn, a linguist, said: "Emojis have become a fundamental part of how we use language. Whether used to convey facial expressions, humour, or sarcasm, they have become integral to our ability to express ourselves and quickly. This jacket… allows riders to express their feelings and creates an important emotional link between them and other road users."
The automaker said the Share the Road campaign underlines its belief enabling more people to cycle safely, especially for short journeys, benefits all.
"Believing that by fostering harmony between road users, raising awareness, and increasing conversations between them, our roads can become a better and more accepting environment for all."
Video here