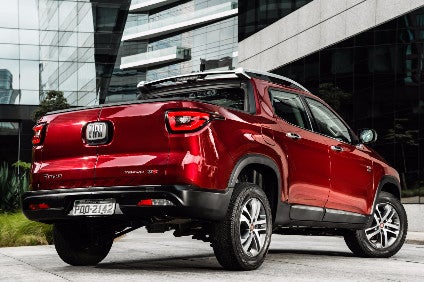 Fiat Brazil has long wanted to enter the profitable, five-passenger, mid-size, double cab, pick-up truck segment in South America.
In 2007 the automaker ended a deal with Tata because the Indian automaker's truck design was entirely unsuitable for Brazil. The locally designed and made Strada compact pick-up was homologated for only two rear seat passengers so a new design was called for.
The new Toro is the answer. About 43cm/1.7 in. shorter than competitors, it offers the same nominal one tonne/2,202lb payload in diesel-powered form.
The ambitious bit is Fiat's plan to to sell 50,000 units a year. Established mid-size pick-up competitors Chevrolet S10, Toyota Hilux, Ford Ranger, Mitsubishi L200, VW Amarok and Nissan Frontier together shifted 116,000 units last year. The target includes exports of up to 10,000 per year to Latin America, NAFTA, and European Union countries.
Fiat Brazil light commercials have been exported widely in the past and included right hand drive Uno-based small pickups for the UK and New Zealand.
To accomplish its lofty goals for the Toro, Fiat is counting on keen prices – domestic tags from BRL76,500/US$19,200 (FWD, flexible-fuel engine and six-speed automatic) to BRL116,500/$29,200 (AWD on-demand, turbodiesel and nine-speed automatic). This has been achieved, among other reasons, by using the Jeep Renegade powertrain and a large difference in Brazilian excise tax between SUVs (diesel, 25%) and pick-ups (10%).
The Toro's driveability is a new segment benchmark. Unitary construction, rather than body-on-chassis, and coil -sprung four-wheel independent suspension with multilink rear, carefully calibrated electrically-assisted steering and automobile-like driving position explain this.
A 2.99 m/117.7in wheelbase results in adequate room for three adults in the rear seat with a seat back less upright than most competitors'.
Styling is another highlight; it was done here in Brazil and inspired by the Cherokee and is not too radical. It draws bystander attention and demonstrates that the local design studio has achieved international status. The clever, split cargo bay door is quite light and makes loading easier as you don't have to reach over a folded down tailgate. Optional cargo bay doors have built-in, foldable plates to extend load bay length for hauling long objects, a clever idea. The option uses the standard tail lights and provides an illuminated space for a second registration plate as the main one is obscured when the extension is in use.
Inside, materials are a slightly lower standard than in the Renegade, a change justified by both price and heavy duty work intent.
The Toro, in line with rivals, is not fitted with an electric parking brake. The multimedia screen is just five inches, minute by current standards.
The automaker expects a 40% demand share for flex-fuel engines (no manual gearbox for now) and 60% for diesels for which a six-speed manual is offered for the intermediate, Freedom trim version.
The flex-fuel engine power output was improved to 137 bhp from 130 bhp. Despite this it had proved underpowered in the Renegade and this is even more noticeable in the new pick-up which is about 10% heavier.