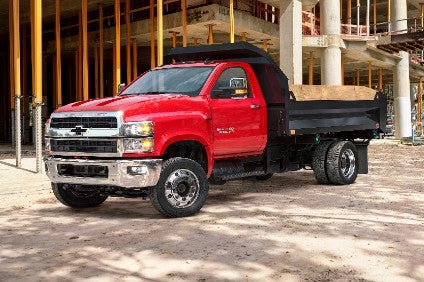 Allison Transmission has begun production of 1000 Series and 2000 Series fully automatic transmissions designed for Chevrolet's new Silverado 4500HD/5500HD/6500HD medium-duty trucks, claiming the gearboxes offer commercial-duty features more common to heavy-duty trucks.
The Allison transmissions will be paired with Chevrolet's Duramax diesel engine — a combination that so far has powered almost 2m trucks.
Standard or optional Allison transmission features for the Silverado chassis cab trucks include:
Power Take-Off (PTO) option to run power auxiliary equipment
Close-ratio six-speeds, with double overdrive
Available motorhome and emergency vehicle transmission applications
Patented Continuous Power Technology
Integration with Duramax 6.6-litre turbodiesel V8 with transmissions optimised for 350hp and 700lb-ft of torque
FuelSense electronic controls for increased fuel economy and dynamic shift sensing available later
Heidi Schutte, vice president, global sales at Allison Transmission, said: "Chevrolet and Allison engineers worked closely to provide the optimal integration."
The Allison-equipped Silverado trucks are rated at up to 22,900 lbs GVWR and the cab-chassis can be fitted for urban delivery, construction, landscaping, emergency and numerous other commercial applications. Chassis production is expected to begin in late 2018.
Allison transmissions have been used in Chevrolet trucks since the 1950s.
"As a company, we are dedicated to engineering and manufacturing the most productive and reliable transmissions that improve the way our customers work," said Schutte.