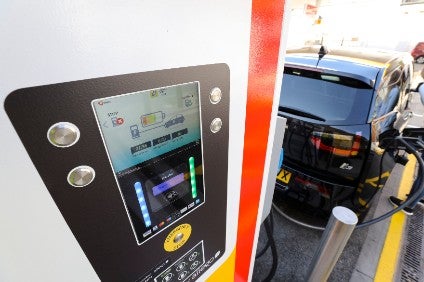 Allego , Visa and the other card schemes American Express and Mastercard have announced the launch of a payment system for electric vehicle (EV) drivers on a global scale starting in the UK.
The joint development of a new official and certified multi-optional payment standard enables EV drivers to pay directly via (EMV ) NFC at upgraded Allego chargers. EMV stands for Europay , Mastercard, Visa and is a security standard for the chips embedded in credit cards. NFC stands for NearField Communication and is the technology that allows data to be read by compatible machines without contact. Due to this technology EV drivers pay by just tapping their debit card, credit card or NFC enabled device including a wallet (banks, Apple Pay, Google Pay) at the charger's built-in payment terminal.
The first Allego fast charger with (EMV) NFC technology will be deployed at Shell Holloway in London with this new technology then being introduced across the Shell Recharge network in the UK. As from 2019 every new 50kW charger from Allego will have standard NFC at installation.
"The new payment solution at our chargers is essential to offer EV drivers worldwide price transparency. We believe in a consumer centric EV market, in which electric vehicle drivers have access to every charging facility, can pay however they want and get a direct overview of their costs," said Anja van Niersen, CEO Allego.
"Thanks to the strong collaboration with Visa we could accelerate the deployment of the payment services at our chargers. This a step that will change people's habits and will make e-charging easier and more accessible."
Hemlata Narasimhan, head of merchant services, Europe at Visa, said: "Until now electric vehicle drivers have faced lengthy registration processes in order to charge their vehicles, however this partnership means drivers will be able to pay easily at Shell forecourts without the need to enter into a contract or settle payments on a monthly basis."