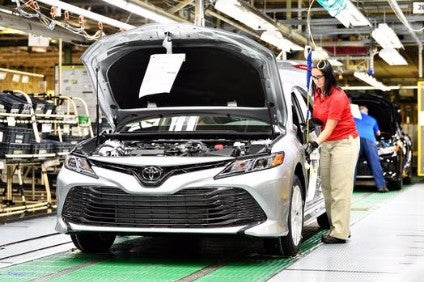 Toyota Motor has confirmed all of its manufacturing bases around the world were set to be operational this week for the first time since February 2020, in the initial stages of the global COVID-19 pandemic.
Toyota said its Venezuela assembly plant was scheduled to resume operations on Monday 14 July, after a months long suspension due to the coronavirus, while production at its other global facilities located in more than 20 countries had already restarted in stages over the last five months – albeit at well below pre-COVID-19 levels.
Even before the virus outbreak, production at the Venezuelan plant had been severely hampered by the country's deep economic problems.
The factory in Cumana city produced just 416 vehicles in 2019.
Toyota said it expected global vehicle demand would continue its gradual recovery in the second half of 2020 and its global production would also recover slowly as a result.
The company said its global vehicle production in the second quarter of 2020 was estimated at around 60% of last year's level.
Group production in the first five months of the year, including the Toyota, Lexus, Daihatsu and Hino brands, was down by 22.6% year on year at 3,399,107 units with May output down 56.5% to 408,842 units.