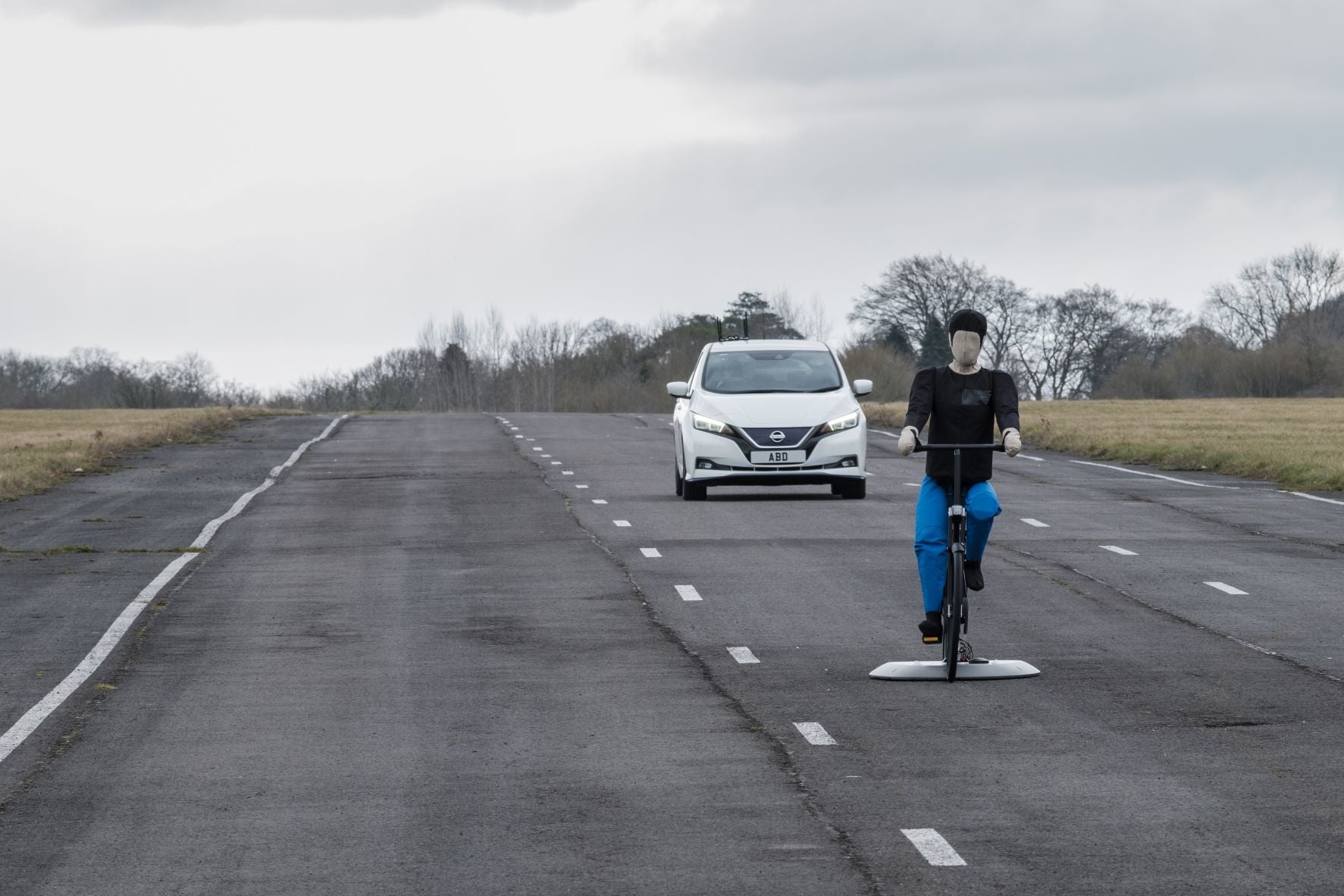 Automotive testing supplier, AB Dynamics, has developed a new, highly manoeuvrable target platform to more thoroughly test ADAS and AV technology.
Designed specifically to help replicate challenging urban test scenarios, the LaunchPad Spin simulates dynamic movements, can carry a variety of vulnerable road user (VRU) targets and has a top speed of 30km/h (20mph).
"The increasing sophistication of vehicle ADAS systems is necessitating a much more rigorous approach to testing," said Andrew Pick, business director, Track Test Systems at AB Dynamics.
"It is not sufficient to simply pass the legislative tests, vehicle manufacturers must ensure their ADAS systems continue to work when faced with the limitless number of scenarios encountered on public roads. To do this, test equipment must accurately replicate the real world to thoroughly test perception and classification systems."
The Spin features torque vectoring driven wheels and a precision steered front wheel that can continuously rotate through 360 degrees without an end stop.
Coming to a 'turn on the spot' move, the steering rotates from 0-90 degrees in 0.2 seconds to guide the nose of the platform through the arc of spin and present near zero resistance to the torque vectoring of the drive motors.
This combination provides the platform with claimed market leading manoeuvrability to accurately represent sudden changes in direction that give a driver or AEB system little time to react. For example, a pedestrian walking back across the road, or a child slaloming between parked cars. By replicating the behaviour of pedestrians it expands the testing envelope to cover increasingly complex, dynamic and realistic scenarios.
With a continued focus on the protection of VRUs, Euro NCAP, NHTSA and UNECE are increasing the number of tests in this area. NHTSA is proposing to include Pedestrian Automatic Emergency Braking (PAEB) tests in its SaferCar programme, while Euro NCAP's Vision 2030 roadmap also points to a further expansion of more advanced and complex pedestrian test scenarios in the near future.
Traditionally, pedestrian and cyclist ADAS testing has been carried out using belt driven systems, but these limit targets to moving in straight lines. Demand for more flexible and realistic testing led to the development of self propelled robotic test platforms, such as the LaunchPad 50, 60 and 80, which have all been approved by Euro NCAP.
The LaunchPad Spin offers complete freedom in positioning, rapid reset and replay of scenarios and replicates the real world behaviour of pedestrians. It provides OEM's, Tier 1s and test houses with a "future proofed" product as testing becomes increasingly more complex.
The platform is compatible with the recently launched Soft Pedestrian 360 and can travel at speeds up to 30km/h and accelerate at 3 m/s2, providing the flexibility to carry a range of VRU targets, such as pedestrians, cyclists, e-scooters and animals.
Its high capacity, hot swappable battery system enables a full day of testing at pedestrian speeds on a single charge. The chassis has a tapered teardrop shape to reduce radar cross-section and can be driven over by a 44-tonne truck, making it compatible with heavy commercial vehicle testing.
The LaunchPad Spin uses AB Dynamics' new RC 9.4 software, which is common across the company's track testing products. It enables coordination of all test objects, including the vehicle under test and targets, to an accuracy of 2cm.