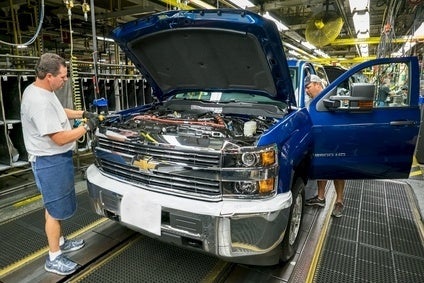 American Axle & Manufacturing said sales in the second quarter of 2022 were US$1.44 billion versus $1.28 billion in Q2 2021.
"On a year over year basis, Q2 sales were favourably impacted by supply chain improvements, volume and mix, and the Tekfor acquisition, the supplier said.
"In addition, metal market pass-throughs to customers and foreign exchange added approximately $27 million in sales to the quarter."
Net income rose to $22.9 million, or $0.19 per share, from $16 million and $0.13 per share in Q2 2021.
Adjusted earnings per share were $0.22 versus $0.29.
"AAM delivered solid second quarter financial results and cash flow conversion while operating in a volatile industry environment," said chairman and CEO David Dauch.
Adjusted EBITDA was $195.1 million, or 13.6% of sales, compared $222.6 million/17.3%.
AAM is targeting sales in the range of $5.75-$5.95 billion versus $5.6-$5.8 billion prior, adjusted EBITDA in the range of $790-$830 million versus $785-$830 million prior and adjusted free cash flow in the range of $300-$350 million; this assumes capital spending of 3.5%-4% of sales.
The updated financial outlook reflects acquisition of Tekfor Group effective 1 June, 2022 with "cost synergies on track for 2023".
The supplier expects 2022 North American light vehicle production of approximately 14.3-14.7 million units and "the current operating environment".