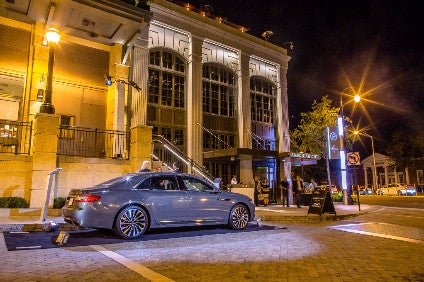 Ford belatedly reported its October results. Adding more red ink to Tuesday's totals, the automaker's sales were down 11.9% as a good month for Lincoln was dragged down by a bad month for the Ford brand.
Lincoln sales were up 6.9% as a very strong month for the new Continental drove the brand's car sales up 40.6%, wiping out a 10.3% decline in utility sales.
Ford brand sales dropped 12.7% with weakness across the board. Car deliveries plunged 30.8% with every model in the red. Mustang sales fell 46.4%, the worst performance of any of the Detroit muscle cars.Just two utilities were in the black, the Lincoln MKS and the Ford Police Interceptor Utility. Sales of the Escape and Explorer, the high-volume models, fell by 4.9% and 14.1%, respectively.
The F-Series pickup managed to beat its October 2015 mark but by just 42 sales. The F-Series accounted for 34.9% of the automaker's October US volume.
With Ford added to the mix, total US light vehicle sales were down 5.9% for the month and 0.3% for the first 10 months of the year. Total turnover was about 1.37m cars and light trucks.
The reduced volume translated to a very robust seasonally adjusted annualised rate (SAAR) of 18.02m light vehicles, the highest rate since November of last year.
Kelley Blue Book estimated average transaction prices rose 2.3% to US$34,663 (GBP28,097). That was $783 (GBP634) more than October 2015 but about $12 (GBP9.72) less than September 2016's average. FCA had the biggest jump: average transaction prices rose 5.7% as the new Pacifica helped push prices.
There was a cost to moving the metal last month. Estimated incentives shot up 15.7% compared to October 2015, hitting an estimated average of $3,587 (GBP2,907). Ford, which is usually more stingy than its Detroit rivals, bumped its spend up to an average of $4,404 (GBP3,570), second only to GM, which offered $13 (GBP10.54) more per vehicle.
Incentives and deals were especially good on full-size pickups, at times accounting for nearly 20% of the purchase price. Sales of the profit-laden trucks have softened: they missed their year-over-year target by 141 units.
Crossovers and SUVs continue to take the lion's share of sales. Last month, they outsold passenger cars by more than 83,000 units and they have now also surpassed car deliveries in year-to-date sales.
Sales of premium brands fell 6.4% in October as shortfalls reported by the larger players erased some fairly impressive gains by the smaller brands. Sales of Jaguar, Bentley and Maserati soundly trounced their results from October 2015 thanks to the new F-Pace, Bentayga and Levante SUVs.
Mercedes can't quite take a holiday for the next two months but it does have a fairly comfortable lead over runner-up Lexus. BMW has now fallen to third place in both the monthly and year-to-date races.
While there is no guarantee, the next two months should see improving numbers. The industry may not set another record but it appears that 2016's final tally will be somewhere north of the 17m mark.
Members' Report: U.S. light vehicle sales
* indicates a sales record.
**Volkswagen Group figures include Audi, Bentley, Porsche and Volkswagen brands
Other includes estimated sales for Aston-Martin, Ferrari, Lamborghini, Lotus, Rolls-Royce and Tesla
Source: Manufacturer's reported sales