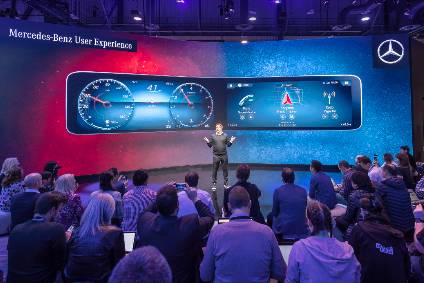 Britta Seeger, Daimler board member responsible for Mercedes-Benz car sales, has told an industry conference that she expects 25% of Mercedes used and new cars to take place online by 2022.
Speaking at the Automotive News World Congress, in Detroit, Seeger also said that the Mercedes dealer network is a key asset for the brand and that Mercedes will work closely with them on its sales and marketing strategy.
"Our physical dealer network is up and running and in place," she said. "We want to build on that strength in the future. And we are developing, with our dealers, new platforms, new formats."
Seeger said that besides the physical element and innovations such as pop-ups, Mercedes plans to do more digitally. "We want to offer more, digitally in the future, and we want to offer it in a seamless way," she said.
Seeger said that the journey to 25% sales – new and used cars – being online by 2022 is a "huge effort that we – with our dealers – have to undertake."
She also said that the 'Mercedes me' app offers a big opportunity – the digital entrance – for more interaction between customer and the connected car. "More services will be offered in the future, such as 'collision alert assist', which will help you directly with customer assistance centres.
"Many things are to come and we consider this a huge opportunity," she said.
Seeger also told delegates that MBUX – Mercedes' new interactive telematics platform shoown at CES – will be launched next month with the new A-Class, rather than on a high-end or flagship model as part of a strategy to take the feature to younger consumers who will demand it.
"We decided to get the new digital customers with the A-class," she said.