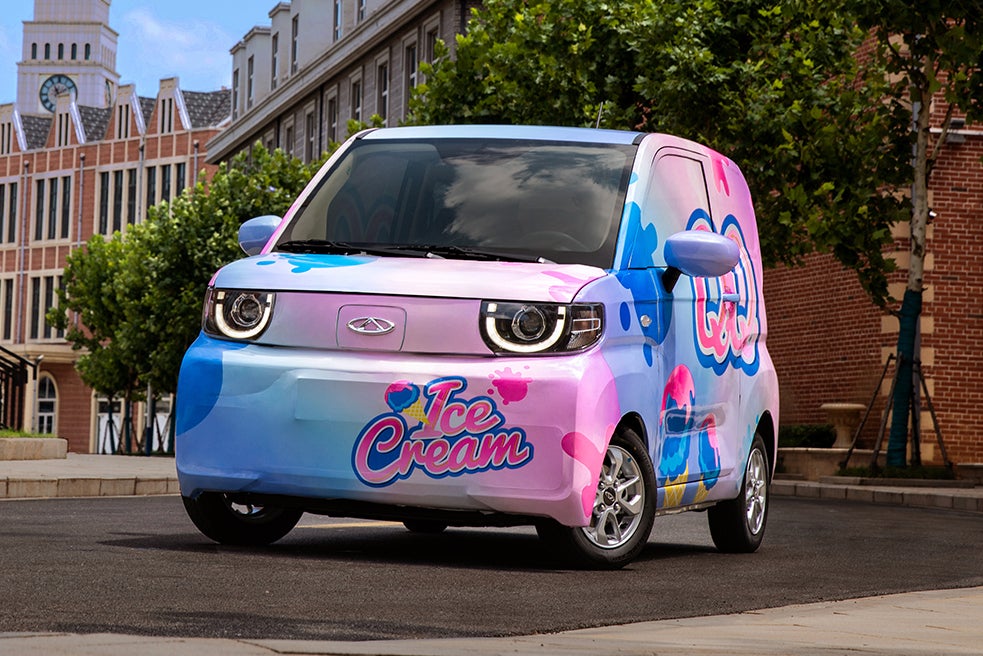 The following models were world debuts. This list has more updates to come.
BMW Group
Another brand with world premieres is BMW. Facelifts for the X3 and X3 M were announced in June, two months before production commenced.
There are also equivalent updates for the X4 and X4 M. Among the mechanical changes, 48V electrics become standard for those engines which were not already mild hybrids.
The line-up for each model is now: xDrive30e, M40i, M40d, xDrive20d, xDrive30d, xDrive20i and xDrive30i, plus the X3 M and X4 M.
BYD
The Yuan Plus is a 4,455 mm long electric SUV which comes with a choice of 50 kWh and 60 kWh battery packs. Top speed for all variants is only 160 km/h and outputs from the motor are 150 kW and 310 Nm.
Chery Auto
The Anhui-based OEM is already having a strong 2021 and things could really improve if the new Chery QQ Ice Cream catches on.
Looking very much like the hugely popular* Wuling Hongguang Mini EV, the tiny (2,980 mm) hatchback has a top speed of 100 km/h and a maximum NEDC range of just 200 km. See link to PLDB below for more specifications.
*China retail sales from 1 Jan-31 Jul: 187,203 units, fourth best seller in Jul and fifth YtD
Geely
Not major news but worth reporting nonetheless, a facelift for the Geely Bin Yue made its motor show premiere in Chengdu.
The same applies for the latest generation Emgrand, this 4,638 mm long sedan having been announced at a special event in China during May. Emgrand has been used for all manner of Geely vehicles as well as having been a brand.
GWM
The Haval XY concept premiered at Auto Shanghai a few months back but rather than a production version of that SUV, the brand's main novelty at the Chengdu show is a coupe-SUV called H6S.
Called Shenshou, Great Wall Motor claims the name translates as 'mythical beast'. The 4.8 m long SUV is powered by a 1.5-litre four-cylinder turbo, the outputs of which are 135 kW and 220 Nm. The transmission is a seven-speed DCT.
GWM is also using this event to show the Tank 400 concept and 500 to the public for the first time. The first of the pair has a separate chassis and has angular, rugged looks.
The 500, also a ladder frame chassis SUV, is meant to compete with the Land Cruiser Prado. It is 5,050 mm long, 1,934 wide and 1,905 high with a 2,850 mm wheelbase. Production commenced at a new plant in July.
Jingmen, which is in Hubei province, opened towards the end of last month and has an annual capacity of 100,000 vehicles. GWM stated in October 2020 that the factory was to be for pick-ups and SUVs.
Wey is exhibiting the Ora Ballet Cat which has throwback looks in the style of a 1950s sedan. A production version, which has the code V72, is said to be coming. Will the prototype's chrome-look wire wheels be part of the specification?
SAIC
MG revealed the 5 Scorpio. This has darkened exterior trim, headlights and wheels; a bespoke front end and a little more power (181 PS) from SAIC's 1.5-litre turbo engine.
WM Motor
There is a new car – well, it's a derivative of the W6 – for the Weltmeister brand and it's a wild looking one. The Champion, an electric hatchback, has multiple wings and is claimed to reach 100 km/h in 1.8 seconds. That's thanks to a claimed 805 PS produced by two motors.
More detail on past, current and forthcoming models can be found in PLDB, the future vehicles database which is part of GlobalData's Automotive Intelligence Center.