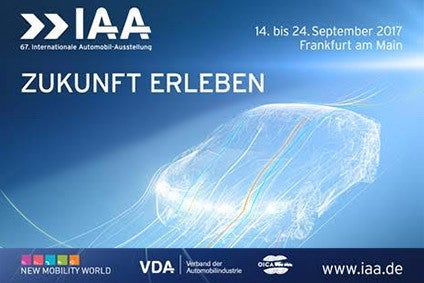 All the world premieres from the 2017 Frankfurt IAA are listed below. The most important production models making their motor show debuts were the Volkswagen Polo and Volkswagen T-Roc, Porsche Cayenne, Opel Grandland X, Škoda Karoq and SEAT Arona.
Information on the following models can be found by searching PLDB, just-auto's global vehicle database. Simply click on the link at the end of this list.
Alfa Romeo: no presence
Audi A4 Avant g-tron: runs on natural gas, 125kW (170PS) and 270Nm from a 2.0-litre turbo engine which also runs on petrol
Audi A5 Sportback g-tron: same specification as the A4 Avant g-tron
Audi A8: this was its public debut after being revealed to the media at an event in Barcelona on 11 July, 48V electrics as standard
Audi Aicon concept: autonomous to Level 5, four motors, claimed range of up to 800km, 5,444mm long, 3,470mm wheelbase is 240mm lengthier than that of new A8 L
Audi RS 4 Avant: 331kW (450hp) and 600Nm 2.9 TFSI engine, wheel arches are 30mm wider than on an A4 Avant, in German dealerships from early 2018
Audi Sport R8 RWS ('Rear Wheel Series'): rear-wheel drive variant, 50kg lighter than R8 Coupé V10, build limited to a combined 999 Coupés and Spyders
Audi Elaine concept: an evolution of the e-tron Sportback concept, three motors and a claimed 370kW
Bentley Continental GT: Porsche-developed MSB architecture, body panels stamped in Bratislava, BiW made at Porsche Leipzig plant and final assembly in Crewe
'Bayerische Motoren Werke' and a black and white roundel in marketing material (not on the cars) for BMW's 'elite' models, which will be the i8, 7 Series, 8 Series and X7
BMW 6 Series GT: replacement for 5 Series GT is lighter and lower but 87mm longer, will be made at Dingolfing
BMW i3 facelift & i3S: new S has a motor which produces 135kW (184hp) and 270Nm, both cars available with 28kW (35hp) two-cylinder range extender
BMW i Vision Dynamics concept: prototype of a four-door electric car due for release by 2021 which might be called i5 or i6
BMW M5: show debut following 21 August media premiere, 441kW (600hp) & 750Nm biturbo 4.4-litre V8, new RWD-4WD system, 0-100km/h in 3.4 seconds
BMW X3: public debut, following the new model's showing to the media at an event in June
BMW Concept X7 iPerformance: preview of next year's big SAV which will be manufactured at Spartanburg
Borgward Isabella concept: revival of a name last seen in the 1950s and 1960s for a long, low four-door coupe
Chery Exeed TX: under development as the M31T prototype, an SUV which will be available as a hybrid, PHEV or EV
Citroën C3 Aircross: twin of the Opel/Vauxhall Crossland X, replaces the C3 Picasso and becomes an SUV even though it is front-wheel drive only
Dacia Duster facelift: a major update for H79 after seven years (new interior and many new body panels), a new model code of HJD shows that Renault considers it a new model
DS: no presence
Ferrari Portofino: replacement for California T uses a more powerful version of that car's 3,855cc turbo V8
Fiat: no presence
Ford EcoSport EcoBlue 1.5 diesel: same facelift as was revealed at LA show in November 2016 but the world debut of an updated diesel engine
Honda Civic diesel: existing 1.6-litre engine will be available in European markets from 2018
Honda Urban EV concept: preview of a small electric vehicle for Europe, due to enter production in 2019
Honda Jazz facelift: on sale in Japan as the Fit since June but this is the motor show world debut, 1.5 petrol is new to Europe
Hyundai i30 Fastback: effective replacement for old-shape three-door, this is an alternate shape five-door i30
Hyundai i30 N: first car for the brand's global new sub-brand which is meant to challenge VW's GTI cars
Infiniti: no presence
Jaguar E-PACE: motor show debut (was revealed to media in July), will be made by Magna Steyr from Q1
Jaguar XJR575: the fastest XJ yet gains 25hp over the XJR which it replaces, top speed is a claimed 186mph
Jeep: no presence
Kia Proceed KED-12 concept: five-door low-roof hatchback is a preview of next year's pro_cee'd successor
Kia Picanto X-Line: suspension raised by 15mm, green grille and foglight surrounds, bespoke bumpers, 100PS 1.0-litre T-GDI engine from cee'd
Kia Sorento facelift: six-speed automatic replaced by HMG's own eight-speed gearbox, mild styling update
Kia Stonic: Project code is 'SE', a long overdue B segment SUV and closely related to the similarly sized Hyundai Kona
Lamborghini Aventador S roadster: powered by the same naturally-aspirated 740hp V12 as the Aventador S coupé, 0-100 km/h in 3.0 seconds with top speed 350km/h (217mph)
Land Rover Discovery SVX: 'most extreme Land Rover yet', 525PS and 625NM version of JLR's supercharged 5.0-litre V8, will be assembled by SVO from 2018
Maserati MY2018 Levante & Quattroporte: Electric Power Steering (EPS) replaces hydraulic systems, allows new Advanced Driving Assistance Systems (ADAS) with active functions
Mercedes-AMG Project ONE: engine based on Mercedes-Benz 1.6-litre V6 used in Formula 1 car and there will be MGU-K and MGU-H motor generator units too
Mercedes-AMG S-Class Coupé and S-Class Cabriolet facelifts: new variants are the 3.0-litre V6 S 450 4MATIC and bi-turbo 4.0-litre V8 S 560/S 560 4MATIC
Mercedes-Benz Concept EQ A: expected to be a preview of an electric version of the next A-Class
Mercedes-Benz GLC F-CELL EQ Power: prototype of a fuel cell version of the GLC-Class
Mercedes-Benz S 560 e: facelift and a new name for the S-Class PHEV, smaller battery means a bigger boot, up to 50km in EV mode, 270kW 3.0-litre petrol V6 + 90kW motor
Mercedes-Benz S-Class Coupé and S-Class Cabriolet facelifts: S 63+ 4MATIC Coupé & S 63 4MATIC+ Cabriolet replace the 5.5-litre S 63, now powered by a 450kW/612PS & 900Nm 3,982cc bi-turbo V8 and have a nine-speed automatic) S 65 Coupé & S 65 Cabriolet retain their 463kW/630PS & 1,000Nm, 5,980cc bi-turbo V12 engine and seven-speed automatic gearbox, the cheaper S 63+ is faster than the V12-engine S 65
Mercedes-Benz X-Class: motor show debut as its media preview took place over a year ago, European sales commence in November
Mini Electric concept: three-door hatchback, a preview of the EV due for release in 2019, Union Flag pattern in tail-lamps
Mini John Cooper Works GP concept: large air intakes and deflectors, stripped out interior
Mitsubishi: no presence
Nissan: no presence
Opel Grandland X: to be manufactured in France by Groupe PSA at Sochaux, this 4.48m long SUV replaces the discontinued Antara
Opel Insignia 2.0 BiTurbo: new diesel meets Euro 6.2 regulations, produces 154kW (210PS) and 480Nm
Opel Insignia Country Tourer: suspension is raised by 20mm and black cladding around the wheelarches, has been available to order since June
Opel Insignia GSi: 191kW (260hp) 2.0-litre turbo with AWD, replaces first generation Opel Insignia OPC/Vauxhall Insignia VXR and is faster than these due to weight loss
Opel Vivaro Tourer & Combi+: similar to the Renault Trafic SpaceClass, passenger versions of Vivaro van, Vauxhall versions are called Tourer Elite and Combi Plus
Opel Vivaro Life: campervan with extra-dark tinted windows and seats which convert to a double bed, Vauxhall's equivalent is the Vivaro Tourer Weekender
Peugeot: no presence
Porsche Cayenne: revealed to media on 29 Aug; MLB Evo architecture; related to Bentayga, Q7, next Touareg and future Urus; in dealerships from April
Renault Mégane R.S.: to be available only as a five-door hatchback, 300PS+ 2.0-litre turbo engine and front-wheel drive, production not expected to commence until 2018
Renault Symbioz concept: autonomous EV, other details subject to media embargo
Rolls-Royce Phantom: public and motor premiere following on from a presentation to the media in July
SEAT Arona: closely related to Skoda Karoq, to be made at Martorell, due on sale in LHD EU & EFTA markets in November (December for UK)
SEAT Ibiza 1.0 TGI: compressed natural gas fuelled version of SEAT's best-seller
SEAT Leon Cupra R: only 799 will be built, front-wheel drive, 310PS (manual) or 300PS (DSG), copper-coloured door mirror casings
Škoda Karoq: motor show debut for this 4,382mm long SUV, production commenced in July
Škoda Vision E concept: Level 3 autonomous design study has gained a different end since its world debut at AutoShanghai
smart vision EQ fortwo concept: 2,699mm long autonomous taxi which has 1+1 seating and no steering wheel or pedals
Suzuki Swift Sport: weight drops by 80kg compared to old shape model, now just 970kg, torque up by 70Nm to 230Nm, power from 1.4 turbo is 103kW
Thunder Power TP-01 EV prototype: headed for production at a purpose-built plant in the city of Ganzhou in China's south in 2019
Toyota C-HR Hy-Power concept: preview of a more powerful hybrid powertrain for Europe and other relevant regions
Toyota Land Cruiser/Prado facelift: it's called 'new' but it's another update for the body-on-frame SUV which Hino has been building at its Hamura plant since August 2009
Volkswagen Group (not Volkswagen) SEDRIC concept: previously shown robotic taxi-pod is updated with a new colour and a 42 on one of its wheel covers
Volkswagen Polo: show debut, was revealed to media on 16 June, uses same MQB A0 architecture as SEAT Ibiza
Volkswagen Polo GTI: 147kW (200PS) 2.0-litre turbo from the pre-facelift Golf, six-speed manual or seven-speed DSG
Volkswagen T-Roc: Golf-based SUV positioned below Tiguan, to be built in Portugal at Palmela (Setúbal), revealed to media on 23 August
Volvo: no presence
Wey XEV concept: PHEV crossover design study, 2.0-litre turbo petrol engine powers the front axle and a motor sends drive to the rear
Future product program intelligence
Get more data on vehicle lifetime and future product plans with PLDB from QUBE.