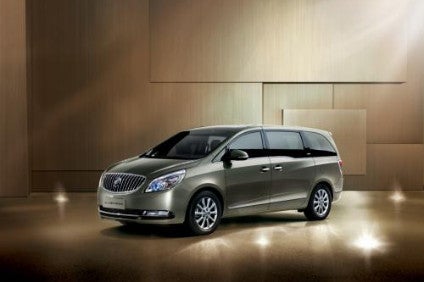 The following cars, crossovers, MPVs, SUVs and concepts were world premieres at the 2016 AutoGuangzhou motor show.
Information on the majority of these models can be found by searching PLDB, just-auto's global vehicle database. Simply click on the link at the end of this list.
Baojun 510: SAIC GM Wuling will soon add this crossover to Baojun's range
Buick GL8 Luxury MPV: new body and engines for this large minivan
Buick Velite concept: compact crossover reportedly based on Chevy Volt
Chevrolet Cruze five-door: SAIC GM's car differs in only small details from the Cruze for the Americas
Citroën C-Elysée facelift: first update for DPCA's small sedan
GAC EnLight concept: four-wheel drive autonomous supercar with butterfly doors
Dongfeng-Fengxing Jingyi X5: second generation compact crossover
Dongfeng-Fengxing Jingyi S50 EV: plug-in version of the existing C segment sedan
Hanenergy Solar R: prototype of a light-powered sports car
Hanteng X5: 1.5 turbo engine for this second SUV below the X7
Honda Avancier: full-sized SUV, to be built by Guangqi Honda
Honda Jade facelift: mid-life update is a mild restyle
Honda UR-V: Dongfeng Honda's version of the Avancier
Hyundai Celesta: 4.5m long additional sedan to sit between Verna and Elantra
Hyundai Verna hatchback: Beijing Hyundai will build it from early 2017
Kia KX7: new name for the localised Sorento, built by DYK joint venture
Landwind Daoyao: due on sale in 2017, looks a lot like the Infiniti QX30
Lifan Xuanlang: looks remarkably similar to Ford S-MAX though 76mm shorter
Lifan X80: production version of former body-on-frame SUV concept
Maxus T60: Hilux-sized pick-up, will also be made with RHD, LDV brand to be used in some markets
MG ZS: project code is also ZS, aimed at Peugeot 2008, due on sale in 2017
Peugeot 301 facelift: its twin the Citroën C-Elysée is also updated
Qoros 3 GT: 3 sedan with raised suspension and wheelarch extensions
Qoros Q-Lectriq concept: EV version of 3 GT with a claimed range of 350km
Roewe i6: compact sedan replaces 550 and also has new engines
Roewe ei6: plug-in hybrid replacement for the e550
Toyota Vios 3: small sedan for FAW Toyota joins three-year old Vios hatchback
Toyota Yaris L: new sedan for Guangzhou Toyota (GTMC) joint venture
Volkswagen Teramont: different engines but otherwise almost identical to VW of America's Atlas, built by SAIC VW
Volvo S90 Long Wheelbase: on sale from December; available with T4, T5 or T8 petrol engines
Volvo S90 Excellence: three-seat LWB sedan has a work station console
Wey 01 concept: first vehicle from Great Wall's premium brand is an SUV
Wey 02 concept: SUV, another vehicle for GWM's future premium brand
Future product program intelligence
Get more data on vehicle lifetime and future product plans with PLDB from QUBE.