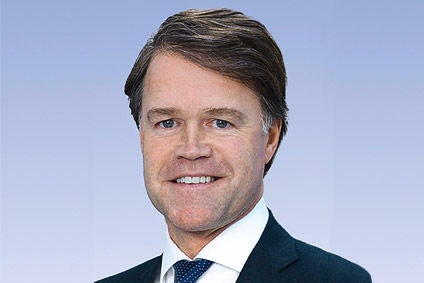 Established in 2015, Yanfeng Automotive Interiors (YFAI) is a joint venture between Yanfeng, one of the largest automotive suppliers in China and Adient, the global leader in automotive seating. Continuing just-auto's series of interviews with tier one component suppliers, we spoke to Han Hendriks, Chief Technology Officer for YFAI at the IAA to learn more about its showcase.
It is very important that, when you get into a shared vehicle, it smells clean, fresh and adjusts for your preferences.
Could you tell us the headline message that you would like to put out here at the IAA about your eXperience in Motion (XiM18) vehicle interior concept?
This is about the next living space. We all agree that autonomy is one of the most significant drivers along with shared mobility, connectivity, and the new mobility OEMs in California. These all challenge us in new ways, on top of electric vehicles and lightweight. All of these are the main themes.
We believe this XiM18 concept incorporates more than 30 new products and process solutions – and your XiM17 shown earlier this year at the Detroit motor show included more than 25 innovations – for the next generation of electric and autonomous cars. Could we see some of those sooner than later, i.e. smart surface technologies, modular storage solutions on a Level 3?
I would say that 60-70% of those innovations in processes and products are production ready today and would do very well in a non-autonomous, non-shared combustion vehicle. An example would be smart storage solutions –practical solutions – including things like where to put your smartphone. Today most people put them in their cupholder. Another important focus where we have increased our R&D activity, is the area of seamless integration of human-machine interface controls into our decorative surfaces.
If tomorrow's cars are about sharing, how does that change the cabin storage?
In our XIM 18 concept, we have a 3D interior mapping camera installed which maps the interior and has real-time analytics. It knows exactly what is going on in the interior. In a shared vehicle or a non-shared vehicle, the person getting into the car is recognised by the camera and immediately all of the settings are adjusted to suit that person's preferences, such as music, radio channel, seat position, and colour of the ambient lighting. So that is a feature that would go really well in a shared vehicle, where you do not have to spend the first five minutes adjusting the seat and cabin temperature.
The main thing about a shared vehicle is that you want to avoid leaving anything behind in that vehicle, so our storage solutions are not covered. As the driver exits the shared car, a camera creates a 3D map of the interior to detect if there is any unusual 'volume' left behind. A car alarm goes off to remind the driver that they have left something behind.
We understand that keeping the car fresh and clean is another major concern of yours?
Yes, it is and keeping it bacteria free as well. Our focus is on safe self-healing and self-cleaning. Those are the areas that we are investigating and is a combination of a few things. First of all, if you buy a vehicle today then your experience with that brand is based on four years of ownership mainly by four people in a family that use that car all the time. When we talk about a shared vehicle, this brand experience with, say, BMW as an example, is based on a 20-minute ride by 4,000 people. So the question is: how do you create a BMW brand with that in mind and still maintain the company values? So it is very important that, when you get into the shared vehicle, it smells clean and fresh and adjusts for your preferences.
There are certain things that you can cover with self-cleaning services and anti-microbial surfaces. But then there is a concern about how do you organise the cleaning of the vehicle after each use. Is it every 24 hours or every 500 km? Do you use cleaning stations or robots? So we are thinking about those service concepts as well. And then what do you replace after six months – as parts are worn down – or one year or two years? When do you do a complete makeover? What level of flexibility what do you, as a consumer, need? So we are doing a lot of exploration with our customers and that is the interesting part. Whether that is with BMW or the new mobility customers or some of the Chinese customers, they all have questions on where the future of the interior is going to go. And they are bringing us in earlier to work on advanced projects.
Thinking further out to Level 4 and 5, by when do you see this happening? Will those traditional plastic parts disappear in favour of smart parts and surfaces?
Every surface in the car interior will become smart or intelligent.
Yes. I definitely think so. That was also the visual image that we created to have these first discussions two years back with our senior team, where we had our traditional plastic with a primary part being a decorative, interactive surface, and then ten years down the road, that same part is still there but mainly covered with an interactive surface. So we definitely think that every surface in the interior will become smart or intelligent in some form or shape. Plastics can still have a place, but they will be intelligent plastics.
In terms of lightweighting, are you considering carbon fibre, magnesium or even green or organic materials?
Yes. Very much. We have the best performing natural fibre in the world. Until now we have covered the natural fibre substrate with a vinyl or another surface, but we now have now developed the A-surface of this natural fibre to a point that has very attractive static qualities. This is especially applicable for electric vehicles where our customers are looking for a different look of the interior and they love the visible natural fibre. So you have the weight advantage and a very different look and feel of the surface material.
Non-traditional automakers appear to be changing the face of mobility. What are they asking for in terms of in-vehicle engagement that's different from traditional automakers?
We are working with a West Coast manufacturer but unfortunately at the moment we cannot talk specifics. In early November, we will have a soft opening of what we call the Yanfeng Automotive Interiors Future Centre. They are up and running already. There we are working with our customers – not just the new mobility OEMs in the region – but also the traditional OEMs on advanced concepts. But when I think about these new West Coast customers, their expectations are different at many levels. First of all, they do not have the history of making car interiors over the past 100 years that most of the traditional customers have. They also look for different types of partnerships with their strategic suppliers. That presents an opportunity for us. In terms of development speed, they have higher expectations than our traditional customers. They have some unconventional thinking to the interior, too. As an example, the Tesla Model S does not have a map pocket because nobody needs maps anymore. Most people do not put gloves in their glove pocket but do need effective storage. We are also rethinking the definition of premium materials. For instance, should that still just mean leather and wood or should it take in high-tech smart materials that can redefine premium for their vehicles?
We understand that for car manufacturers as well as their suppliers, individualisation is a growth market that offers great potential for differentiation. How is YFAI responding to that?
We have looked at individualisation on many levels. Using the camera, we can adjust the individual interior preferences of the driver as soon as they enter the car. That is an important consideration. We avoid things like replacing the feel of a certain door panel and with a different colour or fabric. But where we do see opportunities is where that part is digital, and using light and display technology to address the ambience of the vehicle
So YFAI has five product groups but we understand that your capabilities are more than just delivering those five products. Through concepts such as the XiM18, you want to be known as an integrator of those technologies. Is that right?
We have started a deep dive on safety in autonomous cars.
Yes, that is our position in the market, that we want to be known as a total integrator. We do not manufacture every component in the interior itself, but we are involved in a few very important strategic partnerships. For example, in the area of seats, we have a partnership with Adient. We also work with a German company called KOSTAL, who is a technology leader in their field, especially in HMI competence. As a matter of fact, we have our first joint prototype here in our booth.
Thinking about a level 4 or 5 AV and the technologies that you already have either in-house or through partnerships, are there any gaps in that matrix that you need to fill in order to develop interiors for such a car?
One area that we have started to do a deep dive on is safety in autonomous cars. The safety concept needs to be rethought, as there are a couple of challenges. At the moment, every person in a car is in a fixed position so the airbags direct themselves to the person in the correct manner. But in the autonomous car, the occupants are positioned in different ways and angles. Therefore we need to understand exactly what airbags are required depending on the occupant's position. We need to know whether or not the table is out and being used. Rethinking safety is a very important consideration.