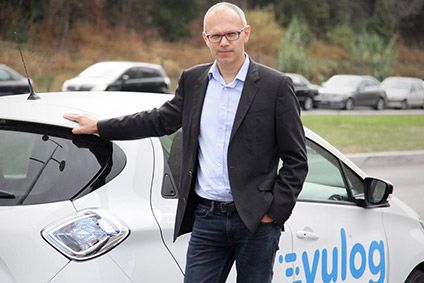 French shared mobility tech firm Vulog supplies back-end software platforms for car-sharing services. It claims to offer everything needed for an operator to run a car-sharing service, working with the likes of KIA and PSA Groupe in the US, China and Europe. Last year, their platforms powered 15 million journeys. This year, they're forecasting 25 million. They're using Big Data to help clients optimise fleet efficiency and trialling autonomous ride-hailing/mobility sharing. To learn more, we spoke to Grégory Ducongé, CEO of Vulog .
Could you tell us a little about your business?
Vulog was founded in 2006 and is the world's leading technology provider for shared mobility services, such as car-sharing. It provides an advanced technology platform for providers to rapidly and efficiently enter the shared mobility market.
We are pretty unique on the market for several reasons:
We provide a highly flexible technology solution to enable our customers to offer the right service to meet local customer needs.
Vulog is the only tech provider with a global footprint (across on five continents) and a proven capability to deploy large scale projects anywhere in the world.
Last but not least, not only do we provide the best technology solution on the market, we also share our business expertise gathered over the past 12 years dealing with dozens of projects all over the world.
We understand that your business has grown quite substantially lately. Could you give us an idea of what's happened?
The number of journeys powered by Vulog has roughly doubled year-on-year for the past four years.
The number of journeys powered by Vulog has roughly doubled year-on-year for the past four years. Last year we announced 12 new projects, some of them with very large carmakers (KIA , PSA and Dongfeng). This demonstrates just how quickly shared mobility is accelerating. We anticipate 2019 to be a breakthrough year for car-sharing services and we will be launching several large-scale services in Europe and the US in particular by the end of the year.
We hear that one of your large customers is PSA Peugeot Citroen. In what ways do you support them?
We are working with several OEMs including PSA Groupe. We are supporting the company's emov car-sharing service in Madrid and Lisbon (with fleets of 600 and 150 electric cars, respectively), as well as with its entry into the US market with its Free2Move offering in Washington D.C., (600 vehicles). We are also partnering with PSA Groupe and Dongfeng Motors on a large car-sharing project in Wuhan, China.
As with all our clients, we provide the full technology stack that makes it possible to run an efficient car-sharing service with the best customer experience. We provide a customisable end-to-end technology solution: a smart mobility platform with predictive capabilities, a back-office for the operator to manage its service and optimise its fleet, white label apps, advanced analytic tools and, if needed, OEM-compliant hardware in the car. Our unique experience with dozens of customers around the world, combined with our Artificial Intelligence proficiency, enables us to anticipate end-user demand unlike any other, while optimising fleet balancing.
Who are your other customers and where in the world are you seeing most demand for car-sharing?
The greatest demand currently is in western Europe, but the US is fast catching up, especially thanks to the high-profile 'scooter wars' in 2018.
We are working with several large OEMs, including the Hyundai-KIA Group in Madrid (WiBLE service with 500 KIA Niro plug-in hybrids), and some others that will be announced soon. We support services provided by energy companies, vehicle distributors, insurance companies, car rental companies, and even some start-ups. In addition to east and west coast US, our technology is the backbone of operations in Melbourne, Auckland, Montreal, Vancouver, Sao Paulo, Copenhagen, Madrid, Oslo, Budapest, Brussels, Paris and Wuhan in China, among others. Our global footprint and scale give us a unique insight into the trends and the factors for success in this arena. The greatest demand currently is in western Europe, but the US is fast catching up, especially thanks to the high-profile 'scooter wars' in 2018 which served to bring the concept of shared mobility rapidly into the public awareness.
How is your business shaping up in China?
China is already the largest car-sharing market in the world, with a huge growth potential. This is a very promising market and we now have the solution and team to address this opportunity. We already have one operation in Wuhan that has the potential to grow significantly. The other great opportunity in China is the strong ambition of many domestic brands to enter global markets. We're currently talking to several Chinese companies about entering international markets through mobility sharing operations that can be set-up and deployed within three-to-six months. That's very exciting.
I guess it's not just cars that people wish to share but scooters, too. How do you see this market shaping up?
It's important I stress that Vulog 's technology is a mobility sharing (not just car-sharing) platform, and that's because the most successful services now and in the future will be those catering for the broadest range of use cases, increasing their appeal to the widest potential user base. Poppy in Antwerp, Belgium, is one such example: our platform supports its multi-modal mobility service, combining cars and scooters. We will soon support a customer launching a van-sharing service.
Scooter sharing itself has exploded in the US over the past 12 months in particular, and the appeal is obvious for specifically localised mobility. But what if those users also want to go to the airport with luggage; or transport a cake to a friend's birthday party in a neighbouring city? A provider can still keep that user within its ecosystem by offering multi-modal options.
We believe that Vulog received a capital injection recently. What are your plans for expansion?
Vulog has seen a very significant growth in 2018 and we expect our growth to further accelerate in the near future.
Car-sharing schemes have been popular for some time, particularly amongst younger people and for short journeys. Is that scene changing at all?
There is a rapid shift from round-trip to one-way or 'free-floating' services that offer greater flexibility.
Certainly. It's evolving very quickly as the service providers recognise and provide solutions for different use cases. There is a rapid shift from round-trip (the user must return the car to the same parking lot) to one-way or 'free-floating' services that offer much greater flexibility.
Providers are also expanding how consumers can access services: instant access; reservation; subscription-based. As I said earlier, the more use cases that can reliably be provided for, the greater the appeal to the widest possible user base. Our customers in Europe are at the forefront of pushing the boundaries in this regard. But even the most forward-thinking are really only scratching the surface by offering solutions to three or four profitable use cases: we've identified 10 distinct use cases, so there's still much untapped potential for success in the shared mobility arena.
Car-sharing services are sometimes criticised for contributing to traffic congestion. To what extent can Vulog help optimise fleet efficiency and keep fleets evenly distributed across cities?
In fact, the opposite is true. The most successful car sharing services must operate at scale so that they are dependable and reliable – users need to know they will always be able to find a car nearby. Several studies have been done, and they estimate that each shared car removes 7 to 15 regular cars from a city's streets. In addition, car-sharing users tend to use much more public transportation, and cycle and walk more often, and thus reduce transportation by car.
Our platform powered 15 million journeys last year, and we expect to power 25 million in 2019. Profitable services are hugely dependent on the data that our platform provides to map demand hotspots at specific times, for example; or to identify when electric vehicles must be temporarily unavailable to users so that they can complete a charge.
Here's one example: when too many cars cluster in one part of the city but the data tells us that demand in two hours will surge elsewhere. Once the issue is identified, the provider can either send a number of fleet agents to move the cars, or better still, we can immediately advertise these cars with promotional discounts to encourage them to be taken to where the demand will soon rise.
Finally, it won't be too long before autonomous vehicles can join the fray, something we are well-placed to accommodate in our platform, having already conducted successful trials with an AV partner. And this will definitely improve fleet efficiency.
Car-sharing has come of age. What is your vision of shared mobility?
We cannot afford to keep on moving in our cities the way we've been doing it in the past 50 years. Our cities are congested and polluted, with most of the space being dedicated to cars (driving or idle). Electric shared mobility is part of the answer, along with public transportation, for more habitable and sustainable cities, and for a greener future.
We are just at the beginning of this mobility revolution and our mission at Vulog is to make it happen as fast as possible.