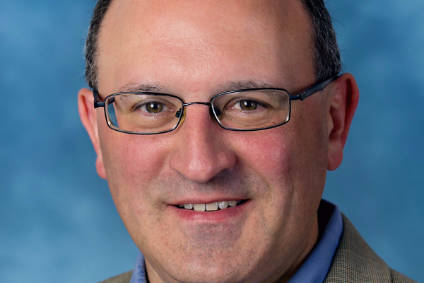 Continuing just-auto's interviews with Visteon, we spoke to the vehicle cockpit electronics supplier's chief marketing officer, Tim Yerdon. In explaining how the car's cockpit is expanding from being a physical space to an interface, he highlighted the trend for larger, curved displays, opportunities for augmented reality-HUDs and improving user experiences for automated driving and car sharing. "There's a lot of cool technology out there," says Yerdon, "but our job is to make it work and survive in the automotive environment."
To what extent are you seeing more innovation in the cockpit electronics segment than before and what is driving that?
Today, the vast majority of automotive innovation takes place in electronics. Consumer electronics is obviously the main driver but the new automotive ecosystem and the wider Internet of Things (IoT) are also pushing new technology forward. As the main interface for all vehicle information and entertainment, larger displays and smart surfaces are the main trend transforming the cockpit today.
Displays will continue to increase in size, but the design studios and the automakers want to differentiate. If everybody's using the same 8-inch rectangular display, it soon gets boring. We pride ourselves on helping our customers differentiate their displays to reflect each vehicle's brand identity – from both a visual and user experience perspective. It's important to look for inspiration from consumer electronics and enable products such as curved displays and flexible OLED technology, etc. by making them automotive-grade at the right time. This is where our advanced manufacturing technologies make a real difference.
Smart surfaces also extend to head-up displays. The recent new business Visteon has enjoyed from automakers in this segment proves that the cockpit is expanding from being a physical space to an interface, raising questions such as, 'what pertinent information can be displayed on the windscreen?' This is driving an evolution from combiner head-up displays to windshield-HUDs and, ultimately, augmented reality-HUD. These are among the technologies we'll be demonstrating at CES, where we'll have the full portfolio of head-up displays including a new augmented reality driving experience demonstration vehicle.
Given the pace of innovation – and the competition for expertise in software, user experience and app development – is it a challenge to attract and retain the right talent?
Competition for top technical talent is indeed very fierce. Fortunately, there is no more exciting technology space today than automotive – and cockpit electronics in particular. Beyond a company's product portfolio or market position, it takes a compelling vision and mission to attract the best talent. We offer talented engineers, particularly in software, an opportunity to work in one of the fastest evolving segments of automotive where they can directly influence the future of transportation and mobility. Right now, our product portfolio and our intentions are steering toward advanced driver assistance systems (ADAS) and automated driving. These are very mission-driven purposes – things that people with the right talent want to be involved with and help solve.
To what extent are you innovating for rear seat/all passengers?
The unique thing about the cockpit electronics business is that we historically only designed the experience for the driver. Now we design for the driver when they're driving as well as when they might be in autonomous mode. We also design for the front passenger experience and, of course, the rear passenger experience. Partly due to our strength in China, the largest passenger car market, we have real production experience in large rear screen applications for passenger entertainment. We're leveraging these applications to create new and improved user experiences for automated driving or car-sharing.
We're also seeing some of the more progressive automakers bringing more personalised displays into the doors, having bigger displays in the rear seats, or displays dropping down from the ceiling. It's all about the experience, interaction and consuming content.
There is a lot of talk about the autonomous car. How do you see this changing the look and feel of the cockpit?
Many traditional interior manufacturers are now seeing that the future revolves around electronics; suppliers are no longer molding plastic interior parts and stuffing electronics into them. The future is principally an electronic architecture, which is the backbone of the cockpit, then comes precision molding around that. Today, you see the influence of larger digital displays, clusters and smart surfaces taking over so-called 'dumb' interior surfaces. To me, this is the main transition in the industry, driven by consumer expectations. It's new technology that's coming from the consumer world; we are taking these ideas and making them robust and reliable for the automotive environment. These trends are driving real change so the cockpit becomes more of an electronic interface than the largest plastic component in the vehicle.
Driverless vehicles are ready, say automakers, but are we? Self-driving cars have appeal but would the consumer feel safe being driven in all weather and traffic conditions?
It's going to be a learning process, possibly taking place in various stages of automation. A lot of advanced technologies in place already – such as side object detection, forward collision warning, etc. – are part of the road to autonomous driving. These technologies have been available for years; we just haven't put them all in a car at one time. It's been kind of spoon-fed and phased-in over time so consumers get used to each new technology. It will be the same with different levels of automation; there will always be some step changes, usually around car services. People would have adopted it earlier; but from a mass-market consumption standpoint, it's important to let people learn and get comfortable with new technology over time.
A good example right now is the increasing adoption rate of head-up displays. Consumers can use head-up displays, combined with augmented reality, as a tool to see what the car is seeing. With radar and LiDAR vision systems, the car can see a lot more than a human. Using head-up displays or the windscreen as the interface, consumers are more likely to become comfortable with how the overall technology will benefit their driving experience – building their trust in these systems.
At last year's CES, the accent was on autonomous driving, personalisation of the driver experience via Cloud connectivity, shared autonomous vehicles and even drone technology. Do you see this year's show as a continuation of that or are there different themes emerging?
The beauty of CES is that you don't really know until you get there – this is a place for technology "firsts." There is clearly a growing influence of automotive technology at CES. Going back to where we were in this industry six years ago – specifically in North America – people thought automotive was dead and I think it's good to see that automotive technology is now cool again. I think we're going to see a lot of refinement around automated vehicles; everybody is keen to show that they are the frontrunners in the game.
With more and more cars offering some form of connectivity, is there a question about who owns the data generated by such cars?
I think this remains the billion-dollar question. The industry is still investigating and analysing where the value is but as the technology, service and business models become more mature, the industry will arrive at a value equation that accommodates the ecosystem players. We don't have the perfect answer yet but reality is that you can't be part of that value if you're not in the game – and we're in the game.
Tim Yerdon
Tim Yerdon is responsible for developing and implementing Visteon's global brand strategy and its marketing strategy for new and existing products. His role includes driving upstream commercial engagement through various customer experiences – all aimed at helping Visteon deliver an unmatched vehicle cockpit electronics user experience. He also leads communications with key Visteon stakeholders including customers, suppliers, partners and employees.
Leveraging his background in engineering and innovation, Yerdon fosters collaborative efforts with technology/industry partners and government agencies to advance growth beyond traditional automotive electronics into the Internet of Things. He oversees the planning and execution of more than 150 customer events each year – at automaker sites and Visteon design centres and product showrooms around the world.
Yerdon has more than 20 years of automotive experience and is an established innovation leader, developing several first-to-market vehicle and product concepts. Previously he led the design experience, advanced cockpit electronics, advanced driver awareness systems and the InnovationWorks® organization. He has held various positions in manufacturing, product development, program management and racing at both Visteon and Ford Motor Co.
Yerdon serves on the board of directors for the automotive electronics division of the Consumer Electronics Association (CEA), and chairs the MICHauto/Detroit Regional Chamber talent and retention committee. He is also co-inventor on several patents awarded or pending in manufacturing, powertrain, electronics and interiors. He has a master's degree in manufacturing systems from the University of Michigan and a bachelor's degree in mechanical engineering technology from Penn State University.
&