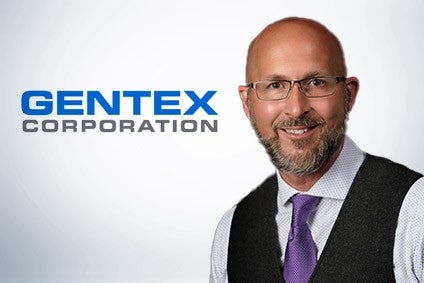 The Consumer Electronics Show (CES) has gone digital this week, and so has Gentex. The tier one automotive supplier, best-known for its rearview mirror technologies, is using the virtual event to showcase a number of other innovations in dimmable glass systems, car connectivity, driver and cabin monitoring as well as advances in the medical field. To learn more, Matthew Beecham spoke to Craig Piersma, Director of Marketing & Corporate Communications for Gentex Corp.
Could you tell us a little more about Gentex's in-cabin sensing of particulates and chemical products?
Most people don't realise that Gentex has manufactured commercial fire protection devices for over 40 years. We pioneered the photoelectric smoke detector, which uses light to actually "see" smoke. By reengineering this technology, we began the development of an in-cabin sensing unit that uses a variety of methods to detect smoke, vape, VOCs, and other airborne contaminants in the vehicle. These units will become increasingly important for autonomous vehicle operators in order to keep passengers safe and vehicles clean.
We're currently working with an autonomous vehicle manufacturer to introduce the first smoke detector designed to detect smoke and vape within the vehicle environment.
We're currently working with an autonomous vehicle manufacturer to introduce the first smoke detector designed to detect smoke and vape within the vehicle environment. The system consists of a sensing unit placed within the vehicle's ductwork where it continuously samples the air quality. Once smoke or vape is detected, the vehicle operator could be notified, the vehicle flagged for cleaning, and the offending passenger assessed a fine. We've also acquired a new nanofiber sensing technology capable of detecting a wide variety of chemicals.
We have seen dimmable windows in aircraft yet automotive applications are still rare. Could you give us an update regarding the stage Gentex is at with dimmable sun visors and complete darkening-glass system?
The first large-area dimmable device for the automotive space will be sunroofs, and we continue to work with a number of our OEM customers on sunroof development programs. This past year on our corporate campus, we constructed a new, 20,000-square-foot pilot assembly area for the manufacture of dimmable sunroofs. That means as a single-source supplier, our operations include everything from the coating, bending and cutting of glass to the development of dimming control algorithms and related electronics manufacturing. In addition, recent developments in Gentex's core electrochromic dimming technology have resulted in dramatically improved darkening speeds, more neutral colours, and enhanced dynamic range.
Complete darkening systems will come as we progress toward the autonomous age, where privacy becomes more important. There are still technical hurdles to overcome with the technology to accommodate optical quality, large curved glass, and manufacturability.
In what ways are your digital vision products used to enhance driver safety?
One of our primary digital vision products is our industry-leading Full Display Mirror (FDM), an intelligent rear-vision system that uses a custom camera and mirror-integrated video display to optimise a vehicle's rearward view. The system captures video from a rearward-facing camera and streams it to a unique mirror-integrated LCD that improves driver safety by providing an unobstructed, panoramic view behind the vehicle.
Once the mirror becomes a display, it opens the door to additional value-added safety features, like a mirror-integrated digital video recorder (DVR), or dashcam, designed to capture road scenes, accidents, vandalism, and other traffic events. We're also introducing a unique, scalable trailer cam system that streams video feeds from multiple cameras via wired connections or a WIFI-enabled FDM. In the case of a wireless solution, a trailer-mounted WIFI hub relays the video signal from each camera to the FDM, providing a clear view of not only what's behind the trailer, but also what's inside, outside, and all around it. By locating the trailer cam in the mirror, it enhances the driver's ability to safely hook-up and trailer, reverse, change lanes, and execute other driving manoeuvres.
Individualisation is a growth market that offers potential for differentiation. How is Gentex responding to that?
Nearly all of Gentex's technology platforms are scalable, meaning there is core operability that can be augmented with add-on features and functionality. For instance, with the DVR technology mentioned earlier, the system is completely scalable, capable of recording from forward-, rearward-, and interior-facing cameras, with add-on features like Bluetooth, WIFI, internal shock sensor, audio recording – even a companion app. Automakers can tune the system as desired, adding functionality as you move up in vehicle segment and trim levels.
To what extent can your digital vision technologies be applied elsewhere, i.e. in the medical field?
Gentex's has vast expertise in machine vision and custom camera development. Applying that experience, we recently introduced a new smart lighting system that combines ambient room lighting with camera-controlled, adaptive task lighting to optimise illumination for surgical and patient-care environments. The system consists of a series of flush, ceiling-mounted lighting units containing banks of dynamically adjustable LED arrays that work in concert to place focused illumination when and where it's needed. The system uses voice commands, hand gestures or a hand-held tracking device to establish a target lighting zone. An integrated machine-vision camera then orchestrates light-array activation, intensity, and direction to mitigate shadows and create optimal lighting conditions within the defined surgical field. We continue to work with Mayo Clinic to further our development.
In October, we announced a partnership with RetiSpec Inc. to engineer, manufacture and commercialise technology for the early detection of Alzheimer's disease. RetiSpec is an artificial intelligence (AI) medical imaging company developing tools for the early detection of disease biomarkers in the eye. By harnessing hyperspectral imagery, RetiSpec's patented technology allows for the rapid, simple and cost-effective identification of Alzheimer's biomarkers years before the emergence of clinical symptoms.
Looking a little bit further out, there is a lot of talk about the autonomous car. In what ways can Gentex support a Level 3 or 4 car?
We've recently developed a mirror-integrated, camera-based sensing unit capable of monitoring drivers and passengers alike.
Levels 3 and 4 still require the ability for the vehicle to relinquish control to the driver, thus they'll need to have typical driving controls, including a digital mirror. We've recently developed a mirror-integrated, camera-based sensing unit capable of monitoring drivers and passengers alike. The system consists of a high-resolution, multispectral imager and NIR emitters discretely hidden behind the glass of an interior rearview mirror, which has an ideal view of the vehicle cabin, constantly monitored by the driver. The system monitors the driver's head pose, eye gaze, and other vision-based metrics to determine driver distraction, drowsiness, and readiness for return of manual control in semi-autonomous vehicles. It can also track passengers and their behaviour, as well as objects and other environmental factors. It can even turn the vehicle into a mobile communications centre for making a phone call, conducting a meeting, or capturing an in-cabin selfie.
We are also hearing a lot about shared mobility. Does that trend have implications for mirrors at all?
When it comes to shared mobility, it's helpful to know precisely who is behind the wheel. We've developed a mirror-integrated biometrics system that scans the driver's irides to customise the vehicle cabin and authenticate transactions and other V2I activities. When it comes to vehicle-to-infrastructure technology, we've added multiple products to our transactional vehicle lineup. The products in our portfolio can adjust your thermostat, pay your tolls and gasoline – even provide mobile e-concierge services. Our biometrics system can determine exactly who is driving so that fleet operators can monitor the vehicle while the vehicle itself knows whose V2I accounts to use.
2020 was a pretty memorable year for everyone and for all sorts of reasons. In your business, what stands out as the biggest challenges you faced over the past 12 months?
The biggest challenge by far is maintaining customer engagement. Online meetings can only accomplish so much, so it's been challenging for the entire industry to keep product development efforts moving forward. In our industry, you need to touch, feel, drive and experience new technology. PowerPoint just doesn't cut it.
What did you learn that you did not expect to learn?
For me, this last year has reinforced how the vast majority of us are social creatures, and we desire direct, face-to-face, interpersonal interaction. We all love our jobs and the ability to innovate, but relationships are critical not only to job satisfaction, but also successful technology execution.