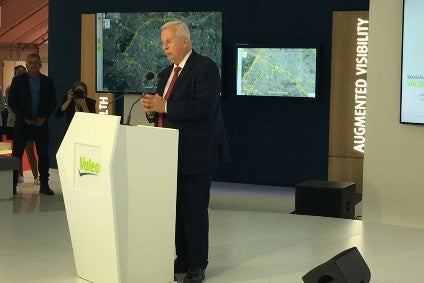 Valeo says it is working with air quality monitor, Airparif to understand how pollution in cities is evolving and as it looks to provide technology to combat it.
Increasing urbanisation and population growth, coupled with the current debate on replacing fossil fuels with electric energy is driving suppliers to come up with new ways to improve city air.
"There are peaks of pollution, which has problems," Valeo CEO, Jacques Aschenbroich told just-auto at last week's Mondial de l'Automobile in Paris. "Paris has problems, like London and Stuttgart [for example].
"What we want to do is bring a contribution to understand that – we have a real need to understand how pollution develops. We manufacture sensors which allow us to read the pollution of our cars, NOx, ozone and fine particles. We said we could do something with this information and optimise the quality of air in a car.
"We have around 20 cars driving through Paris which measure pollution, so we can understand the dynamics of pollution. We have spoken to a lot of elected members [politicians] and it is very important for them to understand how pollution changes in a certain area.
"We have [also] done a lot of work on hydrogen and electric vehicles. We have an electric car driving around Paris which is around 50% less expensive than a traditional motor engine. Gradually, without neglecting safety, this will allow us to experiment with the car of the future."
Valeo is working with French non-profit organisation, Airparif, accredited by the French Ministry of the Environment, which monitors air quality in Paris and the Ile-de-France region.
Airparif is in charge of four missions: To monitor air quality; to forecast pollution episodes; to assess the impact of mitigation measures and to inform the authorities and citizens (daily during a pollution episode).
"We calibrated our sensors so we could measure the same thing as Airparif," added the Valeo CEO. "Airparif also has sensors placed around Paris. We could [also] work with other parties – we are not trying to make money out of this.
"It is our contribution to understanding in a granular way, how pollution arrives and disappears. We are not a comparable organisation [to Airparif], but we are doing our bit for society."
According to the French Air Act of 1996, Airparif's administration board comprises four constituent groups representing the various parties concerned with air pollution issues:
National government authorities.
Ile-de-France regional local communities.
Industries contributing to the emission of monitored pollutants
Environmental protection agencies; consumer groups; health professions and experts in compliance with the French Air Act.
Airparif's missions meet regulatory requirements and centre on three activities: assessment, forecasting and dissemination of information.
During the Paris show, Valeo also outlined some of its technology to concretely address emissions concerns as regulations, particularly emanating from the European Commission and Parliament, become ever-tighter.
"Valeo is at the heart of the three revolutions in the automotive sector," said Valeo SVP Research & Development and product marketing, Jean-François Tarabbia. "The first revolution is autonomous, second is electric and the third is digital mobility. We have Valeo Drive4U – this is already a prowess in itself.
"All the sensors on this car are designed and mass-produced by Valeo. With these sensors we are developing the eyes and ears on the vehicles, but also its brain. This fusion is very important for car performance.
"Artificial intelligence is a field which is disrupting our world, particularly in the automotive sector [and] Valeo products will incorporate AI. We want to be a major player in automotive AI – this is why we have created Valeo.ai. This is the first R&D centre in AI dedicated to the automotive sector based in Paris.
"In all segments and all usages I am really pleased to present the 100% urban electric vehicle. It has a 48V Valeo-produced battery [and] can drive up to 100kmh [with a] range of 150km and emits not 1g of CO2. In 2030, one out of three vehicles will be fitted with a 48V system and Valeo is already a leader in this market."
Tarabbia echoed his boss' comments concerning the test vehicles driving around Paris to provide air quality readings in every quarter of the French capital.
"Air quality is a major issue for all of us and is part of our global strategy of cutting pollution," added Tarabbia.