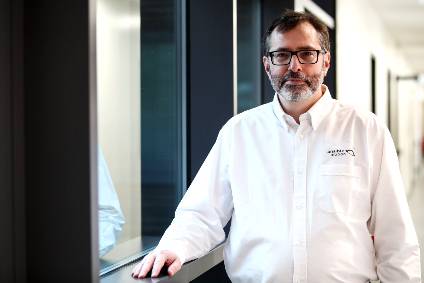 As COVID-19 continues to impact the global automotive industry, OEMs and Tier Ones are looking at how to minimise cost, catch up lost lead time and ultimately, create new products that will stimulate demand to buy again. Ansible Motion, manufacturers of driving simulators, explains the role simulators can play for an industry looking to catch up where it can. Matthew Beecham spoke to founder Kia Cammaerts about the possibility of a new 'Machine Age'.
Ansible Motion must have felt the impact of coronavirus like the rest of this industry. How is it coping?
Yes, like most businesses, Ansible Motion has had to adapt and respond. Many of us have experience from motorsport and finding quick and robust solutions to sudden changes, is something we can deal with. We are following the UK guidelines and from an early stage, had employees working remotely. Our stress tests for IT and communications had been done long before the lockdown so we have been able to continue to support customers remotely. There has been an impact in our manufacturing, and we have had to change the way we work to ensure everyone is safe. We are engineers, so are good with working within strict guidelines!
We have always worked closely with our key suppliers, and together we are finding new ways of working to gain efficiency savings that can go some way to counteract the initially reduced output caused by the new socially distanced working conditions.
Simulators obviously offer the chance to test ideas in a controlled environment. Has that appeal increased with the travel restrictions?
For OEMs, Driver-in-the-Loop simulation will play a greater role in the development of new products.
Yes and I believe so in a number of productive ways. We have seen customers looking to rent simulator time at our own R&D facility once restrictions lift to avoid having to travel abroad to use simulators based there. Our platform is agnostic so we can work with any architecture. For race teams, it's highly likely that championships will be compressed into a tight time frame in the second half of the year. Being able to do all your testing in one place, virtually and with little prospect of real-world testing, is attractive to professional teams. For OEMs, I think that Driver-in-the-Loop simulation will play a greater role in the development of new products and it's something that forward-thinking manufacturers are already putting emphasis on. History has taught us this almost a century ago.
What do you mean by that?
Challenging economic times have been a call to arms for designers. Look back at the success of industrial design after the Great Depression. Manufacturers who invested in creating better products succeeded and I foresee a new 'machine age' where those OEMs who create desirable products that we want to buy will thrive. How can simulation play its part? It offers the opportunity to experiment and try new ideas, lots of them in a short space of time and cost-effectively. We are seeing dramatic changes in the way we interact with our cars and it's time to be creative for HMI, ADAS and autonomy. I've seen how the ability to try things, risk-free, stimulates creativity.
Do you think simulators can also help with travel restrictions or will people still have to travel to test?
Real-world testing will always have its place. No simulator will provide real-world data in the same way as a driving on a proving ground or lapping a circuit can. It will always be the final sign off. But to get to that point faster or to be able to finesse a feature before committing to tooling or coding, simulation is vital. If you want your execs to experience a new H point in a model year update or how your US customers will react to your new ADAS messaging, it is far easier for people to visit a local simulator than to travel to a different continent to quickly experience a new car or system. In one example a customer of ours developed a vehicle dynamics model in Japan that was tested in a simulator in the US. That saves time and is more environmentally conscious, something we are all increasingly aware of.
What else is Ansible Motion doing during this time?
We have implemented a number of actions starting from the quite simple upwards. For example, some of our customers' engineers now have time to fully understand what functions are available with an Ansible Motion simulator. To assist them we've released a digital twin of our flagship motion systems so they can test new ideas out without needing access to the physical machine.
What is next for Ansible Motion?
We are currently finalising the development of another new product, expanding our range of engineering class simulators. Following the launch of Theta C our compact simulator, we are set to reveal a simulator that we firmly believe is world-leading in motion. We've worked hard to deliver something to enable a step-change in performance, so we continue to lead. It's sometimes hard to convince an OEM to do something different. Despite our successes working with OEMs such as Ford and Honda, it seems that other OEMs are more conservative and aren't always prepared to try considering an alternative approach. With a 'new normal' after COVID-19, it might be time to consider us.