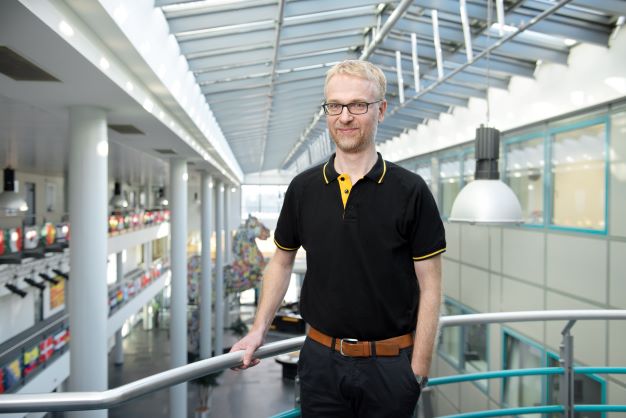 We understand that Continental is investing in a driving simulator to develop its premium tyres. What will this mean for your business? And how do you see computer simulation for tyre development evolving?
Continental is investing in a state-of-the-art dynamic driving simulator to develop its premium tyres for the original equipment business even more efficiently, sustainably, and precisely – in line with customer requirements in the future.
The new driving simulator brings significant benefits for tyre development, saving time, costs and valuable resources in the real world. It combines state-of-the-art technology with the vast experience of our professional test drivers.
The high-tech installation from the manufacturer Ansible Motion will go into operation in mid-2022 at our largest European tyre test centre, the Contidrom in Wietze near Hanover. It is a Driver-in-the-loop simulator (DIL) that calculates exact driving dynamics parameters of the tyres and those of the respective test vehicle. Thanks to its high mobility, the simulator can provide our professional test drivers with subjective driving impressions, just like tyre tests on the test track. Test drivers can experience new tyre developments in the most diverse virtual test scenarios and driving situations. With this new testing method, we can save around 100,000 test kilometres and about 10,000 testing tyres.
Simulators provide an opportunity to test ideas in a controlled environment. Has that appeal increased with the travel restrictions during the pandemic?
We have been working on this idea for several years, it takes some time to invent such a system. Whilst virtual tyre testing will be very efficient, we will not compromise on safety. There will always be test loops under real-life conditions to verify virtual results. Our test drivers and their vast experience are very valuable assets that we cannot do without. With the simulator, we present our test drivers with state-of-the-art testing technology. Virtual tests will help our test drivers focus much more on actual tyre testing, as any adaptations they request may be realised virtually and therefore changes can be made much faster in the future.
As far as electric cars are concerned, could we expect to see tyre performance brought into greater focus and so encourage radio frequency identification, tyre pressure monitoring systems (TPMS) and intelligent tyres?
Some considerations are very significant when using a tyre on electric vehicles. The first of these is the extra weight added by a heavy battery. Second is the limited nature of the battery's capacity, which has prevented the range offered by electric cars from matching that of fuel vehicles. And third is the electric motor itself, which is very quiet and delivers all its torque very quickly, compared to a combustion engine vehicle. As a result, tyres for electric vehicles need to be optimised for a higher load, wear, rolling resistance and noise. In regards to these requirements and safe driving in general, correct air pressure is very crucial as well as sufficient tread depth. Nevertheless, it is not only electric cars that drive the 'intelligent tyre'. The trend towards self-driving cars and fleets is a large part of the increasing autonomous traffic, which requires a lot of information, including from the tyre and its status.
Reducing road noise from tyres has been the subject of intense research over the years. With the gradual introduction of EVs, I guess the challenge for the tyre industry is to design a tyre that produces a comfortable level of noise for the environment without having a negative effect on the interior vehicle noise. How is Continental addressing that?
One important consideration with electric vehicles is tyre/road noise. Indeed, the lack of noise from the drive system makes all other sounds much more noticeable – including the rolling noise of the tyres. Without the sound generated by the combustion engine in a conventional vehicle, the rolling noise of tyres can suddenly become annoying – which explains the need to reduce it. The problem is that higher load requirements call for tyres with a larger cavity, which increases the resonance effect. This usually increases the noise level. The task for the development engineers has been to find a solution for these conflicting goals.
The innovative ContiSilent technology, introduced by Continental in 2016, significantly reduces rolling noise in the vehicle. A special foam layer dampens the airborne vibrations caused by the rolling of the tyre, with the result that on all surfaces the noise reaching the vehicle interior is reduced by up to nine decibels – bringing a substantial increase in comfort to the occupants of the vehicle.
What will the tyre material of tomorrow look like?

To make the tyre of the future even more energy-saving and environmentally friendly in terms of production, use and recyclability, Continental is consistently investing in the research and development of new technologies, alternative materials and environmentally friendly production processes. For example, Continental intends to gradually switch to 100 per cent sustainably produced materials in its tyre products by 2050.
Continental would like to stop importing natural rubber exclusively from the tropics and produce it as close as possible to its tyre plants to prevent ongoing deforestation and to reduce the CO2 emissions caused by long transport routes. The premium tyre manufacturer has been working on this since 2011 with its Taraxagum project. Furthermore, Continental will introduce the use of reprocessed polyester obtained from recycled plastic bottles in its tyre production as of 2022. This can completely replace conventional polyester.
The development of all-season tyres remains a hot topic. How involved is Continental in this market segment?

We have the right type of tyre in our portfolio for every type of driver. The use of all-season tyres should be thoroughly considered according to the climatic conditions travelled and one's driving behaviour. Our ideal all-season solution is the Continental AllSeasonContact. Nearly all of our second line brands have all-season tyres, too.
What premium will OEMs pay for weight reduction?

Weight reduction is just one consideration but also tyres with lower rolling resistance. We are working with not only our OE customers but also tyres for the replacement market. Reducing rolling resistance means less fuel consumption from combustion engine cars and a larger operation distance for e-cars.
The last 18 months have been pretty memorable for everyone. In your business, what stands out as the biggest challenges you faced?
Our most important aspiration was to create a safe working environment for our employees worldwide. One of the biggest challenges was to ramp down the production in a very short period and then to start it again successfully. Fortunately, we have introduced Office 365 as well as mobile and flexible work concepts, which were already in use well before the pandemic and thus we were able to maintain most of our operations despite lock-downs.
What did you learn that you did not expect to learn?

Mobile working and flexible work had already been established before the pandemic, yet the extent that it is used today differs a lot. Meetings via Teams have increased significantly, which shows that personal interaction is still important and possible. We were positively surprised how easy our staff organised themselves in this new situation. The experience of the last few months has shown us that mobile working, works as an integral part of our work culture. Nevertheless, we are all already looking forward to meeting again on a more regular basis in person.