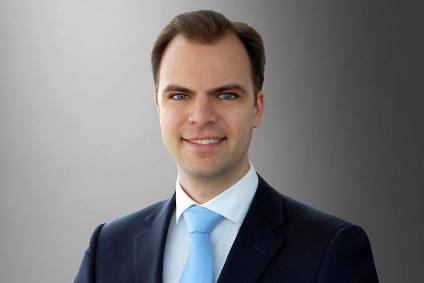 A car interior must suit the owner's lifestyle, yet also be functional and flexible. Connectivity between the vehicle, passengers and outside world is also key. Continuing just-auto/AIC's series of interviews, Matthew Beecham caught up with Alexander van Laack, Vice President of Sales, FCA, Nissan, and New Entrants, Faurecia Clarion Electronics North America to consider some trends and technical advances in the cockpit arena. This interview is the second of two focussing on car interiors with the tier one component supplier.
In what ways are intelligent cockpit systems' capabilities different to those of current electronic cockpit systems and why are they expected to be the future of infotainment?
User experience is a key element of any future system. Intelligent cockpits leverage all sensors and environmental information to serve the user better and more efficiently. Today's systems are smart at best, but not intelligent. Smart means that they have a certain level of software that allows you to create basic personalization and adaptation on pre-defined scenarios. Intelligent systems will be capable to sense and learn over time. A car is equipped with many sensors, most of them used for driving performance, but sensors can also sense the occupants: Who is in the car? Where are people sitting? How are people feeling? What are occupants looking at?
An intelligent infotainment system can offer a voice interaction that adapts to the language you speak and understands the context you are in when you point or look at something.
Sensors can give an intelligent system a large number of inputs, which then need to be processed. The future of infotainment systems combines inputs from other systems, such as cameras, radar, microphones, and many more. An intelligence can then offer not only a personalized experience but one that is adapted to the situation a user is in. Voice control in cars has been around for years, but it took virtual personal assistants, such as Siri and Alexa, to get people to widely use it in their personal space. An intelligent infotainment system can offer a voice interaction that adapts to the language you speak and understands the context you are in when you point or look at something. As the infotainment system will learn about the user over time, it will improve the overall experience significantly.
The cockpit is becoming a display-driven environment. What do you see happening there?
We definitely see a growth in displays in the interior. With displays growing in size and number each year, 'display user experience' is becoming a key factor. New display hardware advancements such as OLED, QLED, and HDR, as well as SW and HMI advancements, create huge opportunities for carmakers to bring innovation into the cockpit. Different flavours of new HW and SW combinations will get adapted by various car makers. We will see more and more innovation happening inside the car with a bigger focus on HMI.
While in the past you had maybe one or two smaller displays, modern cars are adding a multitude of displays into their interior. But more is not always better. The integration of displays is critical, especially with curved and free form displays that allow a seamless integration into interior surfaces. Perceived quality and aesthetics of displays are almost as important as the image quality itself. Optical bonding, which means the gluing of the cover lens to the actual TFT unit, is a must-have for all displays today, especially when they offer touch functionality.
Our Faurecia IRYStec team, as an example, recently revealed the world's first software platform using perception and physiology to optimize the user experience of display systems inside the new Mercedes-Benz E-Class Cabriolet. This shows how we can provide a high-quality aesthetic that seamlessly integrate into the vehicle's infotainment system while also creating a more comfortable user experience.
The thought of bringing more data into the car raises the question of driver distraction. How is Faurecia addressing this?
Ultimately, the intelligence of the infotainment system will help provide the right information at the right time and reduce driver distraction.
Faurecia is addressing driver distraction in several ways. One very common source of driver distraction is your phone. Cell phones are not safe to use while driving and they are not made for that. A way to mitigate this problem is to bring certain features into a designated environment that offers safe interaction while driving. Through Faurecia's joint venture with Aptoide, we are offering an automotive grade apps market that offers thousands of Android apps and can of course also offer specific OEM apps. Together with car manufacturers, we can create an environment that reduces distraction while still giving users connectivity and functionality, but without the need to interact with their phone. Faurecia also developed a unique user interface called Trenza, which allows to adjust the information density on the display based on user preferences, but also sensor inputs. By combining our driver monitoring system with the infotainment system, the content can be adapted to the current need state and therefore, reduce driver distraction. Ultimately, the intelligence of the infotainment system will help provide the right information at the right time and reduce driver distraction.
We are moving away from physically having to drive cars and towards the 'passenger economy', meaning significant free time in the car. How is that affecting Faurecia's developments in infotainment technology? And what does this mean for the user experience?
As a passenger, you have fewer worries about being distracted and can focus on other topics such as entertainment, relaxation, and work. At the past three CES shows in Las Vegas, we have shown different ways on how the full cockpit can influence your experience as a passenger, such as larger displays in the rear that offer video streaming and apps market functionalities. In the front, we introduced morphing and actuated displays that adjust the viewing angle and size of the screen between a driving and non-driving situation.
The car becomes a new place for services, too. Whether those services are a specific workout in the car or a relaxing massage, it offers a new playground for connected services. Faurecia demonstrated several connected services at CES in 2020 and continues to develop new experiences for the passenger economy.
Presumably audio will also play a big part in supporting the visuals and enhancing the UX. Could you give us an idea of what Faurecia is working on to elevate this?
Audio is one important part of how passengers perceive their environment. In vehicles, drivers are experiencing various noises that are compromising not only the audio experience of the sound system, but they also induce fatigue and affect the overall wellbeing. Active Noise Control (ANC) is a technology, mainly known through consumer headphones, that allows a reduction of low-frequency ambient noises, such as the sound of an internal combustion engine. Traditionally, cars are equipped with passive damping material, which reduces the sound coming from the engine compartment and the road. While these materials are effective, they take space and add a fair amount of weight in the cabin. With ANC technology inside the car, the disturbing noises can be reduced through software, which allows a reduction of passive materials and therefore an improvement in weight.
As cars are transitioning to electric engines, the engine order cancellation, which is done for regular internal combustion engines, becomes less relevant. Instead, road noises become a critical factor as these noises are not masked anymore by the engine sound. Road Noise Control is a specific subset of Active Noise Control, which reduces the rolling noise of any vehicle and is, therefore, very relevant for electric vehicles. In 2019, Faurecia bought the Swedish company Credo Dynamics, which has a long history of sound simulations and active noise control algorithms. Creo Dynamics became part the Faurecia's Clarion Electronics business group, offering engine order and road noise control solutions as well as full vehicle simulations.