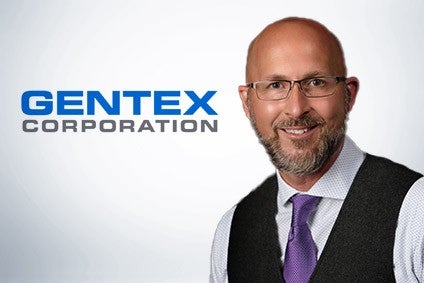 Car auto-dimming mirror-maker Gentex Corporation has developed a number of new features and technology concepts that expand its digital vision, car connectivity and sensing, and dimmable glass product lines. To learn more, we spoke to Craig Piersma, Director of Marketing & Corporate Communications for Gentex Corp.
The auto-dimming mirror market has shown phenomenal growth over the past decade or so. Has it reached a plateau? What are the prospects for this application in emerging markets?
Automatic-dimming mirrors are poised for continued growth, even in established markets.
Automatic-dimming mirrors are poised for continued growth, even in established markets. We estimate the global penetration rate of interior automatic-dimming mirrors to be around 35%. The penetration rate of exterior mirrors is between 11-12%. This means there is plenty of room for growth with the core electrochromic technology. Of course, potential growth markets include China, India and other emerging areas.
Could you tell us a little more about Gentex's smoke and vape detection system? What stage are you at with this in-cabin sensing unit?
The company's emerging sensing technologies stem from our experience in fire protection, an industry in which we've operated for nearly 50 years. Gentex pioneered the world's first dual-sensor photoelectric smoke detector, a device less prone to false alarms yet quick to detect slow, smouldering fires. Today, millions of Gentex smoke detectors and signaling devices can be found in hospitals, hotels, office buildings and other commercial properties around the world.
We're currently working with an autonomous vehicle manufacturer to fine-tune a system based on our commercial detection technology. It will consist of a sensing unit placed within the vehicle's ductwork where it continuously samples the air quality. Once smoke or vape is detected, the vehicle operator could be notified, the vehicle flagged for cleaning, and the offending passenger assessed a fine.
Gentex is also working on developmental in-cabin sensing units that would use a variety of methods to detect smoke, vape, VOCs and other airborne contaminants in the vehicle. These units will become increasingly important for autonomous vehicle operators in order to keep passengers safe and vehicles clean.
We understand that first-order biometrics include things like the direction of gaze, head position and pupil diameter. And now we are hearing about second-order biometrics, such as heart rate and breathing measured by auditory sensors to provide indicators of emotional activity and cognitive load. What is Gentex doing in this space?
When it comes to biometrics, Gentex is looking to enhance the security of connected car features with an in-vehicle biometrics system that authenticates the driver with an iris scan to deliver customised security, comfort and convenience features. The system consists of a mirror-integrated display, near-infrared emitters, an iris-scanning camera, and system-level intelligence. Upon entering the vehicle, a glance to the mirror by an authorised user would allow the vehicle to operate, personalise the cabin (adjust seat position, HVAC controls, music favourites, etc.) and sanction safe, secure access to a host of cloud-based, connected-vehicle services, like home automation control, tolling, and in-vehicle payments.
When it comes to camera-based driver monitoring systems (DMS), our current focus is a system packaging exercise. The mirror is an ideal location for discreet, elegant, low-profile DMS integration. We're currently working to integrate a system that would monitor driver alertness/attentiveness, gaze location and areas of interest, and driver behaviour. In the future, we'd expect the system to handle occupant detection, objects left behind, and gesture, emotion and speech detection.
Dimmable glass panels have been available on a few vehicle models. What are the challenges of applying this technology to a car's side windows versus a sunroof?
This year at CES, we debuted dimmable sidelites (side windows) and a fully-integrated dimmable windscreen visor.
Gentex continues to develop large-area dimmable devices for in-vehicle lighting, sunload, and privacy control. We're currently working on dimmable sunroofs, which can darken on-demand or in conjunction with system intelligence, along with dimmable head-up displays, privacy panels, and sensor shrouds. This year at CES, we debuted dimmable sidelites (side windows) and a fully-integrated dimmable windscreen visor.
There are numerous challenges when it comes to sidelites, the first of which is regulatory. For a darkening sunroof, for instance, there are no regulations on how dark the panel can become. With sidelites, however, generally speaking, the high-end transmission must be 70% or above, meaning that at least 70% of visible light must be able to pass through. This is why OEMs typically don't ship tinted windows forward of the b-pillar on any vehicles. There will most likely need to be some modifications to existing regulations to accommodate dimmable side windows.
Another hurdle is durability. A sunroof is generally static and encapsulated; while sidelites open and close exposing the glass to being twisted or over-torqued. In addition, the glass must be able to withstand the high forces of door slams. Darkening rear windows can be complicated by integrated heating elements and radio antennas.
Finally, for safety reasons, the darkening technology deployed on side windows must fail-safe, meaning that the windows clear in their unpowered state.
The regulatory maximum level of tint in car side windows varies from one state/country to the next.
Presumably, your dimmable side glass could comply with the legal restrictions automatically as it passes from one territory to the next?
Yes, we have been discussing using geo-fencing to recognise the vehicle's location and dim in accordance to regional regulations.
What stage are you at with dimmable sun visors?
Sun visors are still in the concept phase, but we are working toward a complete darkening-glass system.
Are there other uses of electrochromic glass?
We're working on dimmable sensor shrouds – reinforced glass panels that darken on demand or automatically according to sensor function.
Vehicles are increasingly being outfitted with ADAS sensors and cameras. Autonomous vehicles will undoubtedly be equipped with cameras, radar, LIDAR and a host of other safety-related systems, which are challenging to integrate in a manner that optimises performance yet maintains a clean design aesthetic. That's why we're working on dimmable sensor shrouds – reinforced glass panels that darken on demand or automatically according to sensor function. They would work to conceal and optimise the operation of forward-facing cameras, optical systems and the autonomous sensor farm.
Even vehicle interiors could benefit from component concealment. Automotive interiors will soon deploy biometrics systems, cabin monitoring and gesture-recognition cameras, and various ADAS sensors and alerts. All of these could be concealed when not in use in order to provide a clean interior design.
Another use for dimmable glass is the combiner HUD. Traditional head-up displays have cost and packaging challenges because each vehicle requires custom engineering. Combiner HUDs are a unique alternative. They project information on a piece of glass positioned in front of the driver instead of the windscreen, thus simplifying design, lowering total system cost, and creating common components that can be implemented across vehicle platforms. The challenge is managing sunlight and headlamp glare, which can hamper display legibility. Dimmable combiner HUDs would prevent sunlight, glare and stray reflections from interfering with the display. Sunload sensors and related control algorithms would constantly monitor ambient and glare light conditions, continually adjusting the HUD glass transparency in order to optimise visibility.