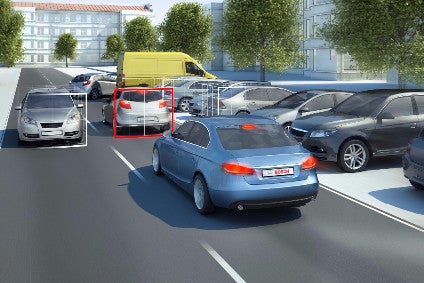 A car fitted with an autonomous emergency brake system (AEB) can scan the road ahead and apply the brakes independently of the driver to avoid a collision. Given this critical piece of car safety technology, a voluntary pact was recently agreed between 20 OEMs to make AEB standard on all vehicles sold in the US by 2022. In the light of this, UK-based Thatcham Research is calling on European automakers to follow the example set in the US.
Could you tell us more about the standards devised by Thatcham for test procedures and equipment as car manufacturers introduce AEB systems into their products?
As a key member of the European vehicle safety organisation, Euro NCAP, Thatcham Research devised the AEB testing protocol which is used both by Euro NCAP and the British insurance industry to evaluate the effectiveness of individual AEB systems.
All of the Thatcham designed test procedures are based on real world accident scenarios and represent the most severe or frequent of crash types. The vehicle to vehicle testing protocol, for example, consists of a series of repeatable tests using robot control systems to ensure consistency.
The approach speed of the vehicle for each test is increased incrementally as it is driven towards a specially developed test target. The car scores maximum points for full avoidance and then when the maximum avoidance point has been reached, further points are awarded proportionally for the degree to which an impact is mitigated.
Thatcham also developed the testing protocol for AEB pedestrian systems, the evaluation of which were introduced to the overall Euro NCAP test procedure and ratings from earlier this year (2016).
This test uses a similar principle but employs a specially developed pedestrian target and a much wider range of testing scenarios to evaluate system performance across a variety of potential collision circumstances.
We recently learned of a voluntary pact among 20 automakers to make AEB standard on all vehicles sold in the US. What needs to happen in Europe? i.e. should it be driven voluntarily or is legislation needed?
Vehicle manufacturers have made great strides in driving innovation and the development of safety features over the past few years. In 2016, 45 percent of new cars launched have AEB as standard. But this isn't really good enough.
Legislation will take time, and in the meantime many thousands of crashes and associated injuries, cost and inconvenience could have been avoided. We strongly believe that European and UK car makers should be taking a lead on this, matching what has been agreed in the US and demonstrating a commitment to keeping their own customers safe by fitting AEB as standard on all new cars by 2022.
The reality is that today you can buy a Honda Jazz with AEB fitted as standard, so there is no excuse for it not to be on all new cars in the UK.
It is clearly in everyone's interests that AEB fitment spreads. So how can Thatcham and insurers help to make standard fitment of AEB a reality in Europe?
Insurers are already recognising the fitment of AEB through the insurance group rating system. Vehicles with standard fit AEB are benefitting by up to 5 groups. This can have a significant effect on insurance premiums with savings up to 10 percent on average, often more.
Secondly, the Euro NCAP safety ratings are a really effective way to drive fitment. Thatcham Research undertakes the tests in the UK for Euro NCAP. Significantly, a 5 Star Euro NCAP rating can only be achieved if AEB is now standard fit. So through this rating system we are seeing a significant increase in AEB fitted as standard.
Thirdly on behalf of our member insurers, Thatcham Research liaises extensively with vehicle manufacturers to encourage the fitment of such systems, as well as using the media to provide consumers with the knowledge that will enable them to conduct sensible conversations on safety when purchasing a new car and to drive safety through demand.
What is your consumer research telling you about consumer's expectation of certain safety features?
In a recent survey we carried out with Direct Line Group of over 2,000 adult motorists, 70 percent of respondents said that safety was an important factor when it comes to selecting a new car, whilst an even more unequivocal 82 percent felt they should not have to pay any extra for safety and therefore that these systems should be fitted as standard.
We know that the value and convenience motorists place on technology is all important, and there is a clear balance to be struck between the benefit provided by any safety system and the level to which it impinges on other aspects of driving through alerts, warnings and other actions. Motorists want to be kept safe but do not want safety systems to become such a distraction in themselves that they end up getting turned off. This is why AEB is so beneficial – a technology that is on by default and as far as the driver is concerned only becomes apparent when it is most needed in an emergency situation.
Does more need to be done to educate the motorist about AEB, in particular?
Yes. Worryingly in the same survey we discovered that less than half (48 percent) of drivers had the safety features on their new vehicle explained to them by their dealer during the purchase process. There is also a bewildering range of safety technology now available, with each different system potentially going by a different brand name and purportedly bringing a different kind and level of benefit.
The remainder of this interview is available on just-auto's Global light vehicle electronic braking market – forecasts to 2030
About Thatcham Research
Thatcham Research is the motor insurers' automotive research centre. Established by the motor insurance industry in 1969, the centre's main aim is to contain or reduce the cost of motor insurance claims whilst maintaining safety standards.
Today, Thatcham Research still occupies its unique position as the UK's only 'not for profit' insurer funded research centre. Whilst the original aims remain intact, the centre now enjoys a much wider remit at the forefront of the latest vehicle technology research, spanning safety, security and repair.
Whilst the majority of Thatcham's work is funded by a levy on their 30 plus member insurers, the centre also generates its own revenue providing a unique range of products and services primarily to the motor repair industry, contributing to an annual turnover of around £15 million.
Based just outside Newbury in Berkshire, Thatcham Research has grown from small beginnings to an organisation now boasting over 180 staff, a state of the art vehicle research workshop, a Euro NCAP approved Crash Laboratory and two fully equipped automotive academies.
A founder member of the international 'Research Council for Automobile Repairs' (RCAR), Thatcham Research have also been a member of the European New Car Assessment Programme (Euro NCAP) since 2004.