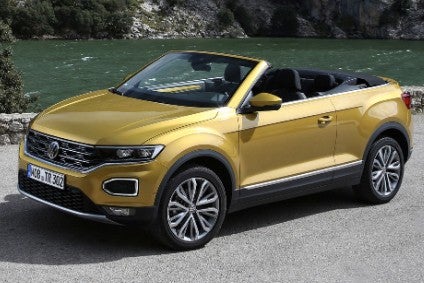 One of the many recent events which Volkswagen had to cancel was the media launch of the T-Roc Cabriolet. The driving has to wait but the project's leaders could be interviewed at least. Fielding questions from just-auto's Glenn Brooks via Skype were Project Manager Franz Kaltofen, Günther Witte from Technical Development and Jan-Ingo Theuner who works in Product Marketing.
It seems a strange moment to be bringing a convertible to market. With the benefit of hindsight, Volkswagen wouldn't have chosen now to launch any vehicle that's meant to trailblaze a new segment. Or might this be a surprisingly opportune time, and not just because the arrival of the northern hemisphere spring feels especially welcome.
So many of us are outside more than we might otherwise have been, at least in the UK. Joggers, walkers and cyclists are taking extra care to distance themselves from one another, yet all must surely be enjoying the precious daily dose of time away from screens and an appreciation of nature. Birds appear to be chirping more loudly, the blossum seems especially bracing this year and with temperatures finally well into double figures, some of us are even driving [yes, essential trips only] with windows lowered. Perfect weather for a cabrio, would that I had one.
Käfer, Karmann Ghia, Golfs
Volkswagen has a long history with such cars: a convertible body style for what we in English speaking countries called the Beetle was introduced in 1949, with more than 330,000 built by Karmann at its Osnabrück plant until production finally ended in 1980. There was of course also the Karmann Ghia Cabriolet (1957-1974) as well as the Golf 1 Cabriolet (1979-1993), Golf III Cabriolet (1993-1998), Golf IV Cabriolet (1998-2002) and Golf VI Cabriolet (2011-2016). A total of more than 770,000 canvas-top Golfs were produced over the course of the four generations, each one manufactured in Osnabrück.
The New Beetle Cabriolet (2003-2010) was instead made at Puebla in Mexico, followed by the Beetle Cabriolet (2011-2019) while VW tried to tap the market for steel folding roof cars when it launched the Eos in 2006. That car was built for nine years at the same Palmela factory which now manufactures the T-Roc but the Portuguese plant isn't the place of build for the new T-Roc Cabriolet. Instead it's made in Germany at, guess where: the Karmann works.
If things have come full circle for what is now the only convertible Volkswagen, then the vehicle itself is as big a step change as the metal-top Eos was compared to all the fabric roof cars which went before. That's because this is a two-door crossover, while the other T-Rocs – standard length for Europe and extended wheelbase model for FAW VW's Foshan-built model – have four doors and a hatchback.
From Osnabrück to Orlando? Nein.
"China is simply not a cabriolet market. As big as it is, there are almost no convertible cars sold in China," is how Project Manager Franz Kaltofen sums up the reasons why this new vehicle will be mainly restricted to Europe. He nominates "Germany, France and Great Britain" as the expected best markets. Hold on, what about the USA?
"As the T-Roc is not available in the US, the offer of the Convertible is also not planned," Kaltofen states. True, but there is more to it than that, especially since the Beetle Convertible was given almost a new lease of life after Volkswagen of America announced that production would end. Even through this recent winter, 792 Americans visited a VW dealer to snap up one of the last cars, the final examples having been built last July.
Americas: Tarek not T-Roc
Volkswagen has an alternative to the T-Roc in the pipeline for North America. The Tarek will be around 20 cm longer and manufactured for the Americas at Pacheco in Argentina and Puebla in Mexico, commencing in 2021. Yet there's no convertible planned. Maybe there should be, as US sales of the canvas-top Beetle shot up by 65 per cent in 2019, VW of America managing to sell 9,511 plus 7,704 'Coupes' (hatchbacks).
The T-Roc two-door is VW's gamble that it can create a niche where others have tried and failed. Nissan's Murano Convertible was an oddity which somehow leapt over all the internal hurdles for a robust business case only to fall over in the market. It arrived four years into the second generation's life cycle in 2011, then sat around on US dealers' lots. Understandably, there was no successor when the current P42D series Murano landed in 2015.
Then there's the Range Rover Evoque. This is a better example, as like the new T-Roc, it had good proportions thanks to the elimination of rear doors. Similarly, boot space was decent, and even the back seats weren't too squishy. It did OK in some markets but sky-high pricing was probably why you rarely see one outside the UK. And there was no successor, or at least we haven't heard anything firm about one yet.
Why not a folding metal roof?
Volkswagen could have gone down the metal roof road but ruled that out early on. "We wanted to retain the lines of the T-Roc and also to retain a good volume of trunk capacity," notes Jan-Ingo Theuner.
Development of the roof took place in-house but Webasto is contracted to assemble the module in Slovakia. The supplier only began working on this project in 2018, with Volkswagen's decision to go ahead with the car having been taken at the end of 2017.
Heavy metal
Günther Witte from Technical Development says the weight penalty version for version with the equivalent T-Roc is 194 kilograms, insisting that the stiffness "is as good as the high standard set by the Golf Cabriolet". He further states that, "In our roll-over tests, the T-Roc performs even better [than the former topless Golf] which is due to the added strength of the A-pillars.
With a small line-up of powertrains, surely there will be at least one diesel engine to come, and why not a 400 horsepower petrol turbo too, complete with four-wheel drive?
No diesel and no R
"The demand for 4MOTION amongst the lifestyle buyers is typically low so we have no plans for all-wheel drive at the moment," Jan-Ingo Theuner says.
Until COVID-19 tore up every OEM's production plans, Volkswagen was planning on manufacturing some 20,000 units per annum of the T-Roc Cabriolet. That was the figure stated in February 2018 when the company told us it would be spending 80m euro at Osnabrück to prepare for this model. Understandably, none of the company's executives interviewed on 28 April would put a number on estimated production.
The Volkswagen T-Roc Cabriolet was revealed in production form at the Frankfurt IAA in September 2019. Build started on 4 December, with German market deliveries commencing in March but the Karmann plant was taken offline later that month.
This front-wheel drive car replaces the Golf Cabriolet and Beetle Cabriolet. At 4,268 mm long it is 34 mm lengthier than the T-Roc. Engine choice is between turbocharged 85 kW (115 PS) 1.0-litre and 110 kW (150 PS) 1.5-litre three- and four-cylinder units. A six-speed manual transmission is standard and the 1.5 can be optionally ordered with a seven-speed DSG. UK pricing starts at GBP26,795.