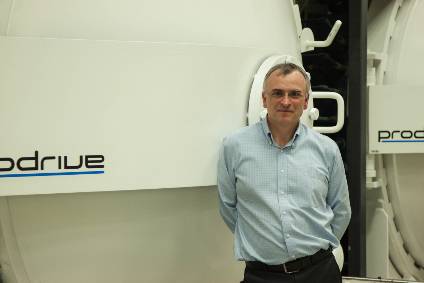 Prodrive has developed a process that enables the manufacture of recyclable composites with the potential to fulfil three or more useful lifetimes. To learn more, we spoke to John McQuilliam FIMMM, Director of Engineering at Prodrive Composites and board member of the British Composites Society.
In a rapidly changing industry, what are the latest developments in the composites field?
Recycling and sustainability are of greater interest and more urgent than ever before. Automotive customers have previously prioritised cost, weight and appearance but now sustainable manufacturing has become a key concern, especially among our growing number of customers involved in EV (electric vehicle) manufacture. The whole ethos of an EV is to reduce the carbon footprint of transportation, so that logically extends into its materials of construction. Our ground-breaking work on technologies such as P2T (Primary to Tertiary) which recycles carbon composites multiple times has helped to establish our reputation in the field of sustainable composites and we have several major components currently in development. Working with our clients, we are aiming to have a recycled composite included in a production car by the end of the year.
What obstacles to the wider use of composites still remain?
OEM confidence needs to grow. The mechanical properties of composites depend on the combination of the chosen resin and fibres and the manufacturing process, unlike conventional materials such as metals whose properties can be determined from established references. The maximum benefits come from designing a part as a composite from the outset, to take advantage of the material properties.
Even recycled, or recyclable, composites are still high-end products in terms of mechanical performance compared to alternative materials.
Unfortunately, many customers want to build confidence by replacing existing parts initially and this constrains the composite to be interchangeable with the original metal part, denying the full advantages from the change of process. Even recycled, or recyclable, composites are still high-end products in terms of mechanical performance compared to alternative materials.
There is also concern in some quarters regarding repairs following damage, despite the fact that composites are probably easier to repair than metal parts. The issue here is primarily a lack of familiarity in automotive circles; the necessary skills are widespread in the marine industry, so we need to tap into these to transfer the expertise into the automotive repair sector.
Cost remains a major driver of automotive decision-making. The current low levels of composite recycling need to grow in volume, in order to achieve the economies of scale that push prices down. This, in turn, will depend upon more parts being made in the first place from recyclable materials to kick-start the process.
How is Prodrive responding?
We have parallel developments using two approaches to sustainability, based on recycled fibres and natural fibres. Though our conventional composite manufacturing will continue, we expect the major growth in the business to be from recycled products, including the recycling of our own products to make new parts. Our planned investment has the potential to double the scale of our composites activity and includes resin injection/infusion machines for the manufacture of recyclable composites.
Can you tell us a bit more about using natural fibres?
Natural fibres such as flax are not just carbon neutral, they can be carbon negative because they capture carbon as the plant grows and lock it into the finished part. The largest sustainable composite component we've designed and manufactured was the rear wing for the Aston Martin GT4 race cars. The regulations for this category require any non-standard aerodynamic surfaces to be manufactured using completely natural fibres and natural cores, so it was an ideal application for us.
Though flax-based composites do not match the mechanical strength of carbon composites, they inherently provide superior vibration damping so we carried out extensive engineering analysis to ensure we met all the requirements. These included strict aerodynamic, weight and deflection targets as well as cost and manufacturing volume constraints. We developed an optimum combination of weaves, laminates and manufacturing processes to minimise labour requirements and material costs.
We expect to see considerable growth in demand from across the motorsport sector for sustainable natural composites.
With Formula 1 recently announcing its plan to become carbon neutral by 2030, we expect to see considerable growth in demand from across the motorsport sector for sustainable natural composites in future.
Is sustainability having any other impact on Prodrive?
We are making our whole business more sustainable through measures such as improved process energy efficiency from shorter cycle times and lower temps; replacing wooden pallets with cardboard ones which are easier to recycle and lighter to transport; and exploring the switch to re-usable films and vacuum bags. We are also upgrading our PLM/engineering control system to a paperless configuration; we are already paperless in our external supply chain controls and will add our internal processes to the system.
Are any other means to manufacture sustainable composites on the horizon?
Besides recyclable composites and natural fibres, we are also looking at the resins used. Bio-resins made from plant-based stock sacrifice some of the ultimate composite performance but offer a big advantage in sustainability. As a commercial company, we generally need a customer enquiry to justify onward development. There is a 'sweet spot' for manufacturing volume, not one-offs or thousands-off but made in quantities of a dozen to a few hundred; this is typical of niche automotive applications and is always our immediate target when we are developing a new process.
Finally, as Prodrive works with customers from a number of industries, do you see evidence of knowledge transfer between different sectors?
We are in a good position to expedite the cross-fertilisation of ideas. Typically the automotive cost focus transfers to aerospace and industrial customers; the aerospace materials focus transfers to others. The automotive industry is also the most concerned about appearance; we are trying to move them away from traditional composite styling, with a visible weave, to cheaper parts designed for a painted finish such as bonnets (hoods) and boot lids (trunks).