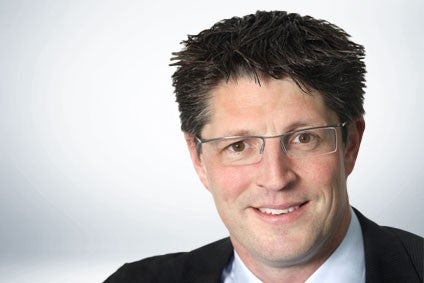 Three megatrends are shaping the auto industry: electro-mobility, automated driving and the connected car. This is welcome news for Infineon given that all are heavily reliant on sensors. Continuing just-auto/AIC's series of interviews, Matthew Beecham spoke to Lars Ullrich, Vice President of the Automotive at Infineon Technologies Americas about developing semiconductor solutions for automotive applications.
What areas of your automotive business are you particularly well positioned in the market place and which show most promise for growth in 2021?
The acquisition of Cypress Semiconductor in 2020 strengthened Infineon's ability meet customer requirements as the industry responds to three megatrends. We see these as the move to zero emission transportation systems; the fact that the car remains a car; and that there is steady evolution to platforms where the driver will become a passenger.
The move towards zero emissions hasn't eliminated innovation in ICE design and much of the advancement there relies on increasing the role of electronics in engine control and mechatronics. Concurrently, incentives to move quickly through stages of P/EV to full EV are significant factors in such major markets as China and the EU. In the U.S, action by state governments related to zero emission requirements will likely be followed at the federal level by the incoming administration, which seems committed to aggressive climate goals. Infineon has a full portfolio of the semiconductors to support all systems in PEV/EV vehicles; sensors, microcontrollers (MCUs), NOR Flash memories, and drive train power devices, as well as control power and communications.
As noted, we also see that while the car will remain a car – four motor driven wheels and full accommodation for human control – there is across the board adoption of comfort features and increasing levels ADAS systems. This plays to Infineon strengths in sensors, such as high-performance radar and Time-of-Flight (ToF) technologies, and to an expanded portfolio of MCUs that encompass critical Electronic Control Unit (ECU), body electronics and infotainment clusters. Both ADAS and growing in-car comfort and infotainment systems support enhancement of driver capabilities while improving the travel experience.
Given that increasing levels of driver automation require more sensors to be fitted to the car, where are Infineon's strengths?
Overall, Infineon is now the second largest supplier of sensor chips for automotive systems used in traditional "under-the-hood," body and chassis mechatronics systems, exterior environmental sensors such as radars, and technology suited to new types of driver monitoring and safety applications. Our portfolio comprises dependable products with features such as best in class security, functional safety and high automotive quality. We combine this with premium customer support, system understanding and a passion for innovation to better serve our Tier 1 customers and a larger portion of their bill of materials. We've moved from supplying a sensor to typically matching sensors with our inherently reliable and secure AURIX MCU. The next step is to offer sensor, MCU and power subsystem as a drop-in module.
A team at our Silicon Valley Innovation Centre is working with Reality AI to train a set of exterior mics to essentially "hear" the environment around a vehicle.
We also have capabilities in areas not commonly considered as part of an automotive sensor network, such as silicon MEMs microphones. A team at our Silicon Valley Innovation Centre (SVIC) is working with a company called Reality AI to train a set of exterior mics to essentially "hear" the environment around a vehicle. This is a completely new sensory input for cars and it will likely play an important role in future sensor suites.
That also brings up the idea of the status of sensor fusion in development of autonomous systems. There's a lot to learn in this area and the playing field also will see dramatic changes as electrification ultimately eliminates fuel-burning engines and their sensor loads from the equation. Ultimately, the decisions made by Tier One suppliers and OEMs about overall systems architecture will drive development. Infineon stands ready to provide input as needed to our customers.
Many cited 2021 as a turning point for automated vehicles, though the reality has shown it will be a longer process. Can you give us your thoughts on the timeline, especially on the important threshold the industry now stands at between Level 2 and Level 3 autonomy?
As far as turning points, 2020 might be described as when industry watchers recognised the reality that the move to autonomous vehicles is a long transition. That makes 2021 the year of realistic expectations. Forecasts by Strategy Analytics reflect that realism. They project adoption will move from 2020 level of L1/L2 automation at 40/7% respectively to 46/27% in 2025 and then L2 levels will grow to 53% of vehicles in 2030, with L1 used in another 28%. At that point, only a little more than 1 in 10 autos will have no ADAS features, and we'll also start to see measurable adoption rates for L3/4 autonomy.
Getting consumers to rely on automated systems is critical.
In our talks with companies on the cutting edge of autonomous development, there's a recognition that getting consumers to rely on the automated systems is critical. I think about it as learning to trust the "elf under the hood." We're moving from an era of fail-safe design being acceptable to one where fail operational is a requirement, which in turn requires what we at Infineon call "dependable systems." The evolving concept of dependability extends to every stage of every ADAS system; sensing, computing, communication, actuation, power supply and memory. For L 2/2+, there need to be protected branches for every critical load. L3 requires redundancy for critical loads, and higher-level Level 4/5 autonomy will need even more sophisticated dependability concepts.
How do you see the market place for LiDAR's evolving?
Good question. It is apparent that extending the range of exterior "vision" is very important to the eventual adoption of L4/5 autonomy and that LiDAR is an excellent candidate for that role. Given that, the time frame for its use in mass market systems is still some years out. Infineon has invested in the technology through early acquisitions and continued investment. So, we have a good sense of the overall system requirements and the likely evolution of the technology as OEMs make decisions about how LiDAR will fit into the overall system.
Security within the connected car continues to cause debate. How is Infineon addressing this security risk?
We look at security from several perspectives: you can't have safety without security, security is an architecture property, security is a moving target and security needs cooperation. There's the classic automotive view of securing the functional safety of the platform and through the whole evolution of ADAS from fail safe to fail operational capabilities that we discussed earlier. Here we continue to work on practical implementation and issues around architecture, such as the question of what's done in hardware vs. software. Infineon's security architecture is scalable to support multiple levels of solutions. Our microcontrollers integrate hardware security modules (HSM) to provide a run-time environment for secure modules and networking within the vehicle. Discrete Security Controllers provide trust anchor and tamper resistance to protect the vehicle from the outside environment and recover in the case of an attack.
Then there is the concept of the car as a connected network on wheels and how you protect that network from intrusion and attack. The Cypress acquisition broadened our perspective on this, so we can look at it from local area connectivity using both Bluetooth and WiFi, as a matter of embedded security embodied both in NOR Flash and as MCU-level security modules meeting automotive standards, and finally as a cybersecurity issue based on Infineon's historical leadership in computer network and payment systems security. All together this is an area where Infineon can help shape the approach and respond to nearly any conceivable architecture defined by manufacturers and standards bodies.
There is a lot of hype around the Vehicle-to-Vehicle (V2V) and Vehicle-to-Everything (V2X) communication and the possibilities for safer roadways and more efficient travel. What's your view on the realistic possibilities?
Ultimately, large-scale implementation of V2V/V2X requires a good deal of infrastructure outside of the vehicle that has to be put into place. Today's pilot programs in such cities as Singapore and Chicago will teach every party involved a lot, but we are still in the early stages of understanding capabilities and requirements. That puts wide-scale adoption at least a half-decade or more in the future.
Given that, we've got a several key technologies available to support V2X. The BT and WiFi capability we just covered is one, as well as technologies for secure communications. Those include network security tools like our Trusted Platform Module (TPM) and secure Embedded SIM (eSIM) for mobile communications.
2020 was a pretty memorable year for everyone and for all sorts of reasons. In your business, what stands out as the biggest challenges you faced over the past 12 months?
Of course, the pandemic's widespread effects are what set up the challenges we face. From a business perspective, economic contraction saw the global light vehicle market decline by 19.4% globally. That's forecast to snap back by 13.2% in 2021. Most interesting is that while that's not a complete return, the electronics content will be greater than in the past.
That sets up what was really our biggest challenge, managing our business through supply chain interruptions and very rapidly changing demand patterns. In our manufacturing flow it was a kind of whiplash, moving from high to low utilisation and relatively quickly back to high utilisation again. That's cushioned in part because Infineon has a relatively high proportion of manufacturing in-house, and continued investment in our capacity for power and sensor products, in particular, gives us a lot of flexibility.
What did you learn that you did not expect to learn?
For one, we all learned to work in virtual, digital business environments faster than I think anyone expected. In many ways, working from anywhere has helped to accelerate collaboration and cooperation, and it has certainly brought out higher levels of flexibility and agility. I guess you could say that the digital world we're operating in now turns about twice as fast as the real world. On a personal side, it's been really enjoyable to get spend more time with family; where we used to bump into colleagues in a hallway or lunch room, now it's family interactions that break up the day.