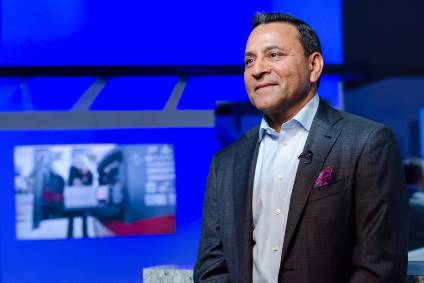 This year's IAA saw Samsung and Harman launch an autonomous/ADAS strategic business unit and announce a $300m Samsung Automotive Innovation Fund to accelerate their presence in the autonomous sector. According to the business leaders, investments will be made in all areas related to 'enabling solutions for next-generation mobility'. To learn more, we spoke to Harman's CEO Dinesh Paliwal.
It's just over six months since Harman was acquired by Samsung for $8bn and this is another investment in the automotive sector. Can you tell us more about it?
Yes, together we firmly believe in the power of collaboration and open innovation and this fund will accelerate our progress within this exciting area. We want the fund to foster what we are calling 'an open ecosystem of companies' who will work together to develop the critical innovations that will increase the safety and security of autonomous and connected vehicles. In addition, Samsung and Harman have created a new strategic business unit.
What can you tell us about this business?
The unit is joint effort between Harman's navigation and ADAS business and Samsung's Smart Machines team. It will be led by John Absmeier who will be based in California.
And how will the fund work?
The fund is there to find and support the best ways to accelerate our position in the autonomous market. The funds are available immediately, in fact the first investment of 75m Euros is already in progress with TTTech announced by my colleagues at IAA. It isn't only about investment; Harman and Samsung will also provide technologies and the ecosystem of partners that I just described. Combined, we believe we can accelerate the development of products and services for the future of mobility.
Why not do this in-house?
The automotive industry is changing. In fact, it's a transformation and no one company can do it on their own. The challenges we all face are too big, too complex. We believe we have to collaborate. That's why we want to build a platform to integrate the best technologies on the market.
You have already announced the first recipient is TTTech. What was the attraction?
TTTech has proven its software and hardware capabilities over the last 20 years. They have worked with Boeing and NASA, helping aircraft and spacecraft move safely for long distances and in many cases, in an autonomous way. The investment will be used to accelerate the growth of its safety technology, like its open safety platform MotionWise, enabling OEMs and Tier 1s to accelerate the integration of new capabilities in the car. I would also add that we all share its vision of an open platform, which we believe is the best way to accelerate innovation.
And what about in automotive?
Audi is a long-time partner, customer and investor of TTTech. We are already working together with Audi on existing products such as in-car entertainment and will be exploring opportunities to develop ADAS and AD systems in future Audi models using Samsung, Harman and TTTech's technologies.
What other technologies will you invest in?
We will invest in a range of connected car areas including smart sensors, vision systems and AI. In fact, we will consider any technology that will enhance the safety, security and performance of autonomous and connected cars.
With these developments, will Harman remain autonomous?
Harman will continue to operate as a standalone Samsung subsidiary. What will change, however, is that Harman will increasingly leverage Samsung's global scale, R&D, distribution channels to become the most integrated Tier 1 supplier of electronic systems for connected cars. We'll have more details on this soon.
So to sum up, how do you see the car of the future?
We believe that autonomy should not mean monotony.
We believe that the car of the future will be much more embedded in consumers' lifestyles than today. As we have shown with our demonstrators such as the Rinspeed Oasis, we actually want to humanise the autonomous car. That's because we see that personal experience as critical to the passenger economy. We predict that it could be your most powerful connected device, bringing together all the aspects of your daily life. We definitely believe that autonomy should not mean monotony.