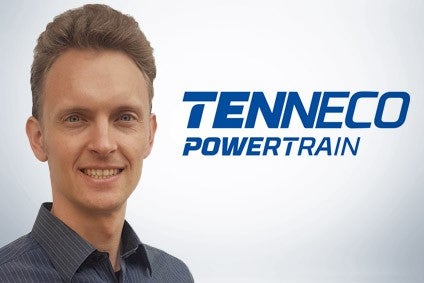 Cobalt-rich alloys are frequently used to provide wear resistance in critical high-temperature powertrain components. Continuing our series of interviews with tier one component suppliers, we asked Jens Wellmann, Tenneco Powertrain product manager for turbocharger components, how and why the company is aiming to reduce its dependence on cobalt.
Why is cobalt so widely used in the industry?
Wear-resistant materials that are effective at low to moderate temperatures, such as brass or plastic, lose their mechanical strength at high temperatures. Materials that are specifically developed for high temperatures succeed by generating oxidation products between the contact surfaces which act as a lubricating layer, but this mechanism doesn't work until the temperature exceeds a given threshold. The trigger point for forming such a tribolayer is relatively low at ~200oC with Cobalt-base materials, providing high levels of abrasive and adhesive wear resistance combined with effective corrosion resistance, all the way up to temperatures of 1000oC or more. It's this extensive range which makes it so useful.
Why move away from it?
With 50 per cent of the cobalt mined globally now used in batteries for electrified vehicle powertrains, demand for the material is growing year on year, pushing up the price.
With 50 per cent of the cobalt mined globally now used in batteries for electrified vehicle powertrains, demand for the material is growing year on year, pushing up the price. Limited availability, increasing controversy around cobalt mining conditions and high price volatility, means we must reduce our dependence on cobalt in order to help protect ourselves as well as our customers from potential material shortages and future price escalation. The challenge is to reduce the cobalt content while still delivering robust products for applications such as shaft bushings for turbochargers and EGR valves.
Where do you start the process of developing a low-cobalt alternative?
Our research started with two of our well-proven existing sintered products; FM-8100, an iron-based cobalt-free material, and FM-T95A, a cobalt-based (54 per cent by weight) material, comparable to the cast materials used for tribological applications. Including these two extremes, a total of five materials were evaluated for wear performance across a range of temperatures.
The cobalt content in the different specimens was 0, 8, 17, 35 and 54 per cent and the test temperatures used in the initial investigations were 200, 400 and 600oC. Based on the results from this work, a new material was developed, designated FM-T88A, a sintered steel with 17 per cent Cobalt, which meets production and quality requirements, including the manufacturability and mixing of the metal powder, the sintering process, machinability and quality assurance.
How did you validate the new material?
Following the initial tests, collaborative trials were conducted with a major global vehicle manufacturer comparing the wear resistance of FM-T88A against series production materials in a test rig which simulated the installation and loading of a turbocharger wastegate bushing. The wear test was carried out at six different temperature points (20, 100, 200, 300, 500 and 800°C) using new specimens in each case, with constant load application and each test running for 70 hours.
The results showed that at 200oC FM-T88A displays a significantly reduced wear compared to a cobalt-free material and is comparable to the results of the high-cobalt material, FM-T95A. At all other temperatures the new material's performance closely mirrored FM-T95A. Investigations showed that FM-T88A is forming a tribolayer similar to the high-Cobalt material, explaining the good performance.
What are the next steps?
Two further stages of development work are currently underway: test components produced using FM-T88A are currently being evaluated in a range of customer applications; and additional shaft materials are being assessed with a view to further exploration. Tenneco remains focused on the further development of materials in this key field.