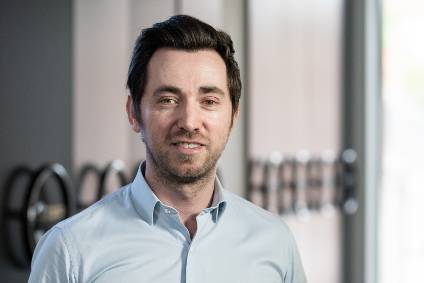 There are some in the auto industry who believe that the rise of digital solutions within the new car buying journey will lead to the 'agency model' approach, where dealers become 'agents' who act on behalf of the OEM, with sales conducted directly between the OEM and the customer. Among them is ZeroLight, a digital visual effects specialist based in the northeast of England which began life in the gaming industry. They are working with a number of established automakers, including Volkswagen (ID3), Audi (E-Tron), Cadillac, Pagani, Lamborghini, and new entrant Lucid Motors, in not only enabling online sales but also creating digital solutions that give people the confidence to know exactly what they are buying online. To learn more, we spoke to François de Bodinat, Chief Product Officer at ZeroLight.
Could you explain a little more about ZeroLight and the stage your business is at?
We are cloud-based 3D visualisation specialists offering car-configuration and content-production solutions to the automotive industry. Our products and platform are designed to enhance each digital touchpoint across the entire vehicle-shopping journey. These globally scalable solutions deliver competitive advantages to our clients by driving engagement, higher specification sales, and lower content-production costs.
The coronavirus pandemic has accelerated changes that have already been building in the car-buying journey for years, with more customers than ever researching, speccing and increasingly buying their new cars online. Many OEMs have been using our services to vastly improve and modernise their digital offering, including Volkswagen, Audi, Lucid and Lamborghini to name a few.
With the current context and global trends, ZeroLight is experiencing rapid growth and demand as more OEMs call on our expertise. Our focus is to meet that demand and help our customers deliver better shopping experiences by creating a new standard for the automotive and transportation industries.
Back in the day, some consumers began their shopping journey in the franchised showroom relying on the salesman to promote the merits of any given model. Yet so much has changed since then, not least footfall in dealerships as consumers head online and the emergence of challenger brands. How do you see the automotive retail channel evolving?
Car brands are increasingly relying on technology to 'charm' the customer, through interactive, engaging and visually rich experiences.
It is true, change has been happening for a long time now, and its only accelerating. Ten years ago, when people started their shopping journey in the showroom, car brands used to rely mainly on the charm of the salesman to promote the merits of any given model. Today, the average dealership visit has dropped from 7 to 1.5, with 90% of car purchases starting online. Car brands are instead increasingly relying on technology to 'charm' the customer, through interactive, engaging and visually rich experiences.
We predict more OEMs will move towards a cloud-based retailing ecosystem that integrates every retail and online touchpoint into one centralised platform, effectively blurring the lines between online and in-store. I am talking here about moving the customer journey from a very traditional linear funnel, (advert to website to dealer), to a complete set of inter-connected experiences that supports every channel and each customer touchpoint. ZeroLight is already doing this by creating unique and personalised online ads and experiences based on a customer's configured vehicle, delivering digital, interactive and personalised brochures, and providing dealers with customer preferences for bespoke in-store experiences.
What is your research telling you about consumers embracing the agency model, using dealerships as one of a number of touchpoints from advert to convert?
With sales conducted directly between an OEM and a customer, OEMs will be able to set and maintain a more consistent pricing strategy across all sales channels, without the traditional price-based competition between dealers. This negotiation-driven flexibility of a car's price could actually be one of the remaining blockers of online car sales, as customers fear they might pay more online than in a dealership. The agency model would alleviate these concerns and enable consistent pricing across all channels, as is common in other vertically integrated industries such as luxury, fashion and tech.
The agency model will also give customers more control over when and where they purchase. With customers making purchase decisions earlier in the buying journey, online has become the main battleground where car brands must maximise every moment 'from advert to convert'. The key to success resides in recreating the interactive nature of the showroom online. This can be facilitated by the use of advanced cloud-based visualisation technologies that enable users to view their car of choice in a variety of configurations and locations. Such high-quality visualisation is crucial to help customers overcome any concerns they may have about buying their car online.
One of the mantras I usually advise our customers to follow when designing or updating their customer shopping journey is to "design the dealer like a website", and the "website like a dealer". In short, the goal is to use the best of both worlds, leveraging technologies to bring the car to life online while making the dealer experience as unique and as amazing as it can be.
Is there any evidence to show that consumers spend more to spec their cars when using your configurator?
When Lucid launched ZeroLight's 3D cloud-based interactive configurator for its Air saloon, it A/B tested it against a more traditional 2D picture-based configurator over an initial four-week period. It recorded that those customers who engaged with the 3D configurator posted a 10% increase in reservation value, not insignificant on a car costing over £130,000.
When Audi launched the 3D configurator across 25 global regions, buyers would on average add three additional product features generating an upsell increase of EUR1,198 per vehicle.
Similarly, when Audi launched the 3D configurator across 25 global regions, buyers would on average add three additional product features generating an upsell increase of 1,198 euros per vehicle. So yes, there is definitely value in delivering great experiences to the user. We clearly see that the more users understand the options presented to them in a visual and interactive way, the more likely they will add these options to their basket.
To what extent does your technology help the motorist engage with the car brand?
ZeroLight's highly detailed 3D interactive configurators enable consumers to explore and spec every angle, both inside and out, of a car, creating a highly immersive experience that not only engages, but can also give customers the confidence to buy a car online thanks to the level of detail on offer. When comparing the 3D interactive configurator to the more traditional 2D picture-based experience, we've seen on average that users will spend 66% and 28% more time on the Audi and Lucid configurators respectively.
We've also introduced interactive 3D volumetric environments to online configurators for the first time. Within the Lucid configurator, users can choose the scene where the vehicle is located, where the waves of the sea in the background are actually moving. This level of detail has recently been enhanced by the first use of real-time, cloud-rendered ray tracing – a technique from the gaming world that realistically recreates the way light interacts with different objects and materials. This means that every shadow and reflection of the car is true to life and computed in real-time.
All of this is about bringing the car to life. Since a configurator is often the first digital touchpoint a consumer will spend serious time interacting with, a positive experience will not only shift the balance from consideration towards conversion, it will also create a positive technological link with the brand itself.
We understand that ZeroLight is working with Qualcomm. Could you tell us a little more about your partnership and aims?
At ZeroLight we appreciate the value of standing on the shoulders of giants. Within the wider ecosystem of automotive visualisation in which ZeroLight is recognised as a leader in its field, working with world-class companies like Qualcomm gives us a leading edge.
Our software helps tech and telecoms companies test their systems with complex automotive content, which helps them fine-tune their systems before they go live.
In that spirit, we've worked with Qualcomm to test the capabilities of their Snapdragon XR2 5G processor. We've also set up the world's first end-to-end 5G VR stream, edge server, NVIDIA CloudXR streaming service, 5G antenna and prototype 5G VR headset. While very technical, both companies see it as essential to stay one step ahead of the competition by removing any limitations in order to deliver a best-in-class customer experience.
What's next for ZeroLight?
Our main goals are to expand our visualisation platform capabilities and accelerate our client base. We are investing heavily to create the tools, services and products that will empower OEMs and their dealers to deliver best-in-class customer shopping journeys.
We see a rising need for OEMs to deliver amazing experiences, not only in-store or online, but also in the advertising space. One of the key areas of focus is our ability to change the way advertising content can be created; to become more personalised, more interactive, and more engaging than ever. We recently delivered the technology behind the launch of the new Mitsubishi Outlander on Amazon Live, a worldwide first. We have also created new types of instant advertising on Facebook for Skoda and Audi.
The personalisation of the entire customer journey is probably the most critical mission we are currently working on. To achieve personalisation at scale, each OEM meets a tremendous challenge on how to create, produce, distribute and maintain billions of assets every year, such as images, videos, AR and brochures, across all territories, websites and customer touchpoints. Our platform, SpotLight Suite, is becoming the cornerstone of this mission and is being deployed globally by customers including VW, Audi, Lucid, BRP and Lamborghini.
This requires effective and seamless integration with platforms like Salesforce. By plugging our visualisation technologies to the CRM system, we can automatically trigger the creation of personalised interactive brochures and customised emails that can be sent to the right customer at the right time and with the right content.