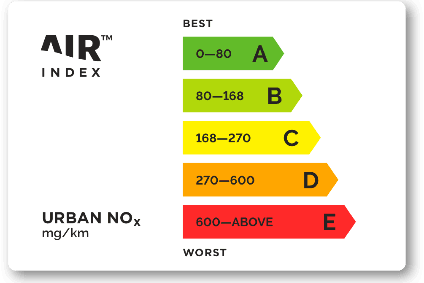 Today's launch of the Ultra Low Emission Zone (ULEZ) in central London is a welcome step on the road to cleaning up urban air quality but will not stop 'dirty diesels' from entering the capital despite controlling access based on emissions, says publishers of the AIR Index. The AIR (Allow Independent Road-testing) Index is an independent vehicle emissions rating for cars from A (the best) to E (the worst) that provides the on-road urban NOx emissions using the same independent test on every vehicle, to show the relative impact a specific vehicle has on air quality. However, AIR's own testing has found that the Euro emissions standards bear little resemblance to what comes out of a car's tailpipe in urban driving. There is huge variation in Euro 6 diesels, and although the latest are very clean there are still millions of dirty diesels on European roads that can emit in excess of Euro standards for urban NOx, yet still gain free access to ULEZ. The AIR Index is calling on policymakers in London and across Europe to make clean air zones more effective by tackling the issue of dirty Euro 6s – using ratings such as the AIR Index– to bring air quality into legal compliance as soon as possible. To learn more, we spoke to Nick Molden, co-founder of the AIR Index.
Could you explain a little more about the AIR Index and your aims?
The AIR Index is a global first. It is an international, independent and standardised rating system that reveals accurately how much pollution a vehicle produces when it is used in towns and cities.
It has been created to inform and empower car buyers and city policymakers with the real facts about vehicle emissions when making choices about car purchase and usage. A simple A-E colour-coded rating, shows the difference between clean and dirty vehicles based on how much NOx comes out of a car's tailpipe in the real world. Why NOx? Because it is the biggest cause of poor urban air quality.
Inspiration has been NCAP, the independent vehicle-safety rating system developed in the US in the 1970s that became the industry standard in the EU and around the world. The programme held car makers accountable for their safety performance, resulting in a voluntary adoption of technologies that led to safer vehicles.
Our aims are three-fold. We want to hold the car makers accountable, to see them adopt the index and to incentivise innovation. The results, as seen previously with safety, are likely to far exceed current expectations and be achieved in the shortest possible time.
We also want to give car buyers, from regular consumers to fleet managers, the answers they need to make the right 'clean car' purchasing choices and, finally, we want to give policymakers the correct information allowing them to create fair emissions-based legislation.
Your testing is described as 'scientifically robust'. Can you explain what that means and how do you set about testing?
Over the last year, we have worked with our expert academic and industry group to deliver European standardisation for the testing protocol through the CEN Workshop Agreement (CWA 17379). The AIR Index uses the results of the tests conducted according to CWA 17379 and then applies a rating on a scale of A to E.
The rigour of the rating is endorsed by AIR's Scientific Advisory Committee (SAC) which includes internationally-renowned scientists and experts in vehicle emissions testing and air quality. We have ten members, one of whom is Dan Carder, Director of the Center for Alternative Fuels, Engines and Emissions at the West Virginia University. Dan led the West Virginia University team that published the earliest evidence that Volkswagen was cheating on US emissions tests uncovering the scandal which became known as Dieselgate.
Together with the SAC and other interested organisations including municipal authorities, NGOs, car makers, scientists and engineers who participated in the workshop, we developed a testing methodology. And, using the results of this testing, for the first time we can give comparative ratings between vehicles as a result of setting tough but fair testing criteria, all conducted on the road in real driving conditions. The same standardised test is applied to each different car type.
The testing itself is carried out with a minimum of two vehicles, each sourced independently from the vehicle manufacturer and equipped with Portable Emissions Measuring Systems (PEMS). The vehicles are then driven on a minimum of five, 10km trips spread across three separate journeys. The PEMS are used to gather data on the actual on-road emissions from each vehicle, with the results averaged to determine the AIR Index rating.
How will you align the EQUA and AIR indices?
The EQUA Index provides independent real-world emissions data but does not test to the CWA 17379 methodology; only the AIR Index does that and is solely focused on urban NOx, whereas EQUA rates vehicles in a number of different areas, from CO2 to fuel economy.
Do you support NOx measurement during Periodic Technical Inspection (PTI)?
Cleaning up the diesel engine requires after-treatment in the exhaust system. If this malfunctions or is removed, NOx emitted can increase by orders of magnitude, back to the levels as from directly out of the engine. Therefore, it is essential regularly to check the health of the system, which can be done through PTI. It will be necessary, however, to have sufficiently accurate equipment in garages and to make sure the vehicles are tested under load, not just at idle.
When testing certain vehicles, have you been surprised by the results?
Perhaps the most shocking takeaway was that a 2018 Land Rover Discovery TD6 was 20 x cleaner than a 2017 diesel Renault Clio.
Current Euro 6 standards set an official NOx limit of 80 mg/km for diesel vehicles and 60 mg/km for petrol. But when AIR tested a range of petrol and diesel vehicles that all officially complied with this limit in manufacturers' own laboratory tests, we found huge variations on the road. Some diesels emitted just 40 mg/km while others exceeded 1,000 mg/km, yet all conformed to Euro 6. And conversely some petrol vehicles were found to be significantly under the 60 mg/km limit that they officially complied with while others were almost three times higher when tested in real-world conditions. Perhaps the most shocking takeaway was that a 2018 Land Rover Discovery TD6 was 20 x cleaner than a 2017 diesel Renault Clio. But just as shocking is that some Euro 5 diesels can be cleaner than some Euro 6 diesel. This is why we need transparent information and why the AIR Index was created.
In what ways do your tests go further than current car approval testing, i.e. WLTP (Worldwide Harmonised Light Vehicle Test Procedure) and RDE (Real Driving Emission)?
WLTP is a step in the right direction but is still conducted in the laboratory and is not fully independent. RDE does not fully come into force until September 2019, and only then for brand new vehicles, which is too late to solve the problem of very high NOx emitting diesel vehicles already driving through our towns and cities. The aim with the AIR Index is to give consumers and policymakers the transparent, immediate information to be able look at any vehicle – whether a brand new vehicle or an older vehicle – and know, for sure, how much NOx it emits in the real world. Only then can we properly tackle the problem of poor air quality.
How can you ensure that manufacturers will not provide software update to pre-RDE cars to optimise NOx emissions during this test at the expense of particulates emissions or higher NOx emissions under other conditions, e.g. motorway?
It is unlikely to be worthwhile to update pre-Euro 5 cars (up to 2009) due to their age, and since then all diesels have been equipped with particulate filters, which should perform well even if NOx emissions have been recalibrated. More of a concern is that NOx is reduced at the expense of elevated CO2 emissions (and, with it, reduced fuel efficiency). The European standardised method – CWA17379 – on which the AIR Index is based requires the disclosure of CO2 emissions as well as NOx, and therefore it would be possible to test that reduced NOx emissions have not led to significantly elevated CO2. If an update led to a reduction in NOx in the city but a corresponding increase on the motorway, this may still be an improvement as the NO2 legal exceedances are in the city.
What is your vision for how this Index will be used in urban access policy?
Basing a low emission zone purely on whether a diesel is Euro 6, as London's ULEZ will do from April 8th, will not totally address the problem of vehicle pollution. As our tests have shown, just because a car adheres to Euro 6 does not mean it is 'clean'. For the first time, policymakers will now have the ability to improve urban air quality, using the AIR Index to control vehicle access, without penalising consumers unfairly because the vehicle that they bought in good faith is dirtier, on the road, than they were led to believe. ULEZ could deliver much better air quality, much more quickly by using the AIR Index in conjunction with Euro standards.