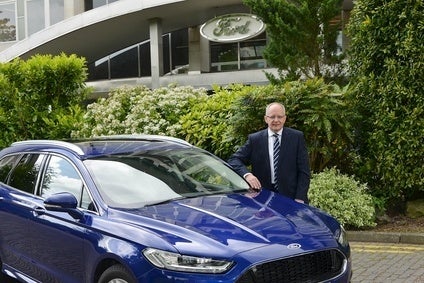 At the 2015 IAA, we caught up with Ford of Britain's newly-appointed chairman and managing director Andy Barratt. Prior to taking up his new role he had served as Ford of Britain's director of sales since 2011.
So Andy, you've been MD of Ford of Britain for a few months now, how has your workday changed since taking on the role?
It's been 10 Weeks, not that I'm counting. It's been a very interesting time. The sales director role that I had previously is very intense – it's volume, volume, volume. Then when you think you have a bit of space it's "a bit more volume please" so it's very single minded. The new role is broader, it calls on many of the experiences I've had on the way up but it's about balancing priorities. At the end of the day we're a national sales company (NSC), so we have to make sure that we deliver our sales commitment to the company. But it does allow me to direct the strategy a lot more, which is very exciting. One of the things I've introduced is a real renewed vigour around the customer.
At the end of this month in the UK we have a change in the Consumer Rights Act, which is an amazing opportunity for us to change expectations over what is good customer practice and challenge the dealers and ourselves to be the best. Inevitably things will go wrong, but it's the speed of resolution that will set us apart from our competitors. The ownership experience is key to customer loyalty and that will drive us forward.
So you're effectively a NSC, but don't you also look after Ford's UK based R&D?
Well I have two roles. MD of the NSC and chairman of Ford of Britain. The NSC role takes up more of my time, but the chairman role fills in any gaps. The chairman role covers everything in the UK – product development, manufacturing and anything corporate.
What is the main challenge for you in the UK market at the moment?
The market is very buoyant; it's had 42 consecutive months of growth. It's fuelled by two things. One is the exchange rate is favourable to anyone producing in Euros, so the UK is a margin improver for those producers and ensures that an awful lot of Eurozone production is coming here. Once it arrives here with the steering wheel on the right-hand side it's not going anywhere else. Second, there's a significant PCP (personal contract purchase) base in the market place. Eighty per cent of Ford's sales in the market are on PCP and other manufacturers will have a PCP base very similar. So there's a very loyal but mobile owner base, and with the right offers you can change their vehicle change cycle. That's also contributing to a very buoyant used car market at present.
So it's a very dynamic and pressured market with the demand for that constant growth.
With the vehicle market very homogenised now – it's a very level playing field in product terms – would you say that finance is now more important than the old product, product, product mantra?
Finance has always been important. Actually it's more difficult now with the FSA regulations and the way that customers are scored for credit. There's no auto accept any more.
It's an interesting contrast with what's going on in the show with all the talk of connectivity. But before that, you have to fall in love with the car. You have to want the car to get it on the shopping list, and unless your car is stylish and dynamic and your brand has a good reputation all the rest is almost irrelevant.
We have premium brands going into smaller vehicle segments and increased durability, reliability and quality from brands regarded as value brands. In this environment, what can Ford do to get on the shopping list more?
There are a number of things we can do from the UK perspective. Breadth of range is always important. We've added EcoSport, we're bringing Mustang and Edge all within the space of 18 months. But that brings a challenge for the dealers in how to manage such a wide portfolio. That's why we have 55 dedicated Ford stores that will specialise in the wider range.
Then you can stretch the brand that you already have and Vignale is a great example of that. What we have seen is that a number of people enter the Ford brand at say Fiesta level and then they could exit at S-Max and go somewhere else. Vignale gives them the opportunity to stay within the Ford portfolio and have a more luxurious vehicle. So Vignale I'm looking for organic growth, we've sold a couple of hundred already with 50% new to brand coming from premium German. Vignale's not particularly a new price point for us, but it is a new concept and exciting for us. Vignale's only available as built to order, we're not building for stock and passing to the dealers. Dealers will have one showroom unit and one demonstrator. And it's not available on Ford's own company car scheme. Our key offer through Vignale is as a lease – so we're writing as much three-year business as possible.
You talked about the importance of PCPs earlier, is leasing increasing in importance for Ford?
It is. It's an area where we under-index in comparison with the competition. However, we've had great growth in the last two years working with key partners and developing Ford Lease, which is a venture between Ford Credit and ALD. That's working incredibly well in commercial vehicles. There is undoubtedly more growth to come. Personal leasing will see a lot more growth due to opt-out company car users, salary sacrifice scheme development and from people who don't mind being locked in for a full term. It's not a part of the market that is for everyone, but it is dynamic.
With the new product coming to Europe and the UK due to the "One Ford" strategy what are your targets for the likes of the Edge and the Mustang?
For the Edge it's not huge – it's a few thousand a year and all dealers can sell Edge. If you look at that larger SUV market it's nowhere near the size of the C-SUV market that the Kuga competes in – that market is in balance, a 50:50 split between Focus and Kuga. In fact, the EcoSport competes in the fastest growing SUV market – the B-SUV. That market will never be as big as the B-car market that the Fiesta competes in but it is growing.
Are you disappointed with EcoSport sales?
No. It's a great "One Ford" product. We got it earlier than we planned, and some of the earlier issues, such as the wheel being on the back, are now resolved. My issue now is that I haven't had enough supply. That's resolved now. We'll do about 8,000 this year, we did a couple of thousand last year, and it will continue to grow. In August, it took 15% of that particular part of the market.
Mustang – how will that do?
Can there ever have been a better time to come in to a new job when you're launching Mustang and Focus RS? With Mustang we have 2,000 sold orders in the UK and 8,000 across Europe. Of the orders we've had thus far, 70% are V8. I think we have a car that people have genuinely promised themselves.
The anticipation we're seeing from customers of wanting to be first with the Mustang, wanting to be seen and wanting that status is huge. We've gate released the first few vehicles and they're on their way to the port and in a few weeks' time they'll be here. What I want to do is certify in some way – a letter of provenance perhaps – the first right hand drive Mustang that goes to a customer, so that car becomes a legacy car.
In terms of One Ford how do you shape the vehicles for the UK market?
My view is common as they can be and as different as they need to be is my view on One Ford. A lot of the product has gone the other way – Fiesta to the US, commercial vehicles to the US. It's changed the way we work. It's broken down the internal chimneys. The benefits of One Ford reach much further for me than just product and the scale economies.
In terms of vehicle content, we can be specific for the UK market. That's what we're doing with the Edge and the Mustang.
Why do you think One Ford as a core Ford strategy has had such longevity compared to earlier plans such as Ford 2000 and Jac Nasser's cradle to grave plans?
It's interesting as I've lived through all of them. As we've evolved from Ford 2000 onwards – that plan moved people globally around the world – One Ford hasn't because technology has moved on and people can operate from where they are but still operate on a global stage. I think we've kept the areas of expertise where it sits: for commercial vehicles the expertise sits in Dunton, UK because we've had 50 years of Transit here in the UK and they've done a great job of developing what has become a globally acceptable and accepted product. You know two-tonne Transit in the US is a new phenomenon and has been really well received but would have been inconceivable a few years ago. The company's a great believer in using the experts but you don't have to move them around the world any longer to make it happen: people work best where they are happiest. That's one of the points I make about One Ford: it's been incredibly good for the people working under it. Its upskilled our people, given them wider experience and allowed them to cascade their knowledge.
Do you think Ford in the UK benefits from being in Europe because of its tougher legislative environment and the global convergence in regulation towards European standards?
Yes, but I'm a bit biased! The European automotive industry is an absolute hotbed of innovation – there's more mainstream design stretch. Take the S-Max – I don't think anywhere else in the world would have developed a product that was that good and that different in its time. Europe is at the leading edge of innovation with the legislative framework really stretching engineers but that really has a global benefit.
Finally, with the Dagenham and Bridgend engine plants what are the effects of engine sourcing changes made by JLR and Volvo having on those plants?
We currently export two million engines a year, so a third of our engines globally come out of the UK. We're in discussion with the Welsh Assembly over further investment in Bridgend, that's a hugely efficient plant working 24/7 and Dagenham likewise. We remain absolutely committed to both plants.