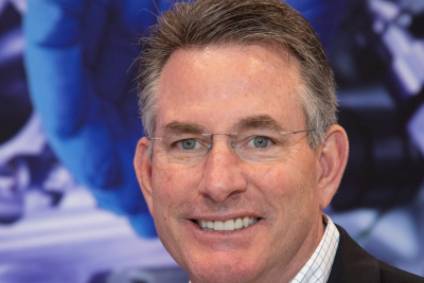 After the break-up of supplier giant Delphi Automotive into Aptiv and Delphi Technologies, Delphi Technologies is in transition as a specialist Tier 1 supplier of propulsion technologies to OEMs. Meeting changing fuel mix and e-mobility market needs are at the top of CEO Richard (Rick) F. Dauch's agenda. Dave Leggett caught up with him in Frankfurt to hear a progress report.
j-a: How did you find this year's Frankfurt Motor Show and what did you hope to achieve?
RD: It was my first time at the IAA [he is eight months into the role] and my first impressions are that it is a very well organised show. The customers are very well represented here, from an engineering standpoint and from their personnel and senior officials who are here. I think there were 44 new vehicle launches this year and Delphi Technologies has product on almost 50% of those new launches which makes us happy that we are winning our fair share of business.
My main purpose here was to meet some of my customers in a more detailed fashion than I have in my first eight months when I ran around the world checking on our plants and products, meeting customers at a lower level. Here I get to talk to the most senior executives about what their plans are for electrification or diesel/gas mix and so on. It is very important for me as CEO to understand where their heads are.
And one thing is for sure. It doesn't matter who I talk to, at which OEM, no-one knows what the crystal ball holds for electrification – which platforms are going to win, when are the cost-curves going to come down for batteries, what charging infrastructure is required, how government incentives are going to play out. We all know we are moving towards electric and hybrids, we just don't know how fast that is going to be.
There were two important market trend lessons for me in the eight months as CEO. One is the move from diesel to gasoline – it is happening very fast, faster than we in the industry can handle right now and we're all chasing capacity. It is painful for all of us – ourselves, Bosch, Continental and the OEM. At the same time, the move to electrification is happening, but it is happening at an uneven pace based on government regulations, incentives, capacity, battery costs and so on.
So, when making capital investment decisions worth hundreds of millions of dollars you have to be very careful where you stake your money or you are going to run out of cash. There are a lot of people in this industry spending boatloads of money on autonomous vehicles, connectivity and those kinds of things. Some are going to win and some are going to lose.
But electrification stand out as a 'big bet'?
Yes. I would say that I did not walk by a Tier 1 supplier booth in the powertrain space today that didn't have some kind of display on what they can do with electric vehicles. Some of them I think are false advertising. I have seen some of our competitors buy some none-automotive grade electronics companies and all of a sudden turn them into Tier 1 electronics suppliers. That's easier said than done.
"We think we have the foremost pioneering technical centre in North America."
One of the things that attracted me to this company is that we have been producing electronic components for electric vehicles for over two decades. We think we have the foremost pioneering technical centre in North America. The fact that we have multiple European customers coming to our American technical centre and buying products from our American plant, I think we have something there. And the fact that we can make money supplying electronic parts, too, helps us to stand out.
And on the flip-side, we have over a century of technology leadership in fuel injection systems. So, as vehicles shift from diesel to gas, and from the internal combustion engine to electric, we are ideally placed to meet shifting demand.
Coming down to more immediate prospects, how do you see the general business environment around the world currently?
It is tough right now. I've talked to many CEO peers over the past two days and they say the same thing. We are seeing a significant reduction in China volumes, year-over-year. We don't see things getting better over there anytime soon. We also expect to see a consolidation in China – there are too many OEMs there and they can't all survive long-term, so you have got to make your bets on who you are going to partner with for the long-term.
It is sluggish, too, in Europe – the downturn in China is hitting exports out of Germany and other parts of Europe. And no-one knows what is going to happen with Brexit, right?
And in North America we are starting to see the first signs of a downturn in the heavy truck industry, which is usually a precursor to a slowdown in the overall economy. Truck orders are well down according to the latest data. That tells us to batten down the hatches – it could be a tough 2020.
And how do you see the US light vehicle market?
It's maybe flat or down a few percent, nothing Earth shattering right now. The key is to be supplying to model lines and platforms doing well – like the T1 programme or the F-150, which we are, then some of our products are in good shape. Being on new vehicles is also good, so you get launch momentum.
We've got a nicely balanced portfolio. One of the pleasant surprises for me here is that no customer makes up more than 9% of our total revenue base. We've got a pretty diverse and broad product portfolio, in terms of the passenger car market around the world, the commercial vehicle market in North America and Europe (we're not very big yet in Asia on commercial vehicles). And we have a nice aftermarket business. Overall, it's a good book of business and balance of business that will help us weather any storms.
So where – in terms of Delphi Technologies products – is growth fastest right now?
Two areas. One is gasoline direct fuel injection systems. As the market in Europe shifts from diesel to gas, that business is growing fast and we are also gaining market share.
And we are also winning against major competitors on power electronics. We recently announced a very large booking on a new 800-volt silicon carbide inverter [a US$2.7bn contract for volume production of this technology over eight years with "a premier global OEM". Launch is expected in 2022, initially for a high-performance vehicle.] It is very exciting for us, cutting edge technology, double the normal system voltage and much more efficient than today's 400V systems. It is very large volume and when we do get into production everyone is going to be very excited when they see the vehicle that it is on.
And you can confirm it's a light duty vehicle?
Yes, it is a passenger car, light duty. But we can't say any more than that.
Is China still at the heart of your electrification growth strategy long-term?
When I took over as CEO, that was very much the thinking. We put our major electrification team in China, in Shanghai. But what we're seeing is that the major European OEMs are dominating the move towards electrification – like Volkswagen Group, for example, whether going electric in Europe or going electric in China. So we do see Europe and China growing faster [in electrification] than the rest of the world.
Tell me about the work Delphi Technologies is doing with Tom Tom and how that fits in?
We're excited to be working with Tom Tom – a great supplier with great technology and great data in terms of mapping. Intelligent driving is really our take on the propulsion aspect of autonomous, where we're taking the data around the vehicle that is available and using it to help drive the vehicle in a more efficient way.
One analogy that helps people understand it is to think of cruise control in a vehicle. In the early days, you set the speed and the car maintained the speed that was set. Then it moved on with radar and adaptive cruise control to control distance from the car in front. This is the next level beyond that where you effectively take control of the pedal that is controlling the vehicle's propulsion and we use data around the vehicle – like the destination, where are stop signs, what are the speed limits – and that information gets processed to control the vehicle's speed and acceleration, deceleration. These things become more optimised. We have been testing this system against driver operating and there is about a 10% fuel saving. So without changing the hardware on the vehicle, we have an exciting technology that can save fuel in the real world.
Since the spin-off, I guess Delphi Technologies is still in a process of transition to becoming fully independent?
Yes, it's fair to say that we are not 100% spun off yet. We had a huge milestone on August 31 when we completed our separation in IT systems support from Aptiv. That was a huge step for us. Now we have to develop our systems further – we inherited, basically, a cut and paste from Aptiv. We have to invest in our own system now.
The last thing that we have to do to complete the spin process is complete the construction of our three electronics plants where we are now installing the equipment and qualifying equipment with customers, we're hiring and training people. That process gets completed by Christmas time this year, except for our plant in Poland which is April 1, 2020.
Basically, two years and four months after the spin, we'll be a 100% independent – from Aptiv – company. The team at Delphi Technologies have done a tremendous job – before I got here – to create a standalone company. One of the challenges has been that on Day 1 of the spin we became a publicly traded company and we've had to go through some growing pains, reflected in our stock price. We've now got to generate our revenues and fund ourselves, our own investments and so on. It's a new mindset for some people in the company and that's been one of the big challenges. It's a big transition, but we're making good progress.
Finally, as a CEO, what gives you great satisfaction in your role?
This is my third time being a CEO and whenever there is a change in leadership or ownership, people get quite nervous. When you go to a site and tell people you are going to make investments and you see the smiles on their faces, or you see someone being promoted, it's always a great feeling. It's great to watch people grow with the business.
I had the great honour to go to Detroit three weeks ago when my father [American Axle & Manufacturing co-founder Richard E. Dauch] was inducted into the Automotive Hall of Fame. He passed away about six years ago. I was proud that I am the CEO of a company, my brother is the CEO of a company and there were ten other people who worked for us at American Axle who became CEO or COOs of major Tier 1 automotive companies. My Dad would have been so proud to have had 12 CEO/COOs come out of his company.
In America, we talk about a coaching tree in sport. If you're successful as a football or basketball coach, then you're underlings become the next generation. So, I think I have had seven people who worked for me so far who have become CEOs. If I can get a dozen or so CEOs out of this company while I'm here as well, that would be great. Only one at a time can be CEO at Delphi Technologies but if some of them go on to be great CEOs at other companies they can make the whole industry better.
Richard F. (Rick) Dauch – biography
Richard F. (Rick) Dauch is chief executive officer of Delphi Technologies. He also serves on the Delphi Technologies' board of directors.
Dauch is an industry veteran with more than 25 years of cumulative leadership experience developed during his complementary corporate and military careers. He is a proven executive with a track record of driving operational excellence and profitable growth. His extensive management and leadership experience spans a broad range of disciplines including operations, commercial, labor relations, strategic planning, finance, and investor relations.
Prior to joining Delphi Technologies in January of 2019, Dauch served for seven years as president and chief executive officer of Accuride Corp., a leading supplier of wheel end systems to the global commercial vehicle industry. He was also an officer of the company and a member of the Accuride board of directors.
Previously, Dauch served as president and chief executive officer of Acument Global Technologies. He led this preeminent provider of fastening solutions in support of brand-leading customers in the aerospace and defense, automotive, heavy truck, industrial, non-automotive transportation, and related end markets.
Prior to his service at Acument, Dauch served in varied capacities during a 13-year tenure with American Axle and Manufacturing, Inc., a leading global automotive supplier of driveline, drivetrain and chassis systems. Most recently, he was executive vice president of Worldwide Manufacturing. Dauch began his career with United Technologies where he led the specialty packaged products business for the Carrier Division.
Dauch's corporate career was preceded by his service as an officer in the U.S. Army beginning in 1983 and concluding as a light infantry company commander with the 10th Mountain Division at Fort Drum, N.Y. He was also qualified as an Airborne-Ranger and expert infantryman.
He is a member of the board of directors of Spartan Motors, Inc., Koch Enterprises, Inc., and the Heavy-Duty Manufacturers Association (HDMA). Dauch is also on the board of directors and is a past president of the Army Football Club.
Dauch earned dual master's degrees in management and engineering from the Massachusetts Institute of Technology (MIT), and is a graduate of the MIT Leaders for Manufacturing program. He earned a bachelor's degree in engineering from the U.S. Military Academy at West Point, where he was a four-year football letterman and a Rhodes scholar candidate.