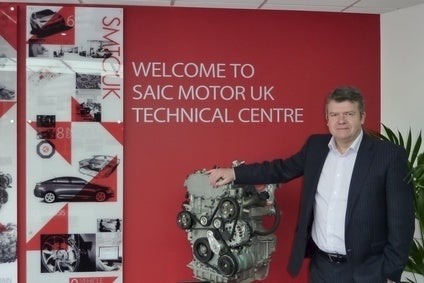 SAIC Motor technical Centre UK SMTC UK works on designing, developing and engineering advanced new vehicle and powertrain products for SAIC, one of the world's largest automotive manufacturers and owner of the MG brand. Dave Leggett interviewed SMTC UK's managing director David Lindley.
This interview was first published in Lotus Engineering's proActive e-magazine.
Can you describe the background and history to the UK SAIC technical Centre's operation?
It started around 2004/05 when SAIC was in discussion with MG Rover about putting together a joint venture. At that time I was head of 'concept engineering' at MG Rover, so I was getting involved in technical discussions looking at what initial vehicle concepts might emerge out of that joint venture and what the portfolio of products might look like. Alongside that was the commercial discussion, that I wasn't involved with, but I was building the relationship with the guy put in place to lead the technical centre in Shanghai as part of the new business they were trying to create at SAIC.
When MG Rover collapsed in April 2005, I was contacted by him, on behalf of SAIC, to discuss whether there was any way we could retain the best engineers from MG Rover who had been working on those programmes and also from the powertrain (PTL) area. The objective at the time was to take some of the best people with a view to continuing the work that we had started. There were a number of options to think about. One was to start a whole new business. That was a complicated thing to do quickly at the time. Another option was to see if there was a consultancy that we could set up with and that very quickly narrowed down to one particular consultancy, Ricardo, primarily because they already had a relationship with SAIC. They also had a physical presence near Longbridge, so in terms of geography and trying to retain key staff, that helped. They also had the space and logistics to accommodate our group. It was a very good fit really.
So we set up the initial technical centre business with Ricardo (it was called at that point 'Ricardo 2010'). But there was an option for SAIC to buy it for a small nominal sum. The initial investment to set up the business came from SAIC and it was decided at the outset that the business would be dedicated to working solely for SAIC. From the start, we were working on vehicle, powertrain and styling for SAIC.
We were successful in recruiting a team of engineers from MG Rover and PTL. Within the first two months we had put in place around 70 engineers. Ricardo provided a small group to help us manage the business, particularly the infrastructure that was needed. SAIC purchased the business, as planned, in 2007, after we had been running for almost two years.
In 2008 SAIC acquired Nanjing Auto (NAC), who had bought assets of MG Rover in 2005, including the Longbridge site. Effectively, the SAIC purchase of NAC brought those assets and the engineering side of things all back together. It made sense to consolidate the technical centre back to the Longbridge site where there was office space available and a commitment to manufacture already in place (the MGTF). So at the end of 2008 we moved from Ricardo's Leamington premises to Longbridge and from that point, SAIC has invested a considerable sum.
Turnover in the UK business is over GBP 300m. There has been GBP 8m in capital investment at Longbridge, including a completely new IT system and also a new styling studio and new engine testing facilities.
So the Nanjing acquisition brought a big change in the whole strategy?
Yes. Up until that point, the strategy was based on the Roewe brand and its potential as an international brand. The acquisition of NAC led us into looking at the strategy for MG. MG has since become the international brand for our business with Roewe focused on the Chinese domestic market. So we have built a product strategy and portfolio around those two brands.
Can you give an overview of how the two brands' product portfolios look now?
Nearly all of the current portfolio is new and has been engineered since the start of the Technical Centre in 2005.
On the MG side there's the MG3 (B-segment hatch), MG5 (lower priced C-segment hatch), MG6 (higher priced C-segment fastback). There are a couple of other MG products coming to market soon; one is an SUV. On the Roewe side, the product starts with the Roewe 350 (saloon engineered from the same platform as the MG5), Roewe 550 (saloon engineered from same platform as the MG6) and the Roewe 950. The 950 is a saloon based on the GM Epsilon 2 platform, a longer wheelbase version of the platform that underpins the Opel/Vauxhall Insignia. It will be using our own powertrain, though it has been launched initially with GM powertrain. Additional to that is an SUV named Roewe W5.
Also in the Roewe range is a small EV, a city car sized pure electric 3 door hatchback vehicle and there is also a plug-in hybrid version of the Roewe 550 using a hybrid transmission that has been engineered internally. The UK technical centre has played a key role in the design and engineering of the majority of these products as part of the global team.
When the business started, some of the old MG Rover products were on sale, but they have just about finished now.
How did the use of the GM platform come about?
That's down to the long-standing relationship between SAIC and GM. That has allowed us to talk to GM about technology sharing and has led us to be able to use that GM large car architecture in China and has also led to a joint development program for small capacity direct injection petrol engines which will be used in our future vehicles.
That saves cost on the engineering side then?
Yes, but also we are a relatively young business trying to grow rapidly and we only have so much capacity to engineer new products so selectively working with a partner can ease that situation.
How are things organised in the UK?
Part 2 of this interview will be published on just-auto later this week.
STOP PRESS: Part 2 is now published, click here to read