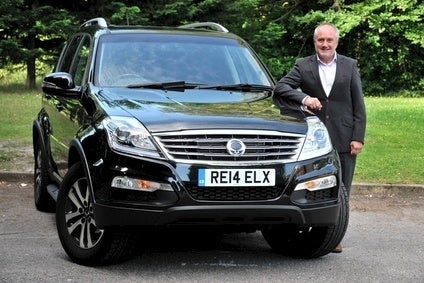 SsangYong has operated in Europe for a long time, but suddenly, sales have been surging – beyond 100% YoY in most countries. And that's not just due to the addition of the hot-selling Tivoli B-crossover. Steve Gray, the company's UK head of Marketing, tells just-auto what's ahead for the rest of the decade.
The Tivoli seems to be getting SsangYong onto the consideration lists of many younger buyers – something new for the brand. Would it be fair to say that until now, you had been chasing many of the same customers as Skoda and Dacia?
If you take Korando, our C segment crossover, as the example, I would see us between those two but also with a real focus on Hyundai and KIA. But it does seem that we sit above Dacia as far as image, pricing and heritage are concerned. I think we offer better value than Dacia and I'm talking primarily against Duster. And Skoda? Well, it sits above us, and I think the Yeti has a unique position in the market – that's a very strong product in many countries, sitting as it does between the B and C segments.
Where does SsangYong go next?
It's better to walk before you can run and we have grown faster here than any other global market where SsangYong has a presence. Next year should be a year of consolidation and by that I mean growing by about 50% across Europe rather than 100%, which is what we've done in 2015.
We're setting ourselves up for a new product every year until the end of the decade so there's plenty of opportunity to make ourselves stable and even stronger.
Will those be replacements or additional models?
It's replacement models but there will also be some additional vehicles. You might call them extensions to existing models, based on the same platforms.
So a longer Tivoli with seven seats is on the way? There has been a concept of such a model, after all.
Maybe. And perhaps you also saw another concept, the XAV Adventure, which was at the Frankfurt show. That was a new take on the Korando which many people still remember from the 1990s. I won't say any more than that.
As the new models roll out, what do you want to see happen to the brand image?
I want to see the emergence of a Korean SUV authenticity. My maxim with dealers and customers is to say that we are a Korean Land Rover, or a Korean Jeep. You've only got to go to our home market to see that SsangYong is a very serious off-road brand with a significant heritage.
Could you see SsangYong moving upmarket in time? Kia is now selling SUVs in Europe which can cost more than EUR50,000.
Well, everyone seems to want to move towards a premium image and pricing point but right now, we are in a development phase which will last for between three and five years. I wouldn't want SsangYong to go chasing a premium status during that period. We must remember who we are, how we got there and keep on establishing ourselves before we try to change what we are.
The management team in Korea understands what needs to be done. Many of them previously worked for Hyundai or Kia, and whilst they have aspirations to move pricing higher, they know we must keep our feet on the ground.
There has been a suggestion – from the company's president no less – about SsangYong's brand name potentially being changed, to coincide with an eventual launch in the USA. What's the latest on that?
This needs a two-part answer, as it's really two questions. SsangYong Motor Company obviously looks around the world to see where the new markets are. It's pretty obvious that this makes a lot of sense, given that traditionally, we've been too exposed to some markets where things haven't always been very stable: South America, China, Russia.
If you were looking at your sales portfolio, you'd be saying OK let's balance it by aiming to do well in the more stable regions. So building a strong presence in Europe has been the number one priority and you can see that happening now.
Some of the guys at the top of the company took Hyundai to America and we all know how successful that brand has been there, and continues to be. There is a staged plan, reviewing the American proposition and there is a lot of work going on to see if it's something which could work.
Some steps have been taken in the research, and there are more steps to go. Would another Korean brand be accepted in America? Would it work? And then there is our name, which is very quirky in the way that it's written with the double S and the capital Y. It's very Korean, and it means two dragons, so there's a value to it, and there is some intrigue with the name.
It makes sense if you're reviewing the potential for a launch in America – and to look at all aspects of how it might work – to at the same time review all aspects of your brand. There are pros and cons with the word Ssangyong, but as of now, I don't know of any plans to change our name.