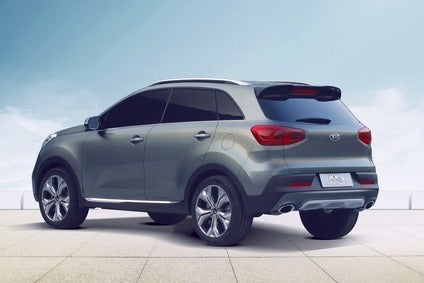 In the second of a two-part Q&A, Paul Philpott reveals when Kia will launch a B-crossover, how he won't rule out one day outselling Toyota, and the secret of how a cheap cars brand became one now selling GBP40,000-plus models.
GB: In the UK, Kia (42,248 YtD) already sells far more cars than Skoda, Fiat, Mini, Renault, and even Land Rover (36,1640) and is now closing on Citroen (45,483). The next best selling brand ahead of you is Hyundai (46,743) and after that it's Toyota (53,945).
PP: Globally, we're part of Hyundai Kia Corporation. They sell five million cars per annum, we sell three million cars per annum. Hyundai bought Kia in 1989 when it was bankrupt. They didn't pay very much for it; what they've done with it is incredible.
In the retail market, we're already ahead of Citroen and ahead of Hyundai. I think it's more about what are the ambitions to grow in fleet and how do you control that volume. It would be very easy for us to grow to 100,000 units tomorrow: we could go and buy fleet business if we wanted to.
Some are out there with excess capacity from Europe and the UK is a great place to sell cars right now because of the Sterling-EURO exchange rate. That's gone in the last year from 1.2 to 1.4 and that's a nice margin for cars sold here. But I don't think it's sustainable and what we've got to achieve is sustainable growth. Buying fleet business will damage residual values, will damage the integrity of our core business. So we will grow fleet at our planned rate.
GB: Is your stated goal of 100,000 cars still in play?
PP: We want to get to 100,000 sales by the end of this decade. Now, whether that beats Citroen, Hyundai, others; it depends on their business strategies.
GB: You must know what Hyundai's business strategy is.
PP: I know they're at 80-something thousand now, so still ahead of us. They must have 100,000 in their mid-term plan like we do. It's a nice round number that is a landmark through which you go.
GB: Would you like to get to 100,000 before they do?
PP: [Laughs] I'd like to get to 100,000 as soon as possible, providing it's sustainable and profitable. Whether that's before Hyundai is a bit immaterial.
GB: What about TGB? Do you see Kia one day outselling Toyota in Britain?
PP: We're not far behind them. But if you look at what's happening in the US, Toyota are coming back pretty rapidly. They are a mighty brand which I was very proud to work for for nearly ten years, and they will undoubtedly continue to recover and to grow. They've been through a tough time. I'm still close to a lot of the guys there and what they've lived through in the last five years has been a pretty challenging period. But they've come through it, they've kept their dealer network largely together, and motivated to sell Toyotas. I think as their product range comes right again they will undoubtedly grow. Now, whether they grow at a faster pace than others is their strategy, not ours.
GB: The way forward for Kia is surely raising image and prices, not just volume?
PP: When I started at Kia at the beginning of 2007, I couldn't believe that we'd just been advertising that you could buy a Kia for a quid. On TV, on a supermarket shelf, with boxed up Kias and a round pound coin. That's where we were and Kia was an import brand up until 2007. Not unlike where Samsung and LG were: a budget brand. They then got their quality right, and their design right and they overtook brands that you wouldn't have believed them being able to. We're on that journey, and our prices have already gone up. We used to sell about 30 percent lead-in, now we only sell about five percent lead-in.
GB: How has Kia done that?
Two things that have drive our prices up: design, and quality. If you make aspirational looking cars and back them up with a seven year warranty, you become a brand that people want. The warranty remains fully transferrable to the car's next owners. So you sell your car after three years with a full manufacturer's warranty that lasts for a further four years, that's a pretty powerful statement of quality about that car.
We've just seen the latest JD Power Initial Quality survey in the States, and we were second to Porsche. Hyundai were fourth. The statement from JD Power was that the Koreans are taking over the gold standard for quality from the Japanese. And that's how fast our quality is moving: sit in a new Sorento today and you see how much better the materials are. That's going to keep happening with all our new cars: even better interior quality. And excellent driving dynamics. Design has shifted already, but that will evolve even further.
So yes our prices have gone up. Our average selling price has gone up by about 25 percent over the last four years. Picanto used to sell at GBP5,995. The entry price is now over eight thousand. The run-out Sorento in 2007, we were selling them for GBP14,995. The range today starts at twenty eight thousand. And all the time, we have kept things simple. That's what the dealers want, and they want consistency. So we had three grades: 1, 2 and 3 as trim levels. We only put in high priced 4 after the dealers requested it. And that was because customers wanted even more equipment and they were willing to pay for it. Grade 4 is now about 20 percent of our mix.
GB: Will you therefore lift prices when you launch the new Sportage?
PP: We must be careful. This industry is full of examples of cars that were launched with ambitious pricing and then six months later when the model hasn't succeeded, there's a cut and down goes your residual values. It's a temptation for all, but one we need to be wary of.
GB: Is it politics that's keeping Kia out of the B-SUV/crossover segment in Europe? Why is there no version of China's KX3? Must Kia wait until Hyundai Motor Europe launches its version of the ix25/Creta?
PP: Not at all. We are in the segment with a combination of Soul and Venga and together this year they'll sell the best part of 10,000 cars. So we're there as a brand. Is there opportunity for Kia to extend its product range into a Juke beater? Absolutely. Will it come in the next three years? Absolutely.
GB: Why is KX3 only for China?
PP: Hyundai has announced its fifth Chinese factory, we're building our third one and the market there has very specific needs. Right now, that need is SUVs, so that car was developed specifically for the Chinese market. Look at Soul: designed mainly with the US market in mind as the first generation model was massively successful there. Now the current one is selling around 10,000 units a month there. In Europe, it sells 20,000 units a year. It's a nice design statement for us but it's never going to be a Juke beater in Europe because it wasn't designed with the European market primarily in mind.
I think KX3 would succeed here. But I don't think it's good enough for the European market. It wasn't designed with the European market in mind. And given that it's not next year [when KME will launch a B-crossover] we have the time to make our car right. We can't just be a me-too in that segment. When we do have that model, it will help us to get from where we are today, at 80,000 units in the UK, to 100,000 units plus.
GB: Surely the main reason for the delay is the need to expand the Zilina plant? Or could Hyundai Europe build it in the Czech Republic?
PP: I don't know when Hyundai is planning to launch such a model. And it is not decided where we will build our car.
We've got a Mexican plant coming on stream next year, we've got a third Chinese plant coming on stream next year, and so then we could have some spare capacity in Korea, which we need to satisfy demand for existing models. Do you give up sales of the Sorento to build a smaller and cheaper SUV in one of your Korean plants? No. We've had a global explosion in sales: from 1.5 million in 2009 to three million last year. Just to manage the production capacity of existing plants has been a huge job. So to add some niche models is not a simple thing, and not a priority.
GB: So while others keep talking about overcapacity in Europe, you have a European plant which is at capacity?
PP: Zilina is at capacity, it's working three shifts and this year we will reach around 325,000 and capacity is supposed to be 300,000.
GB: So when will an expansion be announced? It must be coming soon for the next Sportage and cee'd and then a B-SUV to be added.
PP: There are no plans to expand Zilina. Production plants run at their most efficient when at capacity, and we're at capacity, so it's a great position to be in. You can't expand in 10,000 unit lumps, you have to do it in bigger numbers than that and therefore there are no plans to do that at the moment.