Nissan Motors GB not ruling out agency sales model
As Nissan launched its latest Qashqai in Europe, we spoke to Andrew Humberstone, Nissan Motors GB managing director.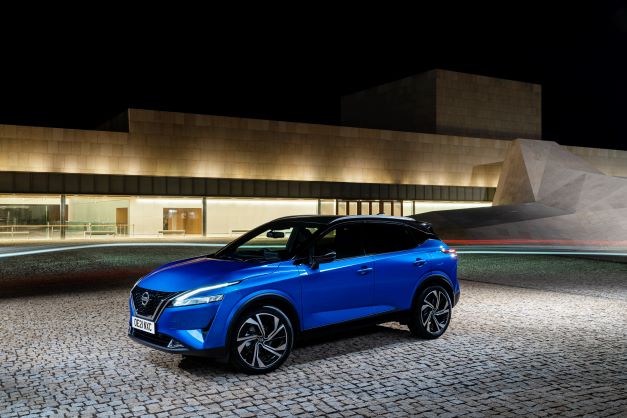 Marking the third generation since debuting in 2007, the Nissan Qashqai is the first model in Europe to use the Alliance CMF-C platform and built at the carmaker's Sunderland, UK, plant.
In terms of construction, the new Qashqai's body-in-white makes use of more lightweight material, advanced stamping processes and welding techniques to increase strength and reduce weight. For the first time, the rear hatchback door is now made of a composite material, which saves 2.6 kilograms. This and additional advanced manufacturing techniques result in weight savings of 60 kilograms and a 41% increase in structural rigidity when compared to the outgoing model.
With the new CMF-C platform, the Qashqai has an updated Macpherson strut set-up at the front and the rear. The rear suspension features a torsion beam equipped for two-wheel-drive models and a multi-link configuration for all-wheel-drive models with 20-inch wheels.
The new Qashqai also brings the first deployment of Nissan's 'e-POWER' drive system to Europe, sales of which are scheduled to start following those of the mild-hybrid version. To meet the typical needs of European consumers and their daily drive, the e-POWER system has been upgraded for the new Qashqai with the adoption of Nissan's world-first variable compression ratio petrol engine as the dedicated electricity generating unit. The result, Nissan says, is a compact, high-output electrified system that, thanks also to the high combustion efficiency of the engine, delivers more efficiency. Sales will start with the mild-hybrid version, while the e-POWER version will follow later.
To learn more about the new model as well as how car buying habits have evolved during the pandemic, we caught up with Andrew Humberstone, Nissan Motors GB vice president and managing director.

What is the main message that you would like to put out from this event? 
The Qashqai is in an amazing product space. We created the SUV segment and have been leaders in this segment since its inception. Now we're coming out with a brand new product and expect to maintain that pole position. The design, engineering, connectivity features of the Qashqai are exceptional.
What can you tell us about sales targets for the new Qashqai?   
We have worked very closely with our dealer network throughout the pandemic [resulting in] a massive investment in online technology. We are expecting 50 per cent conquest business with our new Qashqai.
We must continue to work and develop on that huge customer base, bearing in mind that we've sold over 630,000 Qashqai's in the UK alone and  3.7 million across Europe. The Qashqai is a very British product, and our consumers have demonstrated their love for the vehicle. We expect to maintain our premium position in the segment. We're currently tracking about 10 per cent segment share in that space.
That will be influenced, of course, by what happens with the markets. There are some semiconductor challenges for all manufacturers and none of us is sure how that will play out. I would expect that it would be at least three months of disruption. Fortunately for us, everybody is adjusting their production accordingly. And this would impact original volume forecasts. So it's a bit up in the air at the moment.
In what ways has consumer behaviour changed over the past year or so? 
There has been a transition from a lot of people taking their online purchase experience much further. I think some of those customers will continue to build their brand experience online, simply because the new definition of luxury is convenience. And if you can save a customer time by enabling them to go through a process online then they can determine when they want to have that personal intervention. This has been our observation during the pandemic. But even when showrooms were open, people were still quite happy to follow that whole online experience. We have invested a lot of 'shop at home' technology, where you can effectively take your purchase experience from A to Z. And I think more and more people will continue to do that.
What do these buying trends mean for your dealership network? 
There are so many disruptors in the automotive space at the moment, and this is just one of them. The whole aspect of total distribution costs are the retail model, roles and responsibilities of different aspects of the organisation, and the structure are all evolving, even within our operations. We are getting to the point where the quality of leadership that we are generating to the showroom is such that their role is significantly changing to more of an audit type process. Not always as many customers come in with part-exchanges and want to discuss options and so on. But they are certainly becoming more and more informed in advance of that engagement.
We hear that some OEMs are considering using an agency sales model whereby OEMs sell cars online and dealers take a handling fee.  What is Nissan GB's viewpoint? 
The agency model is a very interesting question. It is something that's at the forefront of a lot of discussions in terms of remodelling. Let's start where the problem is which is effectively how do we manage the total cost of distribution? When you look at the cost of raw materials – and how they're escalating – you're in a position where you then have semiconductor challenges. And there's a lot of discussions in terms of the value creation with stakeholders vertically into the supply chain. So when you look at those aspects, you say, 'Well, our objective is to make sure that we deliver the best customer experience. How do we do that? And how do we do that through a network, where we guarantee them a degree of financial security because of their sustainability?'
We are not interested in becoming retailers. It is not our desire to move into the retail space. They are specialists at it, and this is their space. But we need to come up with an economic business model that works best for them and us. So to answer you directly. It's not on my agenda today but it's a point of discussion. It's an interesting topic. And it's a maybe. A lot of the industry is talking about and looking at it and if it works for customers, and if it works for ideas, then, of course, we would look at considering that. 
What has the trade deal reached between the UK and the EU meant for your Sunderland business as it electrifies?   
From a Nissan GB point of view, we're very happy. We have Sunderland on our doorstep, we have distribution on our doorstep. We have electrification and investment in electrification on our doorstep. And as part of our future strategy, we've invested over 400 million for Qashqai in the new factory. So it's great for workers. We employ over 6000 people in that factory, and in that supply chain, over 24,000 people. So it's great for the Britishness of the product. And coming back to Qashqai, it is designed here, engineered here, tested here and produced here. And now we have a very strong FX rate, all our macroeconomic indicators are very positive. So it's turned out very well.