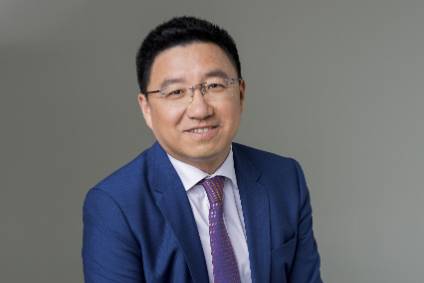 It's clear that the impact of COVID-19 on China was significant and dramatic in the first few months of 2020. Factories closed, workers unable to leave their homes and a depressed automotive sales market. Despite the setbacks, Chinese electric vehicle startup Nio has looked to the positives and adopted new ways that have seen it sustain order levels to those before the crisis hit. Matthew Beecham spoke to Nio's VP for Europe Hui Zhang about the measures it took and what the future holds for the brand.
Nio expects to make a positive gross profit margin in the second quarter of 2020 despite the market turmoil caused by the virus. Since launching production of its new EC6 battery powered sedan in February, the company had become increasingly bullish about its full-year prospects. Chairman and founder William Li last week said "based on the current trend, we would hope the daily new order intake rate in April to return to the level of last December".
Nio delivered 2,305 vehicles in the first two months of 2020, lower than its original target set before the coronavirus outbreak, and expected to deliver between 1,100 and 1,300 cars in March. Having resumed production at its Hefei plant in Anhui province late in February, the company expected output to return to normal levels in April.
Li added, despite the virus outbreak, he was "still confident of achieving the preset sales target for 2020", without disclosing numbers. The company delivered 20,565 cars last year, an increase of 81% year on year.
Loss-making Nio last month said the Hefei city government had agreed to invest more than CNY10bn (US$1.43bn) in the company which would help secure its long term future.
As government measures worldwide swing into force to combat the spread of Coronavirus, what has been the Nio's response to date?
From a human aspect, we've tried to support where we can. We've donated around 43,000 respiratory masks to colleagues in China and the people of Wuhan. We also made a donation of more than 7,000 respiratory masks to the department of health and environment in Munich, and we provided another 2,000 masks to the Bavarian Physician Association alongside other support for paramedics department at the Munich airport as well as to nursing homes and other social organisations in Germany.
From a work aspect, our colleagues in China have been working from home during the outbreak of the virus and are now starting to gradually come back to the office. In Europe, both in Munich and Oxford, our teams started working from home around mid-March to be as safe as possible. We just don't know yet how long home working will be necessary, but we will do everything we can to keep staff safe.
In what ways has Coronavirus changed your sales strategy to cope with people not going out quite so much?
In 2020, we really pushed our OTO (online to offline) e-commerce strategy and take advantage of the benefits mobile internet provides.
Nio has always had a strong online presence that stems from our founder's experience with developing platforms. In 2020, we really pushed our OTO (online to offline) e-commerce strategy and take advantage of the benefits mobile internet provides. From February 1, we planned 30-40 online live marketing activities every day. As a result, by the end of February, the daily average order volume has recovered to close to the level of early January before the outbreak, which fully proves the correctness and effectiveness of the OTO business model based focussed on mobile internet interaction. In addition, we estimate that there will be a rise in consumption in China's high-end automobile market after the outbreak. So, we are confident in future sales prospects as we stand today.
How are your March 2020 sales shaping up to date?
We can't comment on the March sales figures yet. These will be published in the earnings call for Q1 2020. What I can say is that deliveries will have been impacted by supply issues. As our cars are built to order, we don't have stocks of unsold cars we can offer to new customers.
We understand that Nio recently entered a 'framework agreement' with the municipal government of Hefei, Anhui province, where your main manufacturing hub is located. Do you see any further need to raise funds following the outbreak of the virus?
We expect to sign the definitive agreement by the end of April, and terms and details will be disclosed after this is completed. We also have the on-going strategic cooperation with GAC through GAC-Nio JV. However, we are open to explore further collaborations.
With the market about to be flooded with electric SUVs, every brand needs something that sets it apart. What would you say are the ES6's stand out features?
The ES6 has a few great features that customers like. First, it combines roominess, high performance and safety. Second, the ES6 brings NOMI, our virtual in car assistant, into your life. NOMI is more than a voice assistant in the car, more of a digital companion because it is the first in-car-AI with a deep learning function. Third, you will get all this in a premium and high-quality designed garment for a very competitive price. Finally, we believe that the customer support is exceptional. From our Nio houses, through to the Nio app community right through to our Nio power support infrastructure that offers the unique convenience of battery swap stations, as well as mobile and valet charging. In China, this is a compelling and unique offering.
When will the EC6 be available in the UK?
In China, the EC6 is already available for pre-order. It is estimated that we will announce its prices and specs in July 2020 and begin the delivery in September in China. When Nio cars will be available in Europe hasn't been finally decided yet. However, we are planning to come to Western markets within the next two to three years.
What kind of sales volumes of you expecting in Europe?
We are at the planning stage now and we can't reveal volumes, but it will have to be of a scale to be interesting for us to come here. What's clear today is the premium EV sector is, save the current situation, getting stronger and an EV architecture works well in this category. I believe we can be competitive in this segment.
Will the EC6 receive regular software updates and what level of driver autonomy?
Yes, the EC6 will, of course, be equipped with all the state-of-the-art features that the ES8 and ES6 are already equipped with. One of our most important services for our users is the FOTA service – over the air software updates. These can be done overnight to add new features including ADAS functionality. At present Nio Pilot, our advanced driving assistant system most recently added seven features including Highway Pilot, Traffic Jam Pilot, Auto Lane Changing (ALC) and more. The update marked Nio Pilot becoming a comprehensive, level two automated driving system.
What type of battery chemistry will be used in the EC6?
The EC6 will have the same battery as the rest of our range; a liquid-cooled thermostatic lithium-ion battery. With the 100kWh liquid-cooled thermostatic battery pack, the EC6 Performance Version will offer an NEDC range of up to 615km.
We understand that Nio is working with Intel's Mobileye on Level 4 technology. Can you tell us a little more about that?
Yes, of course, Mobileye and Nio are working together to develop highly automated and autonomous vehicles for China and other significant key markets. As part of the planned cooperation, Nio will develop and manufacture a self-propelled system conceived by Mobileye based on its Level 4 Autonomous Driving Kit. This system will be the first of its kind. Crucially, it takes into account the needs of its users as well as automotive standards in terms of qualification, quality, cost efficiency and scalability. As you might have seen, Nio will be a production partner for Mobileye. In addition, the system is set to be integrated into the future Nio vehicles and will be an integral technological component of Mobileye's driverless driving service.
What's next for Nio?
First, we are constantly working on to return to normality in times of the battle against coronavirus. It's clear that this will take some time, but we are absolutely convinced that together, we will overcome this turbulent period. Of course, we have plans for 2020, and we are working to implement these plans in the coming months.
Let me give you one example: now, we have 62 Nio spaces and 22 Nio houses in 59 cities in China. We are planning to have 200 Nio spaces in China by the end of 2020. Besides that, we are constantly working to improve our services and bring our new cars; the EC6 and the all-new ES8, to our Chinese customers.
Another very important topic for us at Nio Europe as we have discussed with you, is the ongoing planning process of our entry strategy in Europe. And for our designers, working on shaping the future of mobility is always their objective. I can't go into too much detail now. However, stay tuned, we will let you know about some cool and interesting new products soon.