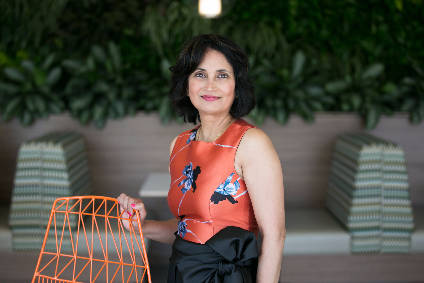 With a team in motorsport's first all-electric race series, the FIA Formula E Championship, and a recruitment drive that has attracted top names from the automotive, technology and internet industries, NextEV is a name that has become increasingly familiar in the last two years. It is a global start-up, founded in China in 2014 with 12 offices and 2,000 employees worldwide. Last November, the company announced its user brand Nio and unveiled a 1,360ps supercar, the NIO EP9, in London. We spoke to US CEO, Padmasree Warrior to find out more.
What attracted you to join NextEV?
When I chose to leave my position as Chief Technology and Strategy Officer at CISCO, I was looking for my next big adventure. Technology has lifecycles where major changes happen and I wanted to move into something new and exciting at the start of a major shift. I was interested in the automotive and education industries as I feel that both are experiencing big changes and was looking for the right opportunity.
I met William Li, founder of NextEV, and was excited by his vision of the automotive industry. Our thinking about the sector and its huge potential for change was very much aligned. He's an incredibly inspiring serial entrepreneur, and one that very much understands the consumer and internet sectors and the pace at which they change, and this is complemented by his deep knowledge of the automotive market, particularly in China.
When William spoke about NextEV, he talked about building a global company that would push for industry transformation and was deeply rooted in core values and beliefs with a strong culture. All of this was aligned with my own aspirations and I decided that I would join NextEV. This was back in December 2015 and since then I've spent a lot of time working on our vision and strategy and recruiting amazing people as we look towards the next generation of cars, which I like to call Car 3.0.
What do you see as Car 3.0?
So far, in the last one hundred or so years of the automotive industry we have seen Car 1.0, which lasted until the 1970s and was based on mechanical and hydraulic systems, followed by Car 2.0 between the 1970s and 2000s where electronic systems came into their own. Now we're shifting towards Car 3.0, which will be the most profound transformation yet. Such transformations happen when different industries collide, and this will come about as the technology, mobile and internet industries collaborate with the automotive industry.
In Car 3.0 the evolution will be led by digital systems – not just software, not just hardware, but software-defined hardware. We call it the 'full stack', which means working with people that understand both software and hardware. Our full stack includes the chassis, vehicle network, compute sensors and artificial intelligence, data platforms, digital mobility and a digital cockpit, with fail operational drive, and with a focus on user experience (UX) and user interface (UI), that is securely encrypted at every level. The cars we are building for the US market will be autonomous, which keeps us safe by avoiding human error, reducing deaths and injuries on the road, and will help us to gain back the huge amount of time that we currently lose on our daily commutes. In the US alone this is estimated to be 1.8 trillion minutes lost annually from the average 28-minute commute.
As well as being autonomous, the car will be electric. As electric vehicles, they will be greener and better for our environment, but they will also have fewer parts so will be easier to maintain and service.
Our goal is for Car 3.0 to be one of the smartest devices you own. It will have self-learning capabilities, serving the needs of the driver such as knowing simple things like route preferences in the beginning, with these capabilities growing as technology continues to develop. They will be our companions – effectively robots that look like high-performance cars.
We asked many people across the United States what 'premium car' and 'smart car' meant to them, and the overwhelming response was one that gave time back to the driver and made the commute a joy. That's our goal and what 3.0 has to deliver.
We saw that you launched a new brand, NIO, and your first car in November, the NIO EP9. How far does this go towards embodying this vision?
The EP9 is our all-electric supercar and the first stage of our products. It's proof of our performance and technology capabilities. The supercar is a showcase of vision and action, achieving 1,360ps and a 0-200kph time of 7.1 seconds. It's already proven its performance on the Nordschleife and beaten the previous EV lap record, setting a lap time of 7:05.12 and making it the world's fastest electric car.
We've focused on the UX and UI in the EP9 to create an upgraded user experience that illustrates our capabilities and our way of thinking.
In October we were issued our Autonomous Vehicle Testing Permit by the California DMV and we have begun testing on public roads under the Autonomous Vehicle Tester Program guidelines as we progress on our path to bring autonomy to market.
The EP9 was launched under the NIO 'user brand' – what is this? How does it fit within NextEV?
NextEV is the name of our company, whereas NIO is the consumer-facing name for the brand. It is the name and badge that you will see on all our vehicles and will be the global brand under which all our services sit. The brand's Chinese name is Weilai, which translates as Blue Sky Coming and is our guiding philosophy – aiming for a brighter tomorrow with cleaner skies and a more sustainable future.
NIO plans to produce mass production vehicles, why invest and start with a supercar? What are the production volumes and where will these be sold?
The EP9 is a proof of our technology and performance capabilities and it illustrates that we have brought our vision to life in approximately 18 months. The project was led by our late friend and colleague Martin Leach. It's a true testament to vision and action. He wanted to go out and show what we are made of on the Nordschleife and that's exactly what we did. The plan with the EP9 is to make six models, and if we have great demand then we can look at the possibility of making more.
Is it correct that we can expect to see the first mass production vehicle next year? Who will this be aimed at?
We haven't disclosed full plans for our first mass production car yet, but progress is well underway and we will have more to show and tell you in 2017. It will be comparable to top EVs in terms of performance and offer much better service, user experience and value, while being competitively priced with other vehicles in its class. It will be a premium vehicle, but as I mentioned earlier, the idea of a 'premium' car is changing. We want to redefine what premium service means for a car company. It won't necessarily be about leather seats, countless functions and chrome buttons, it will be about delivering a premium experience.
When will this car be in the market?
This vehicle is for the China market and we'll have more to share in 2017.
In terms of production, you have a partnership with JAC, can you tell us more?
We signed a strategic partnership agreement with JAC Motors back in April 2016. As a global start-up, a future-focused enterprise, we are looking to work with likeminded partners to move us further forward the next generation of cars and JAC Motors is one of them. It is a long-standing company with intelligent manufacturing and intelligent products, and has partnered with VW to produce cars for the China market. We're combining the internet industry with an established automotive outfit, sharing technical expertise, supply chain, marketing, advanced manufacturing and capital. We see the electric car as the future, particularly in China, so we believe these partnerships are strategic and necessary to grasp this opportunity and propel the industry forward.
What is next for NextEV?
We are a global start-up that is growing fast with offices in San Jose, London, Munich, Shanghai and eight other locations. The focus is on success in the China market first and our first volume car will be unveiled in 2017. Of course we'll look at other markets and this will be announced in the future.
In San Jose, we're developing our autonomous technologies and in London we're working on our Formula E programme. We want to raise our profile and establishing the NIO brand as a serious player in the electric vehicle market.
The perception of the electric car is a major hurdle to overcome – range anxiety is a real thing. When the experience of owning an electric car exceeds expectations, that's when the vehicle will become the natural choice for everyone. In order to get to that point we also need to keep showcasing what electric cars can do, and the FIA Formula E Championship is helping with that. Our drivers Nelson Piquet Jr. and Oliver Turvey are doing a fantastic job for the NextEV NIO Formula E Team. These guys and the series as a whole are elevating electric cars and their capabilities in people's minds.
Ultimately, our aim is for people to feel positive again about owning a car. We want to make the experience of owning and driving a car a joyful one, and to make the whole process – buying, owning, servicing, using day-to-day – a pleasure again. That is the goal of NIO.