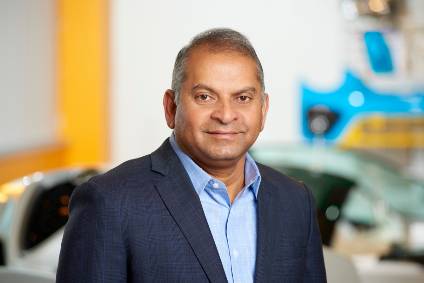 Saudi Basic Industries Corporation (SABIC) is a global supplier of bumper-to-bumper solutions in thermoplastics. Continuing just-auto/AIC's series of interviews, Matthew Beecham spoke to Venkatakrishnan Umamaheswaran, Director, Global Automotive Marketing at SABIC about the role playing out for polycarbonate glazing, carbon fibre and engineered plastics in alternative and future mobility concepts.
What new and potential automotive applications are there for polymers?
We believe that we will continue to see conventional materials such as steel, aluminium, and alloys replaced across a variety of parts and systems through functional integrated plastic design. We should also expect to see greater use of plastics and polymer composites to enable the integration of sensors, electronics, and batteries where needed.
One area of emerging strength for our portfolio of materials involves structural components of EV battery packs. These systems can almost be as big as the car itself, taking up the entire floor of the vehicle and adding a lot of weight. What we are seeing is that the first generation of battery packs and EV components were based largely on metals and heavier materials. Now the industry is optimising these systems, and we believe a number of incumbent materials can be replaced with thermoplastics, such as our new line of flame retardant SABIC PP compounds and STAMAX long glass fibre polypropylene (PP) resins. To that end, we have been developing and validating these materials as part of a plastic-intensive battery pack design that can potentially remove up to 10 percent in weight on a component basis and add up to 15 percent in energy density.
Beyond the battery, thermoplastics can be used to replace multiple components in EVs. With no need for the transmission, engine and drive shaft, thermoplastic-based cables, motors and connectors can be contained in these vehicles. With the omission of the engine, the industry has less need for high-temperature resistant materials. This means materials like polyamide can be replaced with lower temperature profile materials such as polypropylene, which can lower cost and weight.
"Think about the changing architecture of the car with no engine, fuel and exhaust systems. We can envision opportunities for polymers in the front frunk (trunk located in the front), the dash panel area, and the inner structures of the hood."
Think about the changing architecture of the car with no engine, fuel and exhaust systems. We can envision opportunities for polymers in the front frunk (trunk located in the front), the dash panel area, and the inner structures of the hood.
Opportunities abound across the vehicle when you consider the need for enhanced crash and safety applications, exterior glazing that can replace glass for design differentiation and weight reduction, front and rear panel components that can enable new functionalities and features such as sensors, and so much more.
How do you see the role playing out for engineered plastics in alternative and future mobility concepts?
We see a more prominent role for engineered plastics in mobility solutions of the future. In fact, those solutions simply may not be possible without the properties and benefits that come with plastics. That is because – of all classes of materials – none offer the ability to push design boundaries like plastics.
The best is truly yet to come for thermoplastic polymers. Today, we are working up and down the value chain to support progress and facilitate the transition to new approaches that can help the automotive industry respond in the present to ever-changing demands and prepare to enable and meet the requirements of next-generation vehicles.
The automotive polycarbonate (PC) glazing market penetration has been slow and limited. Laminated glass is now lighter and more formable. Further advances have been made to chemically toughen glass, too. So has the big push for polymer glazing gone away?
The industry still has strong interest in PC glazing, but the substitution of glass is simply going to take time, and this has proven to be a slower momentum change than some – especially designers who love the design freedom the technology can allow – would like.
As the industrialisation of polymer glazing proceeds and demand for the inherent benefits that the technology can deliver increases, we do think that more automakers will move in that direction – especially to achieve the differentiated styling and functional integration that can help them adapt as automobiles change as well as bring their futuristic designs to the road.
We continue to make advances in PC glazing, and we are working with automakers and others to further develop the technology. This remains a unique promise for the industry. Other options such as laminated and chemically strengthened glass still do have some significant limitations. In addition to heavier weight, those solutions cannot allow for the kind of styling and functional integration you can achieve with PC glazing. This means far less value for automakers.
In terms of applications, where do you see the opportunities for PC glazing on passenger cars? And do you see it limited to aesthetic glazing, such as sunroofs?
Rear quarter windows and roofs have served as a starting point for automakers with PC glazing, and we have collaborated with many OEMs to validate parts with LEXAN resin. We still see those applications as a good first step for those who are new to PC glazing. For each window area, the design freedom possible with PC glazing can allow for bold styling and new levels of functional integration.
The same is true for backlites, which we see as a high potential application for PC glazing. Because of the large size of the part, significant weight savings can be possible, potentially up to 35 percent with LEXAN resin compared to conventional glass.
In the end, we do see aesthetics and form helping to drive the decision to adopt PC glazing – though this is also about function, and the benefits that can come from integrating components into glazing applications, such as lighting, pillars, aerodynamic spoilers, antennas, and cameras, etc. It may also be about enabling greater efficiency and range for EVs, whether that be through weight reduction or greater thermal efficiency because of the higher insulation properties of polycarbonate over conventional glass solutions.
Where do you see the greatest opportunities/ applications for carbon fibre in mass produced cars?
Carbon fibre is stiff, strong, and low in weight. Because of these properties, many see it as an ideal material for lightweight construction. As we all know, however, several barriers have stood in the way of adoption for mass produced cars. In particular, the slow cycle time and high cost of the material. Still, the industry is making progress. Automakers and suppliers are gaining experience and knowledge as they work with the material. Over the past decade, manufacturing processes have evolved and we do believe that the industry can unlock good-fit opportunities for carbon fibre.
One of those openings may be capitalising on carbon fibre's ability to absorb large amounts of energy – of great value for applications in which modularity, insulation, and crash performance are important. For those kinds of parts, we see a hybrid solution with the use of continuous fibre composites with thermoplastic as an over-mold. With this approach, OEMs and suppliers could potentially use commonly deployed methods to integrate composites and their highly desired properties into part and system designs. Some example parts include the inner structure of tailgates, front-end modules, battery enclosures, and instrument panel cross-car beams.
It appears that processes to manufacture carbon fibre have moved faster than those for recycling it. Are there still challenges when it comes to end of life recycling of carbon fibre parts?
Yes, challenges remain. Carbon fibre is part of a matrix, which can be made using thermoset or thermoplastic polymers. Recycling and recovery is problematic, though with thermoplastics it is easier to separate the fibres from the matrix and the polymers themselves can be recycled. But the industry has more work to do, and it will take continued collaborative efforts to move towards and establish closed-loop recycling process.
When it comes to supporting automakers' sustainability efforts, we are working on developing an offering that they can draw from to help achieve targets they have set for themselves around emissions and use of recycled materials.
One exciting development: we are currently validating a set of materials based on mechanical recycling. This portfolio will include polypropylene (PP) and engineered resins with high recycled content, based on both post-consumer recycle (PCR) and post-industrial recycle (PIR). Our first grades, set to be released in Europe, include 20- and 40-percent talc-filled PP compounds for non-visible applications, including an emission-optimised grade, and a polycarbonate blend resin based on recycled PET. We have other materials in the pipeline that can address needs for applications for both the exterior and interior. All of these grades are part of SABIC's new portfolio of TRUCIRCLE solutions, which ultimately are designed to help manufacturers advance their sustainability goals and close the loop – creating a circular economy for plastics.
What trends are you seeing with respect to front-end designs?
This is a significant emerging application space that we should expect to see flourish, first with premium brands and then with mainstream vehicles. The shift to EVs clearly opens the front of the vehicle to change as automakers no longer need a grille opening for ventilation. We are seeing 'a shift from breathing to seeing' as the front-end space becomes home for safety sensors, cameras, driver assistance functions, and more. OEMs are looking for material solutions to enable the seamless integration of those components with lighting and branding elements, and other features as the industry moves to connected autonomous vehicles.
As our team engages with multiple OEMs on innovative front panel concepts, we are seeing tremendous opportunity for LEXAN polycarbonate resin because it can check the box on a number of requirements such as transparency, durability, and design freedom – which, importantly, can allow for the optimal integration of multiple features as noted earlier.
Another consideration from the structural side – with the front-end adding panels that may be content heavy with sensors, lighting features and other elements – the architecture may change. All of this new content will need support so you can imagine how structural components such as front-end modules may need to evolve. We are talking about changing the face of the vehicle, so this is transformative and exciting for the industry.
What other trends are you seeing with respect to lightweighting using composites in vehicle manufacture?
We are seeing growth in the use of fibre-filled materials in structural applications. An example is large complex tailgate modules, where we see increased use of long glass fibre-filled polypropylene (LGF-PP).
In addition, electrification is opening up opportunities for LGF resin compounds and continuous fibre composites in structural components such as battery enclosures.
Which automotive applications are the most promising for 'smart materials'?
The opportunities for smart materials are seemingly endless, with potential across the vehicle from the exterior panels and windows to the interior.
For exterior panels, the industry has great interest in upping the "wow" effect when it comes to styling and achieving excellent surface aesthetics. Another need is the integration of sensor technologies with lighting features, where smart materials can play an enabling role. Then there's lightweight materials such as LEXAN PC resin that can allow for windows shaped and styled in new forms with new integrated functionalities not possible with conventional glass-based solutions. This includes the addition of fillers to change colour or influence IR absorbance to manage thermal energy.
Within the interior, smart materials can play a role in developing curved vehicle displays for the next generation of infotainment technologies as well as hygienic, easy-to-clean, anti-microbial materials and self-healing materials for interior component surfaces.