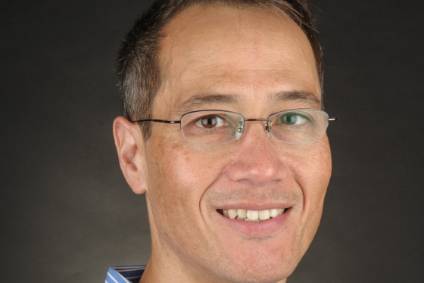 At the 2018 CES in Las Vegas just-auto's Calum MacRae chatted with John Eggert, director, automotive sales and marketing, at Velodyne LiDAR, Inc. of San Jose, CA. Velodyne is one of the leading developers and manufacturers of LiDAR sensors and its PUCK sensors have been deployed on numerous autonomous test vehicles.
just-auto: Tell me about Velodyne.
John Eggert: We invented the rotating mechanical sensor and we are the leader in that market as well. The core sensing engine within that LiDAR is the same as the one in our solid-state approach. So what we're introducing here at the show this week are a rotating version of that core engine – the VLS-128. This is 128 channels, extremely high resolution. Because of the size and form factor, it's probably well-suited for shared vehicle business models, so robo-taxis. So our robo-taxi customers, which we have about 100% of the market pretty much – if you look at the companies in California with self-driving licences, I think maybe 48 companies, we'll sell to 47 of them – and they have told us, "This is what we want you to make for us."
It's a 200-meter sensor.
j-a: So with the very clear images you are producing on the display here are you filling out the rest of the image with Artificial Intelligence?
JE: No, that's the beauty of ours. Ours is just straight-up raw data. Imagine you hit a laser pointer and it hits something across the room. That's all that is. Except we've got 128 of those firing 20 thousand times a second each as it rotates.
j-a: And that's a rotating 360-degree view rather than a 145-degree we see with some LiDAR applications?
If you don't mind the form factor and you want to put a sensor on top of the car and we can get 360-degree view, why not take advantage of the data?
JE: The robo-taxi guys prefer a 360-degree view is that's more data for the dollar. If you don't mind the form factor and you want to put a sensor on top of the car and we can get 360-degree view, why not take advantage of the data?
j-a: So with a 360-degree view do you need only one LiDAR?
JE: If you look at most of the deployment of robo-taxis out there, they tend to have one high-resolution LiDAR on top and other LiDARs kind of augmenting it for the nearer spaces. But you could get away with one more expensive LiDAR on top like that.
j-a: Can you tell me about the technology difference for different LiDAR ranges?
JE: What we have is the longest range sensor on the market today at up to 300 metres. There are two different basic technologies – 1550 nanometer and 905 nanometer – and there are advantages for both. Ours is 905. 1550 theoretically you can throw more power at it – we've built sensors with both technologies by the way – but we selected 905 because of its better performance in less than optimal conditions. So, any kind of moisture out there, the other wavelengths have problems sometimes. That's why we arrived at that. But theoretically the other wavelengths might be able to fire at a greater power. But, you know, we've got the range without that power so we're okay.
j-a: And you're putting the same sensing engine into your non-rotating LiDAR options?
JE: Yes, that's the Velarray that's present on our stand today. In that small form there's never been more powerful LiDAR on the market as far as range. This is a 200-meter sensor as well.
j-a: So this would go on the corner of cars and things like that?
JE: Yes and here we have a special windshield that Asahi Glass has made with an integrated LiDAR sensor. So you get rid of a lot of the challenges with LiDAR as far as keeping it clean. Suddenly it's in a place where people are used to having sensors. So the challenge previously had been transmission loss of the signal through glass but Asahi Glass has developed their own technology to address that.
j-a: There's a couple of light manufacturers as well getting involved with LiDAR as well and integrating them into the headlamps? Do you do any of that business?
JE: We do supply some of those headlamp manufacturers. At this point we aren't doing any development work but they buy our sensors and they test them out.
j-a: So what's the ballpark piece price for the rotating one and the non-rotating one?
JE: For equivalent numbers of channels – Velarray is a 32-channel sensor, VLS-128 a 128-channels (although theoretically we can make a 32-channel VLS) the price differential's not much. So the perception that the rotating LiDAR's more expensive, it's less reliable, I think is not quite accurate. It's just for two different markets. One is for consumer-owned vehicles where they want to conceal the sensor and the other for the robo-taxi market.
j-a: Valeo have said the LIDAR they supply on the Audi A8 is well under US$1,000, so that's comparable to your non-rotating LiDAR and the US$7,000 is for the rotating LIDAR?
JE: Valeo's is not non-rotating, it has motors in it moving backwards and forwards scanning. Actually, the rotating ones the price can go from roughly hundreds to low thousands depending on volume.
j-a: When you go to solid state for the consumer end of the market what sort of price range are you looking at?
In my opinion, by the mid-2020s, the budget for LiDAR on a vehicle will be about US$500.
JE: In my opinion, by the mid-2020s, the budget for LiDAR on a vehicle will be about US$500. That'll be for all the LiDARs you put on all the way around it. You're not going to have $5000 worth of sensors on a car. It's just not gonna happen.
j-a: So how do you see the autonomous market developing overall? I mean you talked about sort of the robo-taxi market and then you talk about the consumer market. How do you see both those markets developing in terms of volume and share and the overall L4 and L5 market?
JE: I think initially we're seeing the biggest push in the robo-taxi market in the next few years, not just in the US. But China suddenly, the gold rush is on, it seems, to tackle that market because it's so big. And we anticipate in the next few years, next three years, you're going to see many, many robo-taxis deployed in China. My bold prediction if I had to make one would be by 2021, we have a million L4 and L5 autonomous vehicles on the road. I think a good majority, in my opinion, would be robo-taxis.
j-a: You and your competitors are supplying to the tier ones at present and there are few T1s developing their own LiDAR. Continental's one, but do you see other T1s entering the market?
JE: Yes, Conti will and ZF has purchased 40% of Ibeo, and also Valeo has their own currently, the one they're deploying in the BMW which is agan Ibeo technology. Denso has certainly done some R&D and they made some announcement they worked on LiDAR.
j-a: Do you think it's going to be a big enough market for all these tier ones and the already established players?
I'd be shocked if LiDAR is not a US$50 billion market by the mid-2020s.
JE: Absolutely. I'd be shocked if LiDAR is not a US$50 billion market by the mid-2020s.
j-a: And what is it at the moment?
JE: It's in the millions. It's not quite a billion. In automotive, it's not even close to a billion. Yeah, and we have a majority of that. So I think it's a $50 billion market. So there's obviously room for a lot of people to make money in LiDAR.
J-A: And do you have the manufacturing capacity to supply?
JE: For capacity we're well ahead of it. I mean, we've grown up an order of magnitude in capacity in the last two years due to the mega-factory in San Jose. We want to build a million sensors in that plant. We don't have demand for a million this year but soon we will.
j-a: How much extra capacity do you anticipate having to add in the future?
JE: Well, we have a partnership with Autoliv. They are scaling our sensor for mass production globally for automakers. So they're leading the way in doing RFQs for OEMs right now.
j-a: Do you think OEMs can get to L4 and L5 without LiDAR?
JE: Good luck with that.