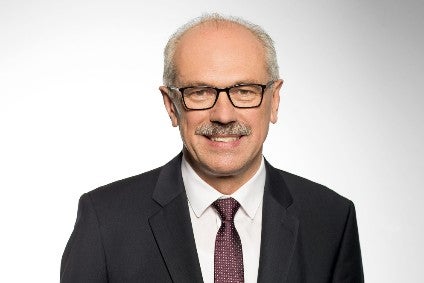 Wilhelm Rehm joined ZF Passau in 2003 where he was responsible for production, quality & materials management. In 2010 he became member of the executive management, ZF Group Off-Road Driveline Technology and Axle Systems Division, as well as chairman of the board of management, ZF Passau. In 2011, Rehm was appointed president Off-Highway Business and head of location, Passau/Thyrnau, before becoming a ZF board member in 2012.
JA: What are the main directions for your supplier plans in the next few years?
WR: ZF's ambitious future vision is clean and safe mobility that is automated, comfortable, affordable and accessible to everyone, everywhere, around the globe. In terms of this vision, we have established a clear strategy called Next Generation Mobility.
Achieving this requires strong partnerships with existing suppliers and the identification of additional, strategic, future-oriented partnerships including targeted start-ups, all of which support our strategy for e-mobility, automated driving and digitalisation.
JA: What are your key challenges facing the supply chain in a world of potential tariffs and uncertainties?
WR: Uncertainties, trade conflicts and volatile markets do not necessarily mean only risks and challenges – they can lead to solid opportunities too. We need to understand the different developments within world markets and adapt our strategy accordingly. One key challenge is to establish a connected and agile organisation working with digitalised and automated processes. In order to realise innovative solutions quickly, we must invest heavily in research and development.
We must follow a robust localisation strategy, which works to strengthen our operational performance. And finally, we have implemented a so called Dual Operating System that synchronises different working environments operating at different speeds.
JA: You have had a number of initiatives during the past few years – what headaches has that presented and are you confident your supply chain is robust enough to cope with such a number?
WR: ZF has a strategic master-plan that is followed consistently. All initiatives and organisational adaptions are in line with that strategy. Regarding ZF's supply chain, we are confident that it is robust enough, yet flexible enough to handle the coming challenges as the company places great emphasis on long-term and stable strategic partnerships.
JA: Are there immediate to short term plans for acquisitions?
WR: ZF is always on the lookout for opportunities which are a fit for our portfolio. However, there are no immediate or short term acquisitions planned at this point in time.
JA: Do the CASE trends of Connected, Autonomous, Sharing, Electric present particular supply challenges and is ZF equipped to meet them?
WR: ZF already provides intelligent mechanical systems with cloud networking, tomorrow's mobile services, autonomous driving solutions and an Artificial Intelligence supercomputer. ZF plans to increase its investment in the development of electric mobility and autonomous driving technologies to EUR12bn over the next five years. This, in turn, will increase the speed at which innovative solutions to future mobility will be found.
JA: Do you intend to change the performance evaluation of your suppliers or are you broadly satisfied with the current situation?
WR: Satisfaction can lead to inactivity – and inactivity does not help to secure the future. ZF is following the path of continuous improvement, a process we also apply to supplier development. This does not mean we change the way we evaluate performance, but it helps improve the performance itself.
JA: Are you happy the ZF supply chain can cope with unforeseen circumstances – natural disasters for example or supply chain implications potentially caused by Brexit?
WR: ZF has in place, a robust and proactive risk management system. Even though we cannot avoid unforeseen circumstances like natural disasters, this system provides a broad set of tools which enable us to react quickly and provide solutions to these sorts of issues.
In terms of Brexit, we are concerned about current developments and the possibility of a hard Brexit.
We are prepared for various scenarios having established a cross-functional task force to reduce implications on the supply chain and to avoid interruptions in customer supply.
WR: Does Brexit represent an opportunity for ZF to restructure its UK-Europe supply chains?
We do not see Brexit as opportunity at all. On the contrary, we strongly object to Brexit – especially a potential hard Brexit. At this point in time we do not intend to restructure our UK-Europe supply chains, but the effects of such a scenario would be tremendous.
JA: Does double sourcing of suppliers continue to make sense for ZF?
WR: Dual sourcing is an opportunity for our suppliers as well as for ZF. Volatile markets significantly increase the requirement for flexible delivery – and dual sourcing, as we call it, is one way to achieve flexibility.
It affords a minimum of supply chain risk and provides greater security of delivery for ZF and our suppliers. It also means suppliers have the potential to achieve new business and it increases competition innovation.
JA: How would you characterise industrial relations within your supply chain – are you able to influence that at all with external suppliers and what about your own supply chain in ZF?
WR: Supply chains comprise a wide range of partners: suppliers, internal businesses and customers. ZF is successful in this business because we manage all external and internal performance factors actively.
That is the reason why we are able to supply our customers with innovative products and systems – of the required quality and quantity, at the right time.
JA: To what extent are 4.0 strategies being implemented across your manufacturing sites? Cobots, 3D printing, automated guidance vehicles for example.
WR: ZF has a clear master-plan for its digital transformation. The goal is a balanced portfolio of digital investments across the business. This portfolio contains digital products, consistent digitalisation and worldwide harmonisation of business processes, Industry 4.0 – including 3D printing for spare parts, digital purchasing processes and Supply Chain Management 4.0.
In order to integrate suppliers and service providers into the digital supply chain, ZF relies on the company network, SupplyOn,, which enables end-to-end digitalisation of entire supply chain processes.
JA: Are you able to convince your employees a 4.0 plan will be beneficial in the long term and not represent a threat to jobs?
WR: Industry 4.0 and digitalisation will fundamentally change tomorrow's work environment. ZF uses a 'dual operating system,' that synchronises different working environments operating at different speeds.
On the one hand, the traditional industrial production system, with accurate planning, production and development processes. On the other hand, the digital working environment with flat hierarchies, agile working methods and the courage to go in new and innovative directions.
These environments do not compete. This approach allows ZF to maintain its high standards of quality and to keep pace with the disruptive developments of the digital age.
JA: To what extent do you benchmark against competitors?
WR: Benchmarking is one of the standard methods used to understand developments within your market. Knowing your specific market is essential for all players in that market, not just ZF.
JA: To what extent will you seed start-ups in megatrend technology and does that already happen to some extent? What are the advantages of investing in small start-ups in your supply chain?
WR: To meet the challenges of tomorrow's highly connected mobility with the best products, ZF combines its mechanical expertise with digital technologies by cooperating with both traditional partners, like SupplyOn, and start-ups.
Zukunft Ventures, ZF's corporate private equity unit, was founded to drive strategic change by providing quick access to key technologies and data, thereby establishing competencies and knowledge required in this fast-changing world.