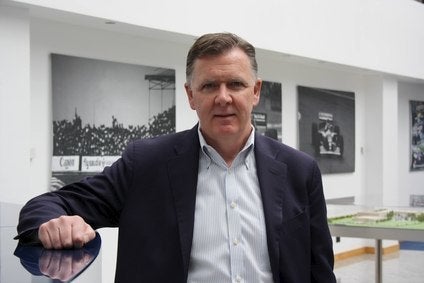 Mike O'Driscoll, Group CEO of Williams, leads a brand that is well known for its motorsports activity and Formula One participation. However, the firm is now eyeing more consultancy business and looking further afield for opportunities. Ian Adcock caught up with him to hear more.
Engineering consultancy within the automotive sector can be a notoriously fickle business, subject to the ebb and flow of the financial climate for one thing, Further, internal policy changes caused by the intake of new management can result in whole vehicle programmes being cancelled at, seemingly, the drop of a hat.
A relatively recent, public, example of such a reversal was the cancellation of Jaguar's C-X75 hybrid supercar in December 2012 when the prevailing economic downturn probably reminded Jaguar's senior management of the issues encountered with selling the XJ220 a decade earlier.
The engineering consultancy side of the Williams F1 team were contracted to engineer and manufacture the hybrid supercar, but when it came to nought the Williams management team found themselves with an unwanted facility.
It would be wrong to suggest that Williams Advanced Engineering (WAE) was borne out of this opportunity as Williams had been heavily involved in several projects prior to the Jaguar, but it did give them opportunity to coalesce various aspects of its business under one roof and focus on its engineering legacy, as Group CEO, Mike O'Driscoll explains. " I had been a non-exec here for a little over two years when I took over in May, 2013, so it wasn't all new to me and I had a good sense of the issues that needed tackling," he says.
"Essentially it was very strong and Williams has such a great legacy and achievements. Clearly, we needed to refocus on delivering on the track with our F1 team and we needed to sharpen the focus of our advanced engineering group and that's what we have been trying to do and at the same time by focusing to ensure we were concentrating on those aspects to the business that are core to the future."
He sees 2013 and 14 as "transitional years" for both the F1 group and advanced engineering. "It's very much F1 AND advanced engineering. I think in the past there was a belief that you needed to do one or the other but not both and I don't think that's the case; you can do both but it's a question of setting our objectives and putting the resources in place to be successful."
Part of that strategy was repatriating its technical centre in Qatar, where development of large flywheels and road-based simulators was based, back to Grove, the Williams HQ.
O'Driscoll says the investment had "run its course" whilst admitting that "what we weren't able to do was establish a broader relationship or partnership in Qatar," as an engineering bridgehead into the middle and far-eastern markets, business that can equally be conducted from Grove, he adds.
Looking to the future WAE, explains O'Driscoll, will "essentially commercialise the skills and knowledge that we've gained from F1 in specific areas; aerodynamics, thermodynamics, lightweight materials, hybrid technologies and powertrain, especially battery technology and also vehicle dynamics."
"I think it's fair to say our initial focus has been with OEMs and we work for a number of them, some of it is public like the Jaguar work that proved the development of the C-X75 and there's the work with Nissan which is also in the public domain, plus other confidential contracts, but we have the opportunity to expand and broaden that base within the wider transportation and energy sector itself.
"We have got some really exciting projects that we're working on right now of which Formula E, which kicked off late 2014, is one and we will be supplying the batteries to all the teams so we're pushing the boundaries of performance and our understanding of cooling technology and range as well as performance.
"I also think the Tier One and Two suppliers could well be an opportunity for the group in the future. We haven't done an awful lot of work in that category to date, but there's certainly no reason why not. At the same time we do want to make sure we're playing to our strengths and focussing on those sectors that we can be most effective in differentiating our performance against others."
O'Driscoll believes WAE can offer much to the mainstream automotive sector and beyond to other areas of transportation.
"We work at an incredibly fast pace, as do the other F1 teams, and I think we have an awful lot to offer OEMs as well as the broader transportation industry or even the energy sector where we are now doing some work. I would want the work we do to be differentiating and capable of earning us a decent margin."
O'Driscoll is keen to position WAE as "a premium group within the market place," and whilst he is too diplomatic to say so, the inference being that he doesn't want the business to become a jobbing shop for the OEMs and supply chain subject to the same cyclical variations that they are within their business cycle.
As such, partnerships with the Australian Hatch Group – specialists in mining, power, oil and gas, with WAE seeing if know-how gained from F1 tyre stops and car rebuilds between practice and races can be transferred to servicing of mining and construction vehicles to minimise down time – will become just as vital to WAE's future as vehicle programmes.
"I see a wider remit for the group. I think advanced engineering will tackle a range of projects, many of them very exciting and cutting edge. There's so much learned in F1 technologically that we can transfer into the broader market place, there's so much know-ow and the skill base is so high I think there are real opportunities for WAE as we look beyond even the OEMs," O'Driscoll believes.
Ian Adcock