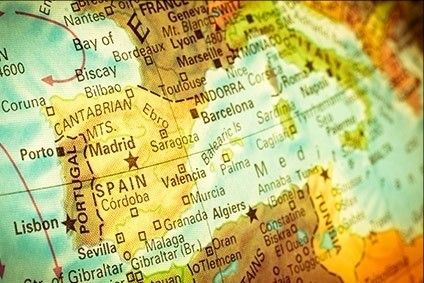 Spanish suppliers association CEO, José Portilla has had many years experience in manufacturing sectors such as steel and automotive, while he is now CEO of Spanish suppliers association, Sernauto. In the second of two interviews, Simon Warburton caught up with him as Spain looks to address the transition to new mobility and the challenges of implementing advanced manufacturing technology coupled with taking into account labour body employment concerns.
Portilla has also been Deputy Vice-Minister of Government Affairs of the Government's Presidency of the Principality of Asturias and, in the last stage, managing partner of a Government Affairs consultancy, specialised in the internationalisation of Spanish SMEs in the areas of industry, energy and infrastructure.
Since January, 2017, he has been a member of the boards of CLEPA and CEOE (Confederación Española de Organizaciones Empresariales).
j-a: Brussels is undergoing massive change as new European Commission and European Council presidents assume office, while new Commissioners and MEPs find their feet. How does Sernauto cope with that significant upheaval?
JP: CLEPA [European automotive suppliers association) is really the leader bringing our concerns to MEPs and we have really been working hard with all the national associations, which are part of CLEPA. We are conducting several educational exercises with them.
Some 70% of the MEPs are new and we have to quickly get to know people.
j-a: What are some of the challenges your members face?
JP: We have to look at aspects [such as] plastics, the environment, social aspects. Carmakers [are] producing the necessary technologies, for example, to develop new engines, more clean air and zero emissions. If you go against diesel technology, which is actually much cleaner than that produced before 2004, if those new internal combustion engines are not part of the equation, also with other technologies, hybrids, 100% electric, hydrogen et cetera, we think it will not be feasible.
j-a: How well prepared are Spanish companies for new ways of working made possible by rapid advances in technology? Are labour bodies concerned about potential job losses resulting from that?
JP: Big companies are well prepared in [Industry] 4.0 and are working in so-called 5.0 and with the new AI methods.
Unions are worried, they are concerned as we are as well as a sector. None of the 17 factories established in Spain are of Spanish capital origin; all decision centres are outside Spain.
We have to provide competitive arguments to decision makers outside Spain to prove we can be competitive. This is why it is so important to settle this long-term [automotive] strategy, where unions are sitting with us and the government.
j-a: What about attracting people to manufacturing, is it problematic?
JP: Industry, at least I would say Southern European countries, Italy, Spain, has not been very sexy for youngsters. The administration says there should be much more alignment between universities and economic sectors – this is not something in which we have been able to succeed.
We talk a lot about this in Spain, but so far it has been difficult because the educational systems are not very oriented to [cater] to the real needs of companies. We definitely have a big job to do there.
Having a car as a priority is not very sexy for youngsters. It brings high cost; insurance, petrol, price of the car itself and we are moving to a mobility concept. Carmakers will be selling mobility services. Our components will have to adapt, especially when we talk about interiors with more endurance; that will last [longer] because they will have harder use.
j-a: Can you elaborate on mobility services?
JP: We are running in two directions. When we talk about mobility services and standardisation of components in cars, you will have a higher offer [as well as] hand-made, tailor-made cars, for example, Mercedes, Daimler, Rolls-Royce. What we are seeing are these two scenarios.
We have to say if the [new] government is in place and we are able to settle this long-term country strategy – [so] carmakers and component makers are totally aligned – to keep investment and innovation and also work with the authorities in Europe.
I am optimistic – we have a very highly qualified workforce. We know how to do cars.
Between January and April of 2019, Spanish automotive equipment and components were exported for a value of EUR7.3bn, a stable performance in relation to the same period of the previous year (+ 0.8%).
The EU continues to be the main destination market for Spanish exports of components, with a market share of 72.5% of sales. Sales increased 1.05% compared to the same period of the previous year, standing at EUR5.3bn.
The UK, fourth destination for Spanish exports, had a negative growth rate, falling by 2.24% and standing at EUR522m.